Navy Reserve moves forward with reservist's idea for a mobile app to help deploy forces faster
By
Stars and Stripes
July 14, 2022
---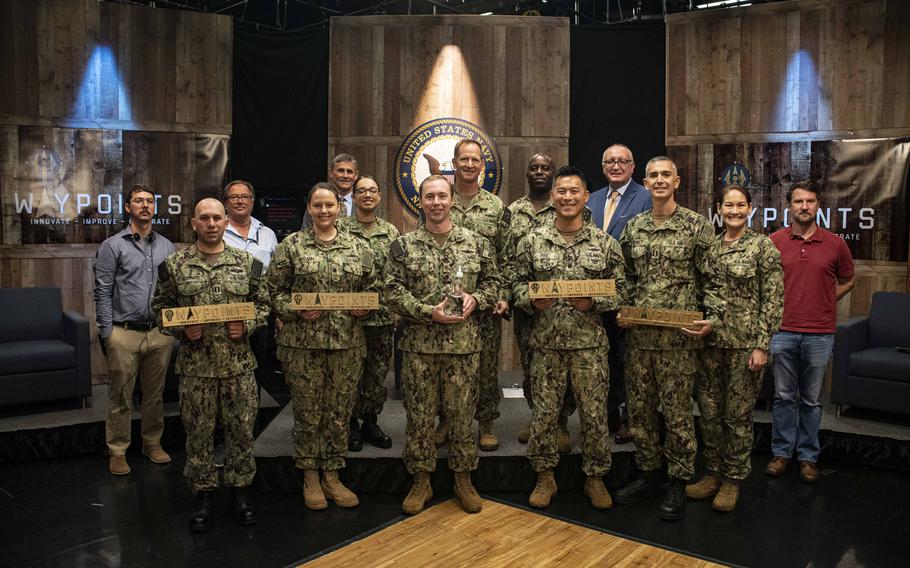 WASHINGTON — Navy Reserve Lt. Cmdr. Jonathan Calhoun said he was buried in paperwork for a mass mobilization exercise when he had the idea for a cell phone app that could streamline the process.
"It was very high intensity on the administrative side, filling out forms from scratch, many of which were very duplicative in nature and that it was the same information — name, address, date of birth, etc. — on each form," he said of the training exercise held earlier this year. "[They] also must be completed on either a military computer or on a personal laptop that [is] CAC-card enabled, which just makes it very difficult for reservists who aren't on a base installation on a daily basis."
Calhoun, who is assigned to U.S. Fleet Forces Command Maritime Operations Center in Norfolk, Va., said he thought shifting many of the required forms to a secure mobile platform would make the process faster and more efficient. He submitted his idea to the Navy Reserve's inaugural i3 Waypoints program, a new invention competition that allows reservists of all ranks to pitch ideas to top brass.
Calhoun's idea placed first in the contest, winning a trophy and the opportunity to "work with our technology leaders to bring his idea to reality," said Capt. Colette Murphy, a Reserve spokeswoman.
Mobilizing a Navy Reserve unit requires a great deal of paperwork made even more difficult because reservists can only access the necessary documents from a computer with a Common Access Card reader, the military identification card that allows access to secure websites.
While some, including Calhoun, have CAC readers on their personal computers, many do not, requiring them to travel to a military installation to access one, he said.
"I don't think that we can expect that every — especially every single — junior sailor has [a personal CAC reader]," Calhoun said. "I know that during the mobilization exercise, a number of the unit members who are assigned to our Navy Reserve [unit] did have to go in and actually sit down with someone to complete a lot of the forms because they weren't able to do it from their own personal devices."
Not only will the envisioned, encrypted app allow reservists to securely complete necessary mobilization documents from a personal mobile device, but it will also use artificial intelligence to autofill duplicative data fields, such as names and other basic information, across multiple documents, he said.
The app, which has not yet been named, will also "provide real-time transparency and progress status for members and leadership throughout the process, and enable clear and customizable reviews and reports," Murphy said.
Vice Adm. John Mustin, chief of the Navy Reserve, said the service is "already moving out on the design" for Calhoun's idea, which he said will accelerate the mobilization process and get reservists where they're needed faster.
"[Calhoun's] idea to add mobile technology to our distributed activation process helps us achieve our goal of mobilizing the entire selected reserve force of 50,000 in 30 days, if required," Mustin said in a statement.
The i3 Waypoint competition will now be an annual event, which Mustin introduced to "fast-track transformative ideas from across the Navy directly to the highest levels of the Navy Reserve, without filters or bureaucratic barriers," Murphy said.
The competition is named after the three "I" approaches that reservists can take to create a concept: invent something entirely new; improve something that's already established; or integrate several ideas, products or processes into a single system. This year, there were more than 100 ideas submitted.
Calhoun said the competition made him think highly of Navy leadership for putting together an event "to actually source ideas" from reservists.
"When you're in the trenches on a day-to-day basis, you have these ideas, but the implementation is very hard on a micro scale," he said. "Being able to have this platform to really engage directly with Navy leadership who's soliciting ideas … [and then they] say, 'Yes, not only do we agree with that, but we're willing to put the time and the money, the effort in order to get through to fruition' [is exciting.]"
The Navy Reserve has the benefit of having service members with civilian jobs in which they often develop outside expertise in technology, cyber security, engineering, human resources, finance and more, Murphy said. The new competition harnesses those strengths to produce important ideas to improve the service.
For example, Calhoun mentioned his idea to a technology company in his civilian career as a Bank of America senior relationship manager for aerospace, defense and government contracting clients. The tech representatives said they were already developing a similar concept and had presented it to the Pentagon.
"Their specialty is being able to develop a secure, encrypted mobile app that would enable military users to complete a lot of the administrative types of documentation, not on a military computer but from their own secure mobile device," Calhoun said. "Especially with the junior sailors who've grown up with a cellphone on their person 24/7, that is definitely the easiest and most efficient way to both contact everyone, as well as to complete a lot of the information exchange."
Other finalists in the competition included Lt. Brian Adornato of Naval Sea Systems Command's Surge Maintenance Sacramento; Cmdr. Bobby Hsu, the Naval Operations director of staff; Cmdr. Scott Mericle of Navy Reserve Operations, Plans and Policy for the Navy's 2nd Fleet; and Cmdr. Sarah McGann of Navy Personnel Command and Lt. Josh Didawick of the Office of the Chief of Naval Operations for Manpower, Personnel, Training and Education.
While there is one winner, the concepts from the four finalists also could be implemented.
Adornato's idea involved creating a new civilian technicians category of personnel. Hsu suggested creating an official Navy Reserve YouTube Channel. Mericle's concept was to "improve [the] active-to-reserve transition." McGann and Didawick's idea involved creating a "new policy for Reserve retirement education across the career continuum."
Videos of all finalists' presentations are available at https://www.navyreserve.navy.mil/Resources/I3-Waypoints/.
---
---
---
---