Navy implements new policies to make it easier for victims to report sexual assaults
By
Stars and Stripes
July 1, 2022
---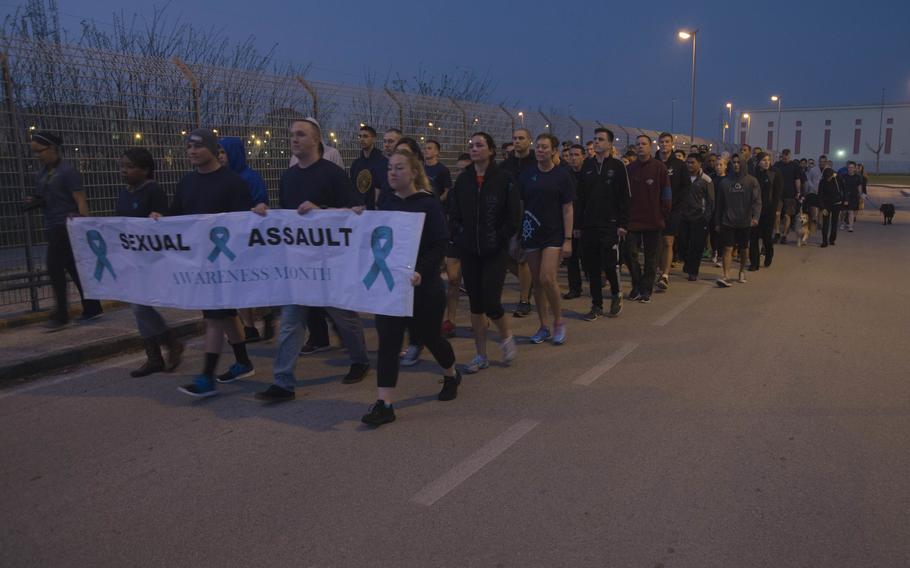 WASHINGTON — The Navy enacted two new policies this week to help break down institutional barriers that once made reporting sexual assaults more difficult, according to the service.
The first — dubbed the "Safe-to-Report policy" — protects sailors, Marines and U.S. Naval Academy midshipmen reporting incidences of sexual assault from being disciplined for minor misconduct in which they might have participated while they were victimized, according to one of the new policies.
The idea is to encourage victims to report their assaults without fear of punishment for behavior that might be discovered in an ensuing investigation, such as an underage drinking, curfew violations or having an "unprofessional relationship with the accused," the Navy said in a statement issued Friday.
"Choosing to report a sexual assault is already a major decision for a survivor. It is a first step to accessing the services they need and the justice they deserve." Navy Secretary Carlos Del Toro said in the statement. "Removing this barrier empowers victims and survivors — they should not have to choose whether to implicate themselves by reporting a crime committed against them."
Before the "Safe-to-Report" policy, which went into effect Wednesday, victims "may have had to choose whether to implicate themselves for misconduct by reporting an assault," according to the Navy.
"Collateral misconduct by the victim of a sexual assault is one of the most significant barriers to reporting because of the victim's fear of punishment," Navy Force Resiliency assistant director Andrea Goldstein said in the statement. "We're committed to removing barriers to reporting, restoring victim's trust, and improving victim care."
While commanding officers can now spare disciplinary action for victims in such cases, they can still take nondisciplinary administrative actions if warranted, such as referring a victim to substance abuse treatment, according to the policy.
Also Wednesday, the Navy implemented a new "No Wrong Door" policy aimed at ensuring victims of sexual assault seeking help don't fall through the cracks by attempting to seek care from an office or agency that might not be the right fit for their needs.
Before the policy, finding the right care could be confusing because the Navy offers a host of victim care services from multiple offices, including the Sexual Assault Prevention and Response Program, Family Advocacy Program, Military Equal Opportunity Program, Victim Witness Assistance Program, medical professionals, Victims' Legal Counsel and chaplains, according to the service.
"Individuals who experience sexual assault, sexual harassment, or domestic abuse should receive the care and support they need -- without delay," said Ashish Vazirani, interim director of the Navy Sexual Assault, Sexual Harassment and Suicide Prevention and Response Office. "Regardless of which supporting professional they contact, the answer should be, 'I will help you'."
The policy now requires Navy personnel in care and support offices to ensure victims get a "warm hand-off to the appropriate service provider," according to the policy.
"This warm hand-off will include direct connection, introduction to the responsible staff, and follow-through to ensure the needs of the person seeking care are met," the Navy said in the statement.
---
---
---
---