'It means the world': Navy aviator honored at Kentucky summer camp
By
Lexington Herald-Leader
June 26, 2022
---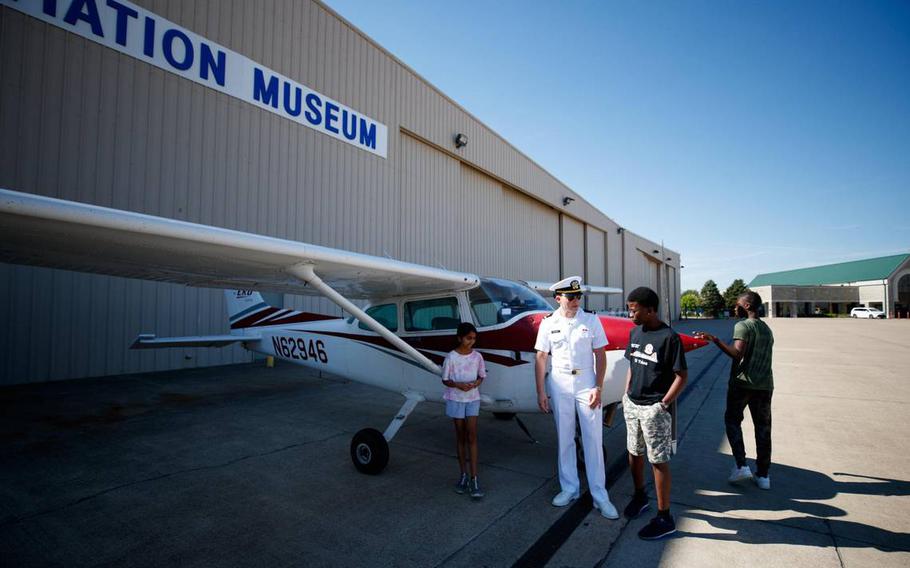 LEXINGTON, Ky. (Tribune News Service) — For some, flying is a hobby. For Ensign Lincoln Kilgore, it is a way of life.
Kilgore, a Kentucky native, was honored at the most recent aviation summer camp held at Lexington's nonprofit Aviation Museum of Kentucky for his contributions to the camp and museum.
While attending Eastern Kentucky University's aviation program, he worked as an instructor for the camp each summer. After graduating from EKU in 2021, Kilgore enrolled in Officer Candidate School and graduated in December.
Now, the Lawrence County native is stationed at the Naval Air Station Pensacola, Fla., but he came back to the Bluegrass to visit the camp where he developed his love for flying.
The camp, a two-day introduction to aviation and piloting, is offered for several weeks each summer across Kentucky. Campers aged 10 to 17 learn about flying from professional instructors, and many bring along a family member with a background in aviation.
While working at the camp, Kilgore said his favorite thing was teaching a flight simulation course, which he said was "a blast."
"On the flight sim, we teach (the kids) to fly from Lexington to Frankfort, Georgetown and back," Kilgore said. "Watching young adults get that love and that enjoyment ... it's wonderful. It means the world."
The camp has been running for 27 years, and each summer, a two-day session is named in honor of an individual to commemorate their work for the museum. June 23-24 is the final Lexington session for the summer, and it has been named the "ENS Lincoln Kilgore Aviation Camp."
Hunter Moore, the operations manager for the aviation museum, said Kilgore epitomizes the camp's vision of teaching youth about aviation and educating future generations of pilots, which is the museum's main mission. It was this dedication that inspired the museum to name a camp after him.
"He is just such an outstanding young man," Moore said. "He's an ideal representative of the military."
Jerry Landreth, a trustee on the museum's board, said the camp provides an introduction to the many career options in aviation, such as administration and piloting, and many students have gone on to work in the field.
Kilgore said he still keeps in contact with campers he taught while at that museum, and at least 20 of them started careers in aviation.
"There have been a couple of students (who) have messaged me and been like, 'Mr. Kilgore ... you helped me really understand, like, this is what I wanted to do with my life.' And for me, that means everything," he said.
Kilgore said he "choked up a little bit" when he was told of the plan to name a camp after him.
"It's a terrific honor. I love the museum, I love Kentucky, I love Kentucky aviation," he said. "It's been the highlight of my young professional career."
©2022 Lexington Herald-Leader.
Visit kentucky.com.
Distributed by Tribune Content Agency, LLC.
---
---
---
---