USNS Mercy in Vietnam on Pacific Partnership mission
By
Stars and Stripes
June 24, 2022
---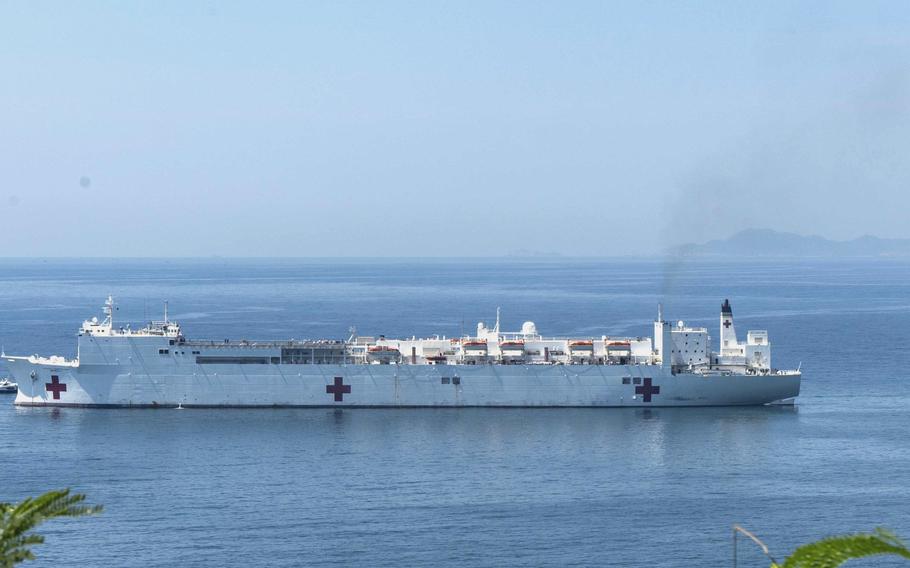 A U.S. hospital ship along with 600 sailors and service members from Australia, Japan and the United Kingdom is in Vietnam on the first leg of a five-month humanitarian mission to the Indo-Pacific.
The USNS Mercy, a Military Sealift Command vessel, is participating in Pacific Partnership, an annual deployment conceived after the 2004 Indian Ocean earthquake and tsunami that involves port calls in developing nations throughout the region.
The Mercy arrived Sunday in Vung Ro Bay, Vietnam, according to Navy Chief Warrant Officer Victoria Snyder, the officer in charge of Pacific Partnership's mission in the country.
"We have been really well received by the public," she said. "The medical providers here have been thrilled by the community engagements."
Vung Ro Bay is just north of Cam Ranh Bay. The port was home to U.S. forces during the Vietnam War and hosted the aircraft carrier USS Carl Vinson for a 2018 port call.
The United States normalized relations with Vietnam in 1995 and lifted an arms embargo in 2016. The two former adversaries have steadily improved bilateral relations in all areas, including trade, investment, and security.
Vietnam has a South China Sea territorial dispute with China, which is building a naval facility in neighboring Cambodia, according to anonymous officials quoted in a June 5 Washington Post report.
Personnel deployed to Vietnam on the Mercy are working with local doctors and nurses to treat patients both aboard the ship and at Vietnamese medical facilities, Snyder said by phone Friday.
Engineers involved in the mission, which includes 25 Australians, 18 Japanese and two British service members, are doing construction projects at three schools, she said.
The Pacific Fleet Band, with 17 musicians including personnel from Australia and Japan, will play 13 concerts in the country. There will also be sporting events and additional community engagements, Snyder said.
Local medical personnel, including military doctors and nurses assigned to the Vietnamese hospital ship Khanh Hoa, are observing surgeries, such as hip and knee replacements, on the Mercy, she said.
Each morning a dozen vehicles take personnel from the ship to engagements in district centers up to two hours' drive away, Snyder said.
On their down time the servicemembers are sampling local food and touring ancient pagodas, Snyder said.
This year's Pacific Partnership is the first to involve a hospital ship since 2018. For the past two years the mission has involved online meetings and scaled down fly-in visits to countries in the region, Navy spokeswoman Lt. j.g. Molly Sanders said in an email Friday.
Vietnam is the Mercy's first stop on a five-month mission. However, the Navy isn't publicizing the other countries where the vessel will stop ahead of announcements by local authorities, Snyder said.
The Mercy supported hospitals in Southern California during the first stages of the COVID-19 pandemic. Last year, it underwent a major overhaul in Portland, Ore., according to USNI News in January 2021.
Australian troops in Vietnam for Pacific Partnership include medical specialists, gender, peace and security advisors and musicians, according to a Department of Defence statement Monday.
Australia's involvement in the three-week Vietnam visit is about enhancing resilience and preparedness in the Indo-Pacific region, Air Vice-Marshal Michael Kitcher, the Australian deputy chief of joint operations, said in the statement. 
"[Coronavirus] restrictions meant we haven't been able to fully participate in the program since 2019, so it's a great opportunity to once again work closely with partner and host nations, learning from one another and building capacity within the region," he said.
---
---
---
---