Navy's newest amphibious assault ship visits 7th Fleet's homeport in Japan
By
Stars and Stripes
June 2, 2022
---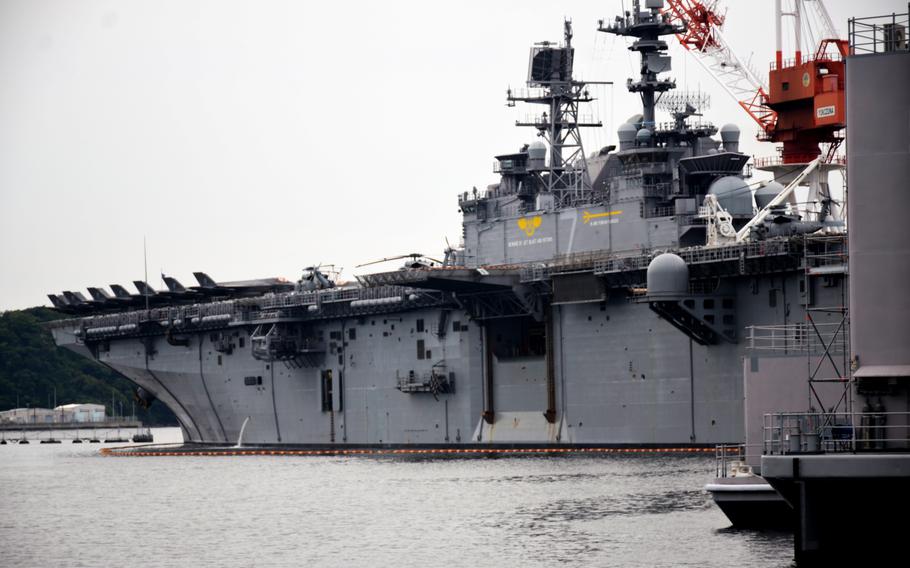 YOKOSUKA NAVAL BASE, Japan — The U.S. Navy's newest flat-deck amphibious assault ship steamed into Tokyo Bay on Sunday, the second port visit of its maiden deployment in the Indo-Pacific.
The USS Tripoli arrived at Yokosuka, homeport of the 7th Fleet, for a "brief visit," ship spokesman Lt. Davis Anderson told Stars and Stripes by email Wednesday. The Tripoli was still at Yokosuka as of Thursday, and Anderson declined to comment on its expected length of stay due to security concerns.
The 855-foot flat-deck left its San Diego homeport for its maiden deployment on May 2, just under two years after its July 2020 commissioning, according to the Navy.
The ship is with the 7th Fleet to work with U.S. allies and "serves as a ready response force to defend peace and stability in the Indo-Pacific region," Davis said.
While in Yokosuka, the ship's crew is cleared for liberty both on and off base, 7th Fleet spokesman Lt. Mark Langford told Stars and Stripes in a Wednesday email.
Davis said all necessary COVID-19 mitigation efforts have been taken, adding that all Tripoli sailors are vaccinated and that they are "excited to experience Yokosuka."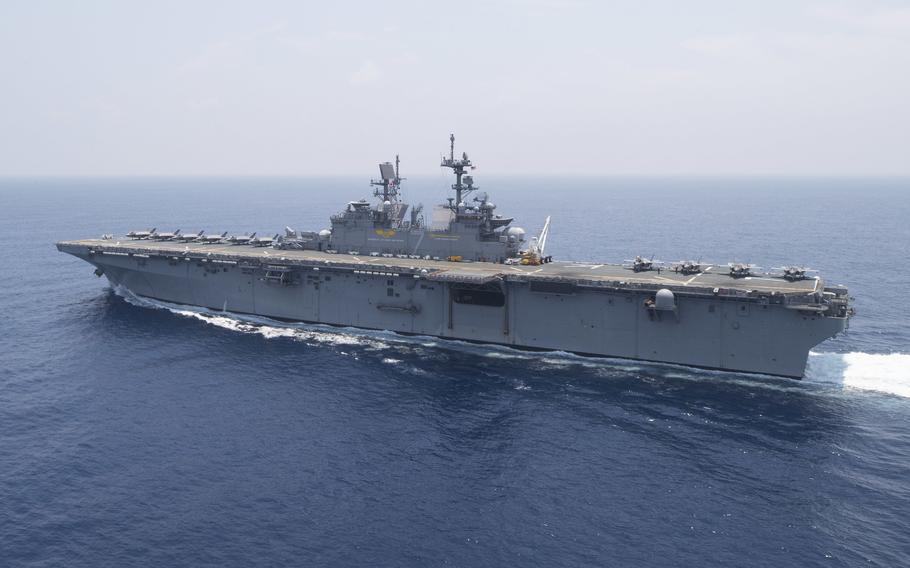 The Tripoli's port call comes one week after the ship concluded a two-day stop at Marine Corps Air Station Iwakuni on May 22.
While there, the ship took on 232 Marines from Marine Wing Communication Squadron 171, Marine Fighter Attack Squadron 121, Marine Aircraft Group 12, and Marine Air Logistics Squadron 12, according to a May 20 news release from the Tripoli.
The America-class amphibious assault ship has an expanded hangar bay instead of a well deck, to accommodate the Marine Corps' F-35B stealth fighters that are capable of short takeoffs and vertical landings.
Dubbed a "Lightning carrier," the Tripoli in April loaded 16 F-35s, breaking a record for the number of fighters aboard an amphibious assault vessel, according to USNI News.
The ship can also carry MV-22 Osprey tiltrotors and a variety of helicopters such as the MH-60S Seahawk.
The Tripoli is the second America-class ship, preceded by the USS America, which is homeported at Sasebo Naval Base, Japan.
Construction began on a third ship, the USS Bougainville, in 2018 and is expected to launch in 2023. Unlike the Tripoli and America, the Bougainville will reincorporate a well deck to "increase operational flexibility without sacrificing aviation capability," according to Naval Sea Systems Command.
---
---
---
---