Video of bar-district brawl in Japan sparks Navy investigation
By
Stars and Stripes
May 9, 2022
---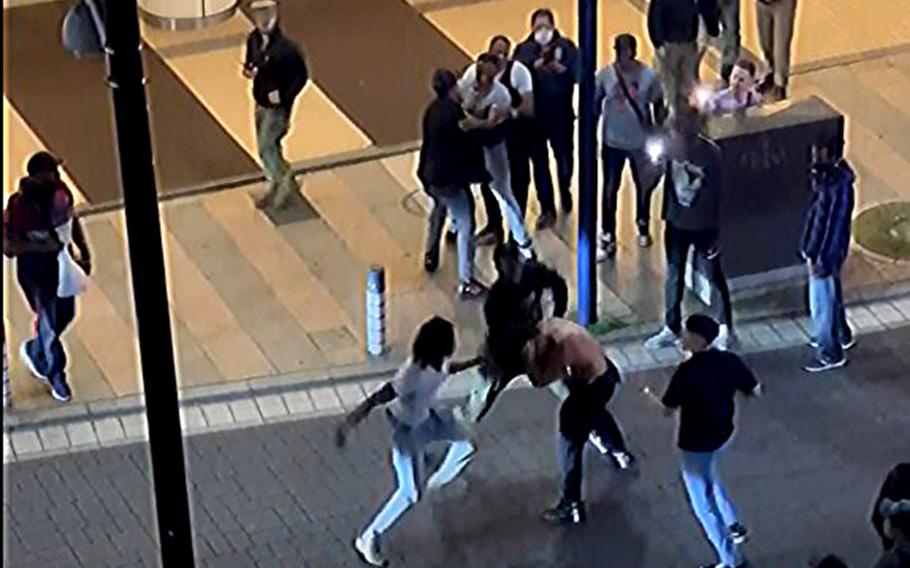 YOKOSUKA NAVAL BASE, Japan — The Navy is investigating a Friday-night brawl in Yokosuka's Honcho district after a video surfaced showing five men fighting as uniformed sailors, likely shore patrol members, looked on.
In the approximately 50-second clip posted to Instagram by bar owner Kram Azonim on Friday, five men presumed to be U.S. service members throw punches outside the New Yokosuka Hotel just two blocks from the naval base's main gate.
The footage initially shows three men yelling expletives at each other, before one takes off his shirt and begins to fight the other two. Two more men get involved shortly after. The brawl continues off-screen and to the west, toward a nearby convenience store, before the video ends.
The crowd of onlookers included at least six sailors thought to be shore patrol, although their identities could not be confirmed.
Yokosuka base spokesman Randall Baucom confirmed the video's veracity in a Monday email to Stars and Stripes. Base security's Criminal Investigations Division is investigating "all U.S. Navy personnel involved in the incident," he wrote.
The U.S. Navy's shore patrol, much like other armed services' military police, are tasked with maintaining order and suppressing "any unseemly conduct" by sailors or Navy-affiliated personnel while off base, according to the Code of Federal Regulations.
Baucom said he couldn't comment on the shore patrol's policies regarding off-base fights, citing the ongoing investigation.
"The Navy takes all allegations involving misconduct of our sailors, Navy civilians and family members very seriously," he said.
The Kanagawa Prefectural Police were not aware of any arrests of U.S. personnel in relation to the incident, a spokesman told Stars and Stripes by phone on Monday. It's customary in Japan for some government officials to speak to the media with giving their names.
The Honcho district, commonly referred to as "The Honch" by American sailors, often sports large weekend crowds due to a high concentration of bars in the area.
Stars and Stripes reporter Hana Kusumoto contributed to this report.
---
---
---
---