Part failure caused August crash off USS Abraham Lincoln that killed Seahawk crew
By
Stars and Stripes
May 4, 2022
---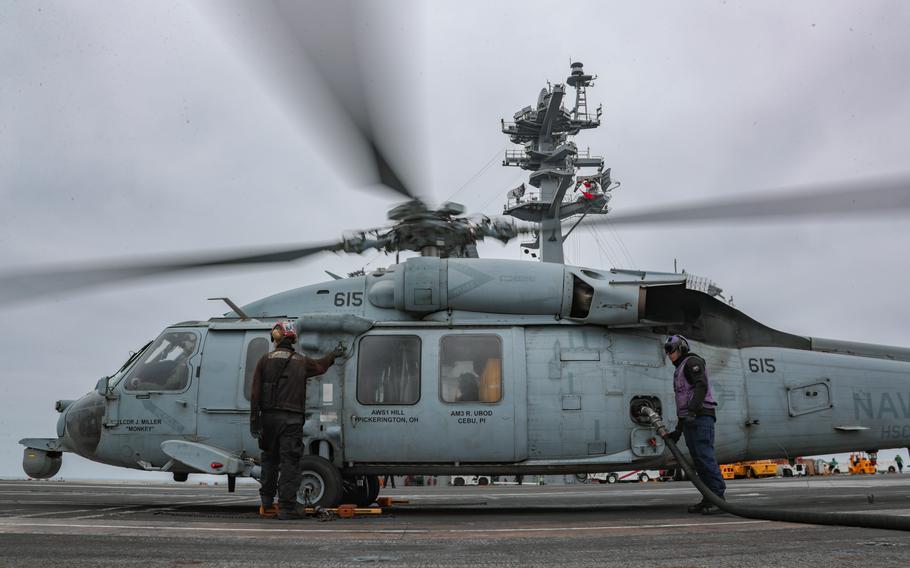 A Navy investigation has absolved the pilot and aircrew of error in the August helicopter crash that killed five crew members off San Diego's coast, according to a news release Wednesday.
Severe vibrations in the main rotor of the MH-60S Seahawk caused by a failed damper hose led to the helicopter falling from the aircraft carrier USS Abraham Lincoln and into the sea on Aug. 31, according to the release from Naval Air Forces spokesman Cmdr. Zach Harrell.
"The investigation found that there is no evidence that pilot or aircrew error was a causal factor in the crash," according to the release.
The Seahawk had just touched down on the Abraham Lincoln when it "experienced side-to-side vibrations causing the main rotor to strike [the] flight deck," according to a Naval Safety Center report following the incident.
The Navy concluded its investigation April 18, according to the release.
The Navy in October recovered the bodies of Petty Officer 2nd Class James P. Buriak, Petty Officer 2nd Class Sarah F. Burns, Lt. Bradley A. Foster, Lt. Paul R. Fridley and Petty Officer 3rd Class Bailey J. Tucker, along with the helicopter's wreckage, from about 5,300 feet below the surface.
Another five sailors were injured in the incident. Two were treated in San Diego and the others were treated on board for minor injuries, the Navy said Sept. 1. One sailor, a petty officer third class whose name was redacted in the final report, was rescued during the incident.
The Navy addressed the mechanical issues with instructions for proper maintenance of the affected parts and by ordering inspections within 60 days, according to the final report signed by Vice Adm. Kenneth Whitesell, commander of Naval Air Forces.
Whitesell concurred with eight recommendations, including the possibility of incorporating failure indicators for the affected system in the cockpit and inspection of 10% of aircrew life preservers to find out if they are functional throughout the fleet.
The final report makes no mention of problems with the life preservers but indicates the current model's design is under review.
"Aircrew shall continue to regularly train to these types of emergencies and incorporate lessons learned from this incident into all future aircrew briefings," the report states.
---
---
---
---