Shoemaker takes reins from Pickard at Navy's Sigonella base
By
Stars and Stripes
April 29, 2022
---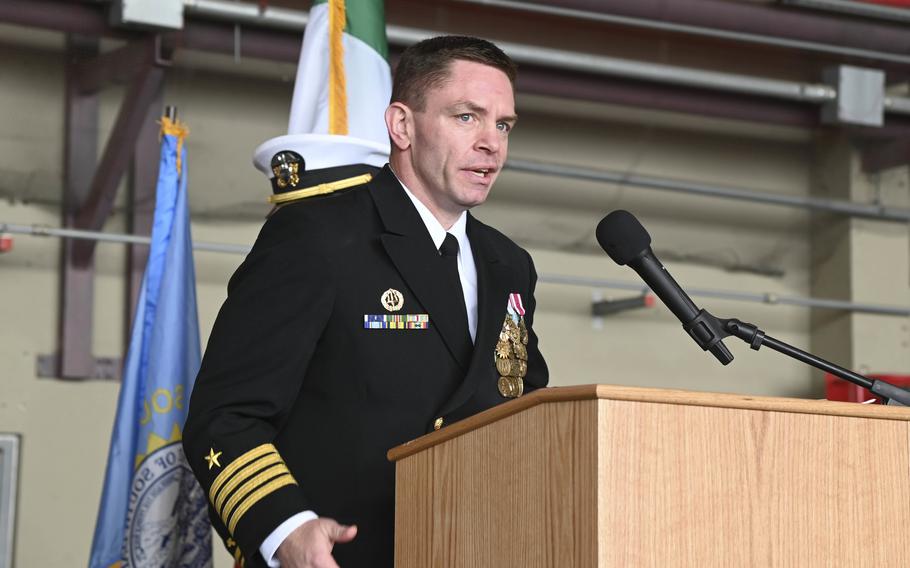 NAPLES, Italy — Capt. Aaron Shoemaker took over Friday as commanding officer of Sicily's Naval Air Station Sigonella, relieving Capt. Kevin "Kepper" Pickard Jr., who had served in the role since 2019.
At Sigonella, Pickard oversaw the Navy's only forward-deployed air station in Europe through the COVID-19 pandemic, the evacuation of Afghan refugees and flooding that affected not only the base but also its family housing complex, said Rear Adm. Scott Gray, commander of Navy Region Europe, Africa and Southwest Asia.
Gray praised Pickard for his forward-thinking leadership, and he presented the base with a Navy Unit Commendation for its work on behalf of Afghan evacuees during Operation Allies Refuge in 2021. The honor is the second-highest award a Navy unit can receive.
"I honestly could not have asked for more," Gray said of Pickard's efforts.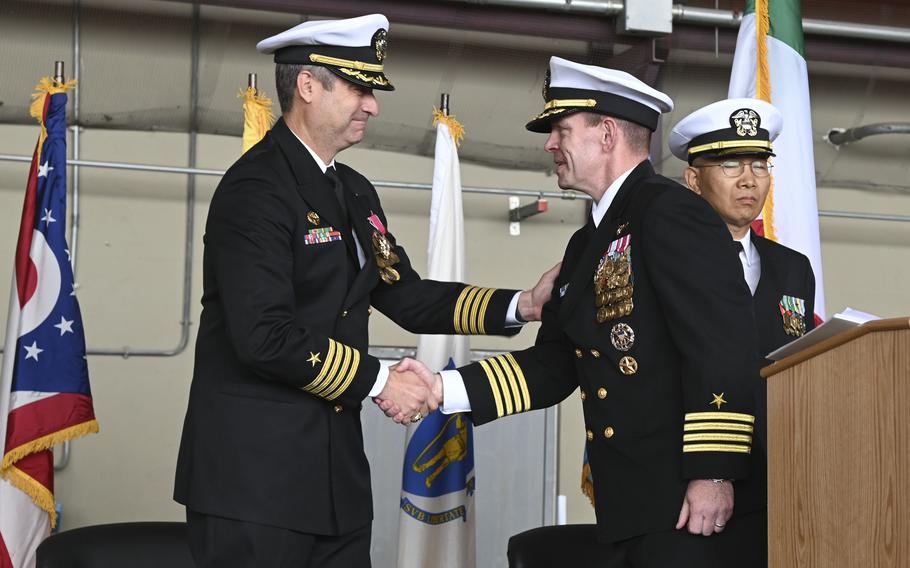 Pickard next will serve as chief of staff for Navy Region Northwest in Bangor, Wash., beginning in June, according to a Friday statement from NAS Sigonella.
Shoemaker will oversee a base that has 37 tenant commands, including a Marine tilt-rotor squadron. About 2,300 sailors, 700 civilians, 800 Italians and 2,200 military family members work or live on the base.
His last Navy assignments include a stint as branch head at the Office of the Chief of Naval Operations from July 2020 to August 2021 and a three-year stretch as assistant deputy director for operations for the Joint Staff in Arlington, Va., according to his LinkedIn profile.
Shoemaker, whose first deployment as a pilot was to Sigonella in 2001, said his priorities will include professionalism, readiness and families.
---
---
---
---