Navy pilot who died in Hawkeye crash remembered for his spirit, love of flying
By
Stars and Stripes
April 4, 2022
---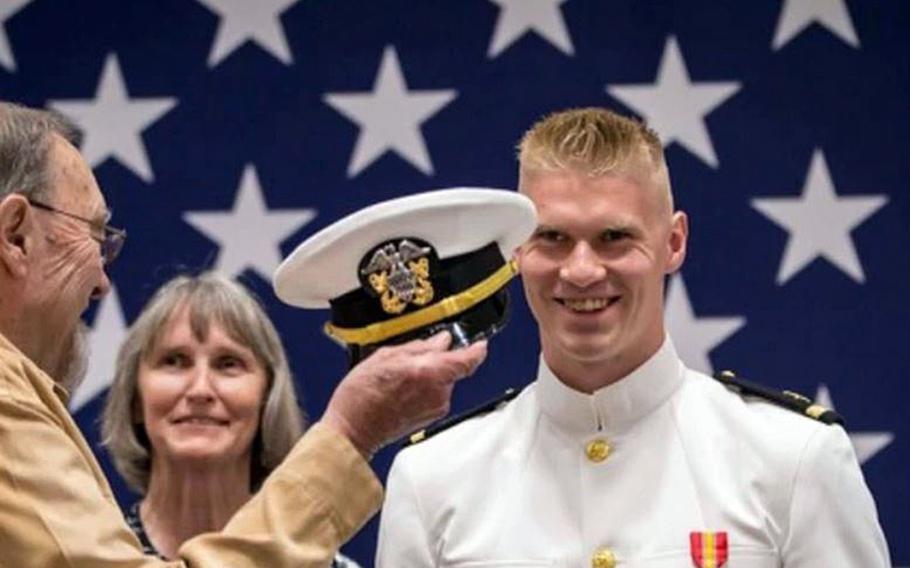 A Navy pilot killed last week in the crash of an aircraft in Virginia is being remembered for his passion for flying, outgoing personality and commitment to caring for others.
Lt. Hyrum Hanlon was killed Wednesday when a Navy E2-D Advanced Hawkeye crashed during routine flight operations near Wallops Island and Chincoteague, Va., the Navy said in a statement Friday. It wasn't clear what role Hanlon had on the flight. His age and hometown also weren't released.
Two other service members aboard the aircraft survived the crash, but their names were not released. The cause is under investigation, the Navy said.
Hanlon was commissioned in the Navy from Arizona State University in May 2017. He reported to VAW-120, the Greyhawks Command and Control Squadron, in January 2021, according to the statement.
He was a student pilot nearing the end of his syllabus at VAW-120, Capt. Chris Hulitt, commodore of the Airborne Command and Control and Logistics Wing, said in a Sunday post on the VAW-120 Facebook page.
"He was looking forward to joining an operational squadron," Hulitt said in the post. "He was outgoing and beloved by students and instructors alike."
Friends on social media remembered Hanlon for his "wicked smart" intellect, gregarious spirit and love of flying.
"Becoming a navy pilot was his dream and he was a damn good one," said Paul Crain in a Friday post on his Facebook page. Crain said Hanlon was one of the first friends he made in college.
Hanlon also was remembered for his kindness and caring.
"I can't even count all of the times he gave me compliments or made me feel good about myself, or I saw him do the same to others," wrote Mattalynn Mason on her Facebook page Saturday. "He just was such a genuine guy."
The Navy said it was working with local and state officials on salvage planning for the plane, which was partially submerged near Wildcat Marsh on the north part of Chincoteague, USNI News reported Friday.
In urging people to avoid speculation, Hulitt emphasized that investigators are looking into causal factors "so that we can prevent events like this from happening again."
---
---
---
---