Navy names future oiler ship after Ruth Bader Ginsburg
By
Stars and Stripes
April 1, 2022
---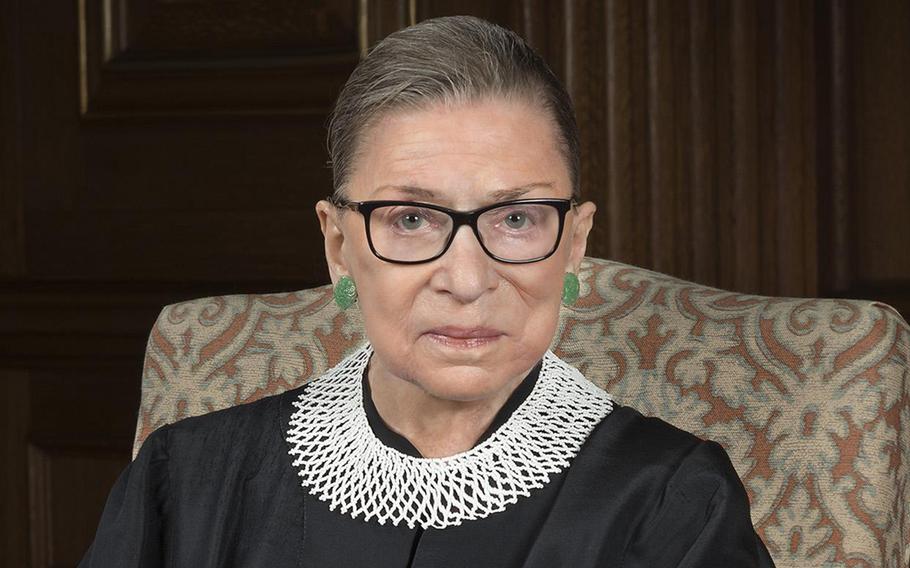 A Navy ship will bear the name of former Supreme Court Justice Ruth Bader Ginsburg, a pioneering women's rights and gender equality advocate who took a leading role in a landmark decision striking down a military academy's male-only admissions policy.
It is the first Navy ship to bear her name.
The future USNS Ruth Bader Ginsburg, a John Lewis-class replenishment oiler, honors the late justice's commitment to civil and human rights, the Navy said in a statement Thursday.
"She is instrumental to why we now have women of all backgrounds, experiences and talents serving within our ranks, side by side with their male sailor and Marine counterparts," Secretary of the Navy Carlos Del Toro said in the statement.
Del Toro also named Ginsburg's daughter, Jane Ginsburg, as the ship's sponsor, according to the statement.
Ginsburg, who was nominated by President Bill Clinton and confirmed in 1993, died in September 2020 at age 87. She was the first Jewish woman and second woman to serve on the court and was viewed at the time as a moderate consensus-builder.
Despite her diminutive stature and frilly collars, Ginsburg was known for her steely determination and fiery dissents in many of the court's decisions, which earned her the moniker "Notorious RBG."
Shortly after her appointment to the court, Ginsburg wrote the majority opinion in 1996 for United States v. Virginia, which struck down the Virginia Military Institute's admissions policy that excluded women.
"The Court has repeatedly recognized that neither federal nor state government acts compatibly with the equal protection principle when a law or official policy denies to women, simply because they are women, full citizenship stature-equal opportunity to aspire, achieve, participate in and contribute to society based on their individual talents and capacities," Ginsburg wrote.
John Lewis-class oilers, named for the civil rights advocate and U.S. congressman from Georgia who died in July 2020, are designed to transfer fuel to the Navy's carrier strike groups.
The oilers can carry as much as 162,000 barrels of fuel and have significant dry cargo capacity and aviation capability. The ships measure 742 feet in length with a full load displacement of 49,850 tons and can travel at a speed of about 23 mph, the Navy said.
Twitter: @alisonbath_
---
---
---
---