Painful news reveals bond between US sailor and mentor in Naples
By
Stars and Stripes
March 11, 2022
---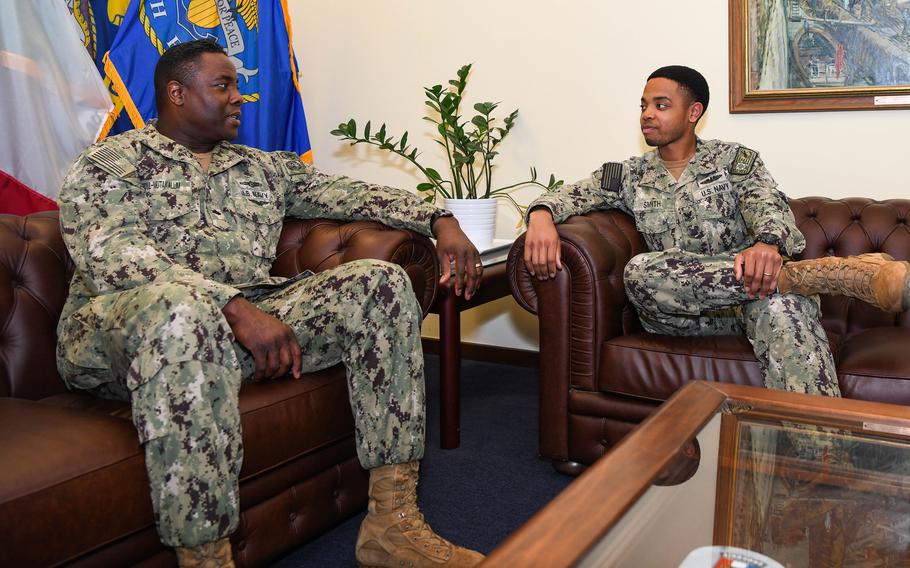 NAPLES, Italy — "Only when it is dark enough can you see the stars."
Martin Luther King Jr. said those words on April 3, 1968, a day before he was assassinated in Memphis, Tenn. They continue to inspire Petty Officer 2nd Class Danny Smith, a 28-year-old yeoman assigned to Submarine Group 8.
Amid uncertainty about his future and grief over his father's death, which deprived him of the opportunity to fix their strained relationship, Smith found hope from a fellow sailor who shared an unknown bond.
A little more than a year after arriving at Naval Support Activity Naples in January 2019, Smith developed a casual, professional relationship with Cmdr. Hasan Abdul-Mutakallim, who worked in a separate command but in the same building and on the same floor as Smith.
Abdul-Mutakallim, 48, seemed like a "role model and someone you could look up to," Smith said. He was easy to talk to and good at listening, Smith recalled.
"Even though I was just a random person asking him for advice and things of that nature, he was really just helpful in giving me instruction and guidance," said Smith, who was having doubts about staying in the Navy as a submariner and wanted to apply to be a commissioned officer.
Smith struck Abdul-Mutakallim as a quiet, reserved young man focused on his education and his goals. Yet he knew there was more behind that introverted exterior.
"There's a side of him that I haven't had a chance to fully know," said Abdul-Mutakallim, who joined the Navy in 1996, ultimately earning an undergraduate degree and attending flight school in 2001.
He now is the C4/Cyber deputy director for U.S. 6th Fleet overseeing information support and technology.
Smith grew up without his father, Raymond, for much of his childhood. As a senior in high school, Smith reconnected with his dad, but the relationship later grew distant.
Not long after visiting his father, who had suffered a stroke, Smith returned to Naples in May 2021, when his brother Carl called with the news that their father was dead.
"I caught myself punishing him," Smith said, adding that in retrospect, he realized that although he had forgiven his father for leaving the family, he was still angry.
"I never would have thought in a million years that he would (die) while I was making emotionally rash decisions," he said.
At the same time, Abdul-Mutakalli learned of the death of "Uncle Ray" from his grandfather. He talked about it with his cousin Carl Smith, a senior chief culinary specialist and submariner in Washington state.
It was during that call that Abdul-Mutakallim learned not only that Carl Smith had a brother but also that the brother was in the Navy and working at NSA Naples.
"I'm like, 'You have a brother? I think I've spoken to him,'" Abdul-Mutakallim recalled. "Sure enough, it was (Danny Smith) and we were related."
Because they had spoken informally just a couple of times and knowing it was a sensitive time, Abdul-Mutakallim reached out to Danny Smith through a mutual acquaintance, saying he thought they might be cousins.
During a subsequent phone call, Danny Smith and Abdul-Mutakallim confirmed their family connection.
"It was pretty cool. It was pretty random but awesome," Smith said.
Since then, the two have built a friendship, met each other's wives and attended family events, including a baby shower for Abdul-Mutakallim's wife.
This week, Smith leaves NSA Naples for an assignment in Maryland. In May, Abdul-Mutakallim also will leave for an assignment at another base, serendipitously in Maryland.
Each of them is looking forward to getting to know the other better, hanging out and attending family events, including reunions.
"Everything we didn't get to do here, we'll get a chance to do there," Abdul-Mutakallim said.
While nothing will replace having his father, Smith said his relationship with Abdul-Mutakallim and the opportunity to meet his "new" family helps fill the void.
"It was like God took away this part, but he also introduced a whole new world of relationships and people I can meet now," Smith said. "I can't do it through my dad or with him, but I have an extension of him now."
---
---
---
---