Task Force X will put flying and seagoing drones to the test during US-led naval exercise
By
Stars and Stripes
February 2, 2022
---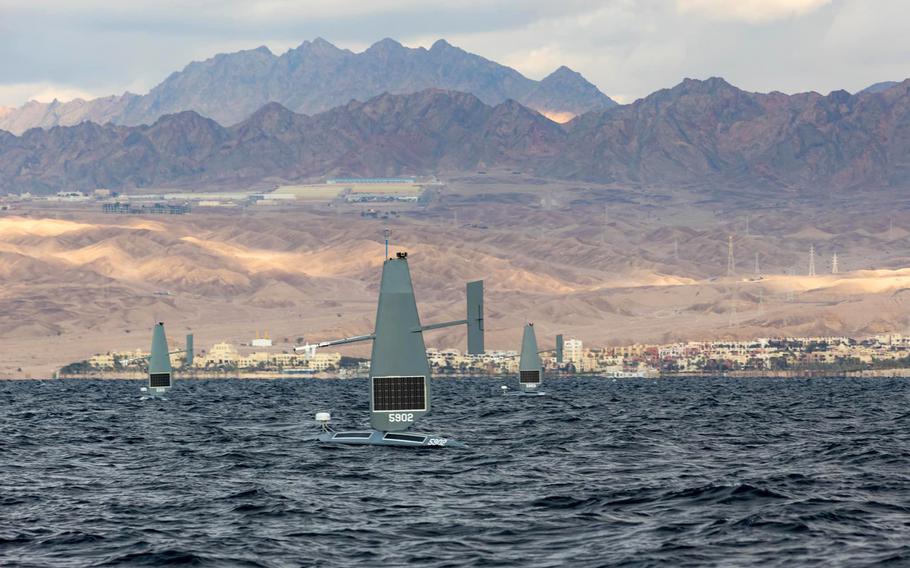 The U.S. Navy is leading what it bills as the world's largest unmanned maritime exercise in a region where its sailing drones have already been patrolling busy shipping lanes used by arms and drug traffickers.
The 18-day training event kicked off Monday in Bahrain. It's expected to feature nearly 80 unmanned aircraft, surface craft and underwater vehicles, including eight types of U.S. platforms. Drones from nine other countries will be used as well.
The exercise spans from the East African coast to the Indian Ocean and is the Middle East's largest naval drill, said U.S. Naval Forces Central Command.
The event combines two exercises, the International Maritime Exercise and Cutlass Express, which were first held together in 2019.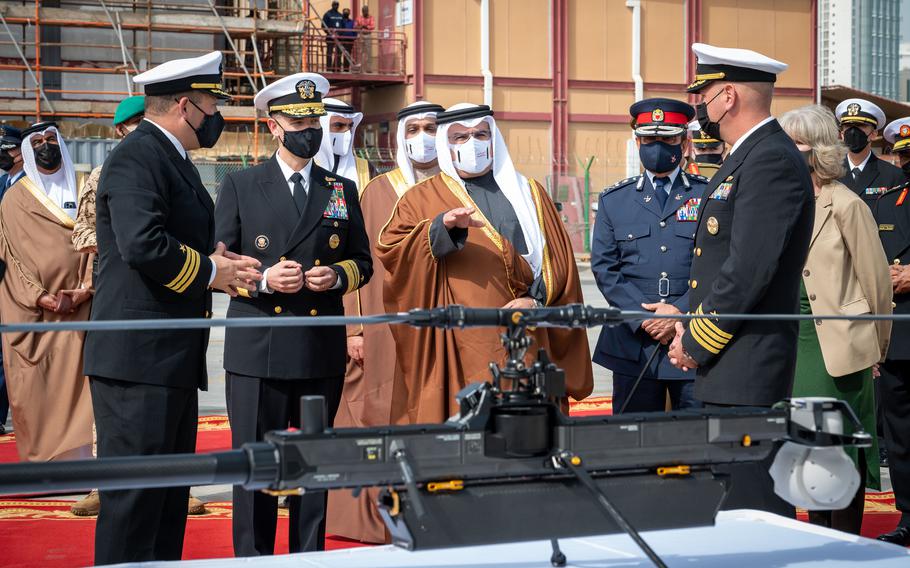 "Since this is the largest unmanned exercise in the world, I am most excited about the opportunity to flex 14 different training scenarios," said Vice Adm. Brad Cooper, head of the Bahrain-based NAVCENT, 5th Fleet and Combined Maritime Forces, which runs the International Maritime Exercise.
U.S. Naval Forces Europe and Africa is running the Cutlass Express exercise.
Navy officials hope to take lessons learned from the use of drones and artificial intelligence and quickly apply them to real-world operational challenges, said Cmdr. Thomas McAndrew, who planned the integration of those systems into the exercise.
In a call with reporters Wednesday, Navy officials declined to discuss many of the details of the scenarios, including whether they will focus on defending against drone attacks from hostile forces.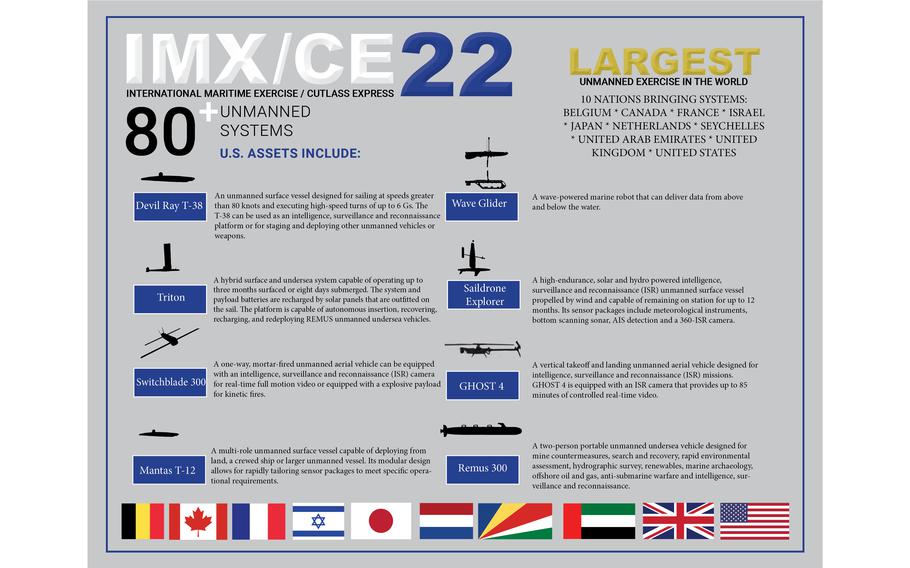 In recent years, Yemen's Houthi militias and their Iranian backers have used unmanned systems to attack U.S. or allied interests.
The U.S. Navy created a unit in NAVCENT in September 2021 to focus on integrating drones and AI capabilities into operations within 5th Fleet. McAndrew is deputy commander of that unit, known as Task Force 59.
The 34-member Combined Maritime Forces, a standing naval partnership, along with the region's geography, climate and strategic importance make it ideal for integrating drones, officials have said.
CMF was created in 2001 to combat terrorism and piracy while promoting safety and free trade across a maritime expanse of 3.2 million square miles. The area includes three key chokepoints and some of the world's most important shipping lanes.
Unmanned systems that can operate for long stretches on their own, up to months in some cases, can boost the Navy's awareness of what's going on in the air, on the sea and under it, McAndrew said Wednesday.
Such coverage over vast areas can be useful in search and rescue operations, such as when someone is reported overboard, McAndrew said.
But the trove of data those systems provide, such as photos and real-time video, require the use of AI to speed the processing, he said.
Since October, Task Force 59 has been testing and evaluating several unmanned surface vessels, or USV, in the Persian Gulf and the Red Sea. Those include the 12-foot-long MANTAS T-12, a speedboatlike 38-foot-long Devil Ray T-38, and a 32-foot-long Saildrone Explorer, which is propelled by the wind.
The unmanned vessels drew a lot of interest from other participants, said lead exercise planner Cmdr. Kenyatta Martin.
"It's actually been a pleasant surprise," he said. "It's created an even better dynamic for the exercise."
A drone-focused organization dubbed Task Force X, created for the exercise, will be integrated into four geographic exercise task forces led by the United Arab Emirates, Egypt, Kenya and Oman.
That will give countries that don't have drones a chance to gain experience with them, McAndrew said.
In all, some 9,000 personnel and 50 ships will participate in the event, which also aims to improve command and control capabilities, sea control, security and mine countermeasures skills, officials said.
"This level of representation demonstrates shared resolve in preserving the rules-based international order," said Cooper, who will lead the exercise alongside a deputy commander from Pakistan and a British vice commander.
---
---
---
---