3,000 jobs, $165M in contracts: What's new at Ingalls as US Navy secretary visits
By
The Sun Herald
January 27, 2022
---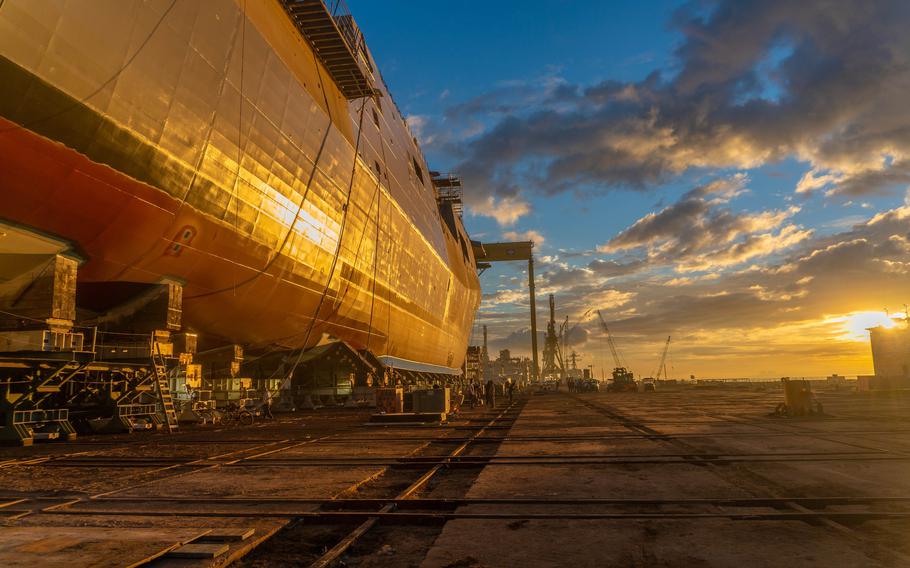 PASCAGOULA, Miss. (Tribune News Service) — Twenty years before he was appointed U.S. Secretary of the Navy, Carlos Del Toro was stationed in Pascagoula and helped build the USS Bulkeley (DDG-84) at Ingalls Shipyard.
He returned to the shipyard Wednesday, five months after becoming the Navy Secretary and overseeing a budget of $210 billion.
The first shift of 11,500 employees continued working on several ships while Del Toro and members of the Coast delegation in Washington — Sen. Roger Wicker, Sen. Cindy Hyde-Smith and Rep. Steven Palazzo — went aboard ships and toured parts of the 800-acre site.
They spoke to the media in front of the recently-launched USS Richard M. McCool Jr. (LPD-29).
Del Toro served in the Navy for 22 years and was at Ingalls from 1999, when construction of the Bulkeley began, to about 2001.
"I built the USS Bulkeley in this shipyard," he said, "and I actually spent a year and a half living in one of these buildings here on the shipyard and working with my crew building it from the time it was just an empty hole, basically, to the time we sailed off."
Returning to see the advances
Del Toro said it's important to return to Pascagoula and see the investments made and the advances in technology to build the ships faster and better, and to have them delivered on schedule and on budget.
The shipyard hired 3,000 workers last year and plans to hire another 3,000 this year, said Danny Hernandez, director of corporate public affairs for Huntington Ingalls Industries. It's also seen $800 million in renovation projects and upgrades over the past five years, he said.
Ingalls Shipyard has about a dozen ships under construction and more on order. It is the only shipyard in the country building under four military programs, Hernandez said.
Construction projects at Ingalls
Under construction are:
— Five DDG destroyers for the U.S. Navy.
— Two National Security Cutters for the Coast Guard.
— Three LPD amphibious ships used to transport troops.
— One LHA amphibious ship that is larger than the LPDs and can land helicopters.
In addition, the DDG 1002 that was built in Maine just arrived at Ingalls Shipbuilding for installation of the combat system.
Since Dec. 1, more than $165 million in contracts were awarded to Ingalls Shipbuilding. They include:
— $70.9 million for long lead time material in support of one amphibious assault ship replacement (LHA(R)) Flight 1 Ship (LHA 9).
— $60.4 million for integration of four Joint Strike Fighter engineering change proposals in support of one amphibious assault ship replacement (LHA(R)) Flight 1 Ship (LHA 8).
— $24.3 million 2443 for life cycle engineering and support for the LPD 17 Class Amphibious Transport Dock Ship Program.
— $10.6 million for for temporary dock services and maintenance to prepare for the combat system availability for DDG 1002.
Importance to south Mississippi
When Congress is voting on appropriations for new ships, Palazzo said, "People don't understand how important that is to our way of life here on the Mississippi Gulf Coast but also provide for our common defense."
Wicker said legislation passed under the previous administration to build a fleet of 355 ships to defend the U.S.
"That's a figure that the admirals and generals around the world gave us," he said. "And they didn't say that was the optimal requirement. They said that is the minimum requirement to keep the United States safe and secure."
Hyde-Smith said it is so important that the Navy Secretary knows where Pascagoula, Miss., is and that the country is a strong force.
"We need to be a strong threat so that people know the United States is not to be taken lightly," she said.
(c)2022 The Sun Herald (Biloxi, Miss.)
Visit The Sun Herald (Biloxi, Miss.) at www.sunherald.com
Distributed by Tribune Content Agency, LLC.
---
---
---
---