USS Harry S. Truman strike group to participate in NATO exercise amid tensions with Russia over Ukraine
By
Stars and Stripes
January 21, 2022
---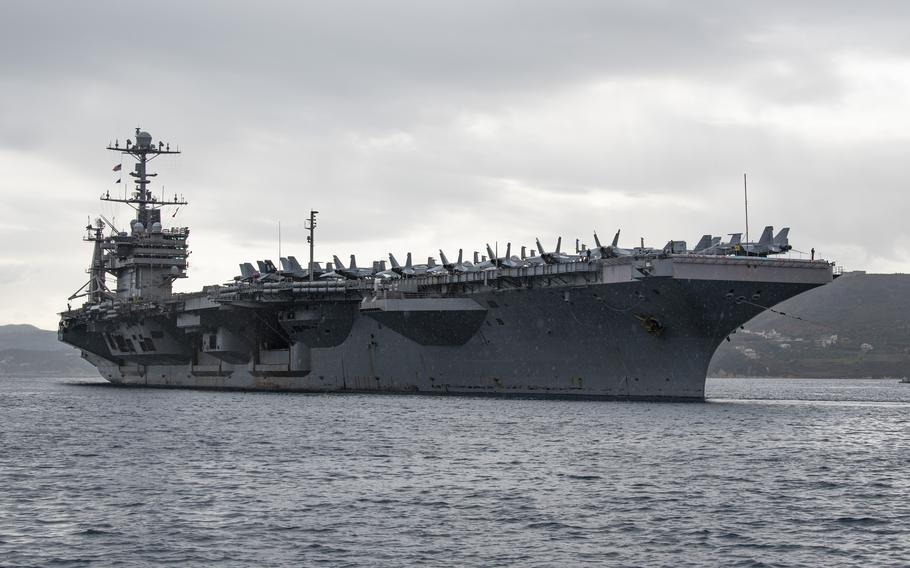 WASHINGTON – The USS Harry S. Truman carrier strike group will participate in a NATO exercise in the Mediterranean Sea starting Monday amid simmering tensions over Russia amassing troops along its border with Ukraine, chief Pentagon spokesman John Kirby said Friday.
Neither Kirby nor Navy officials would specify what elements of the strike group would participate alongside the aircraft carrier, though the ship was operating last month with the guided-missile destroyers USS Banbridge, USS Cole, USS Gravely and USS Jason Dunham, according to a Dec. 23 service statement.
"[The exercise is] designed to demonstrate NATO's ability to integrate the highest maritime strike capabilities of an aircraft carrier strike group to support the deterrence and defense of the alliance," Kirby said during a news briefing at the Pentagon.
Though it comes at a time when NATO-Russian tensions are running high as Russia continues to surge troops along its border with Ukraine, Kirby said NATO allies have been planning the exercise, dubbed Neptune Strike 2022, for about two years.
"It wasn't planned back in 2020 anticipating a Russian move on Ukraine and … the exercise itself is not designed against the kinds of scenarios that that might happen with respect to Ukraine," he said.
Still, Kirby did not say why NATO members decided to continue with the exercise given the tensions with Russia.
"We constantly look at exercises and training and ask ourselves … do we really need to do it now? Should we speed it up? Should we shorten it?" he said. "There was due consideration given about tensions right now about our exercise posture and after all that consideration and discussion with our NATO allies, the decision was made to move ahead."
The strike group will operate under NATO's control during the exercise, which will run through Feb. 4, Kirby said. Militaries from other NATO members will join the U.S. "in coordinated maritime maneuvers, anti-submarine warfare training and long-rang strike training" during Neptune Strike, though Kirby declined to specify what other nations will participate.
"All of the training events will highlight the continuing steady progression of alliance cohesion in a high-end and dynamic environment," he said.
Since Tuesday, Russia has been conducting its own upcoming joint naval exercise with China and Iran in the Gulf of Oman, its defense ministry said in a statement Thursday.
The trio of U.S. adversaries are firing artillery at sea targets, and practicing joint maneuvering, organized search operations and releasing a ship seized by pirates until Saturday, according to the statement.
Russia also plans to send a detachment of ships into the Mediterranean Sea "in the future" for unspecified exercises, according to the ministry's statement.
Increased tensions
Russia has spent weeks moving troops to its western border with Ukraine as the U.S. and other NATO allies have been engaging in diplomatic discussions with Russian officials to come to a peaceful resolution. However, those efforts so far have fallen flat.
Russian President Vladimir Putin has said he wants NATO to bar Ukraine from any future membership in the alliance, a concession to which the U.S. will not agree, Secretary of State Antony Blinken said Friday after discussing the issues with Russian Foreign Minister Sergey Lavrov in Geneva, Switzerland.
"I made clear to Minister Lavrov that there are certain issues and fundamental principles that the United States and our partners and allies are committed to defend," Blinken told reporters after the meeting. "That includes those that would impede the sovereign right of the Ukrainian people to write their own future. There is no trade space."
The Russian Foreign Ministry on Friday said it also wants the West to withdraw troops and military equipment from countries added to NATO in the past 25 years.
"We are talking about the withdrawal of foreign forces, equipment and weapons and other steps in order to return to the configuration as of 1997 on the territory of countries that were not NATO members on the specified date," the ministry said in a translated statement. "These include Bulgaria and Romania."
But President Joe Biden on Tuesday said the U.S. will increase troop presence "in Poland, in Romania, etc." should Russia invade Ukraine.
"We have a sacred obligation…to defend those countries," he said. "They are part of NATO. We don't have that obligation relative to Ukraine, although we have great concern about what happens in Ukraine."
On Tuesday, Russia sent thousands of troops into Belarus for what it claims are military exercises. A senior State Department official on Tuesday warned the exercise might be a "ruse" to allow Russia to invade Ukraine from its northern border with Belarus.
Blinken on Friday estimated that about 100,000 Russian troops are involved in operations along the country's border with Ukraine and in Belarus.
Kirby would not definitely say whether he believed Russia's actions in Belarus signaled a coming invasion into Ukraine, though he added the Pentagon "has never classified all that force presence as indicative of an exercise."
"When you have forces arrayed like that, they could exercise and conduct exercises -- and those exercises could, in fact, be to improve their capabilities for an invasion or incursion," he said. "We're not splitting hairs here over whether they're exercising or they're not … [but] we see a sizable force presence that continues to increase. There's no sign of de-escalation here."
Diplomacy first
Blinken on Friday said President Joe Biden's administration continues to push for a diplomatic resolution, but Russia must be willing to make reciprocal concessions if it expects the U.S. to do so.
"I expressed again to Minister Lavrov that on the security concerns that Russia has raised in recent weeks, the United States and our European allies and partners are prepared to pursue possible means of addressing them in a spirit of reciprocity, which means simply put that Russia must also address our concerns," he said. "There are several steps that we can take, all of us, Russia included, to increase transparency, to reduce risks, to advance arms control, to build trust."
For example, the U.S. last week was willing to discuss changing the "scale and scope" of U.S. exercises in the region "if and only if there was going to be reciprocity on the Russian side," Kirby said earlier this week.
"One significant, key way for it to get de-escalated is for the Russians to pull some of those forces back away from the border with Ukraine and they have shown no inclination to do that," Kirby said Friday. "In fact, quite the contrary, they continue to add to the force presence there."
More so, the U.S. will not shy away from military options should Russia invade Ukraine and NATO asks for assistance, Kirby and Blinken have said.
"We've been clear if any Russian military forces move across Ukraine's border, that's a renewed invasion," Blinken said. "It will be met with swift, severe, and a united response from the United States and our partners and allies."
He further warned that other acts of aggression, such as Russian cyberattacks or paramilitary tactics, "will also be met with a decisive calibrated and, again, united response."
"We engage in diplomacy and dialogue … but at the same time, we are embarked on a path of defense and deterrence," Blinken said. "These things are not mutually inconsistent. In fact, they reinforce each other."
The Pentagon is also engaging in diplomatic talks with allies and partners. Defense Secretary Lloyd Austin on Jan. 13 spoke with Ukrainian Minister of Defense Oleksii Reznikov regarding "Russia's ongoing and unprovoked military buildup in and around Ukraine," the Defense Department said in a statement last week.
"Secretary Austin reaffirmed unwavering U.S. support for Ukraine's sovereignty and territorial integrity, including ongoing efforts to build the capacity of Ukraine's forces through the provision of defensive assistance," the Pentagon said. "The leaders expressed support for diplomatic efforts to de-escalate tensions and committed to continuing their close coordination."
On Tuesday, Laura Cooper, the deputy assistant secretary of defense for Russia, Ukraine, and Eurasia, met virtually with NATO representatives from Canada, Lithuania, Poland and the United Kingdom to discuss the situation and reiterate their support for Ukraine, according to a DOD statement.
The U.S. has provided more than $2.5 billion in security assistance to Ukraine since 2014 – the last time Russia invaded the country, the Pentagon said last week. About $450 million of that was given in 2021 alone.
But Kirby would not say Friday whether more assistance such as U.S. military equipment could be sent to Ukraine.
"We'll have more to say about that later on," he said. "We continue to provide security assistance to Ukraine, and I believe our State Department colleagues will have a little bit more to say about that later. I don't have anything to announce or speak to today."
To date, the U.S. has not sent troops to Ukraine to assist against a possible Russian attack, according to Kirby, though more than 100 Florida National Guard special operators are now in the country on an advise-and-assist deployment to help train Ukrainian troops.
---
---
---
---