USS Abraham Lincoln captain becomes first woman to take a US aircraft carrier to sea
by
Alex Wilson
Stars and Stripes
January 4, 2022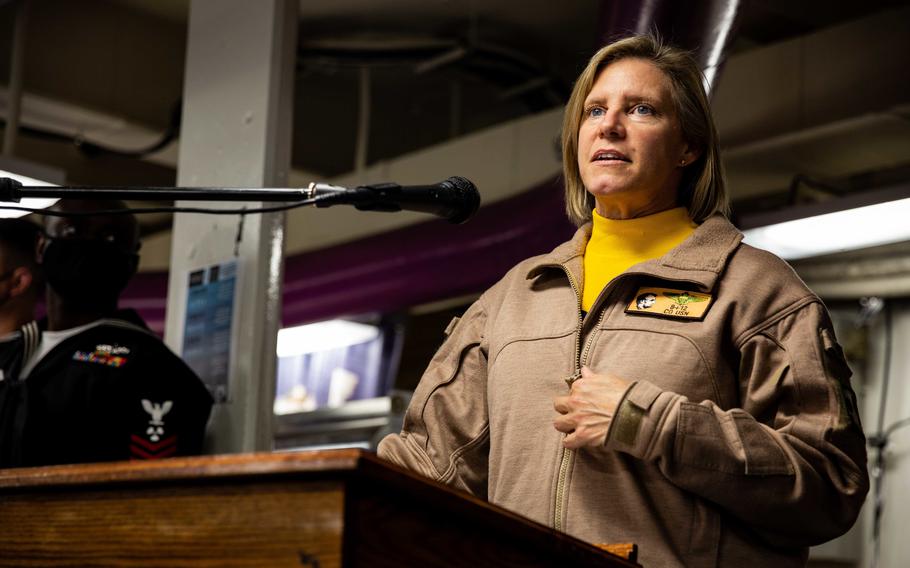 The USS Abraham Lincoln made history on Monday as it departed San Diego for a scheduled deployment, the first-ever of a U.S. aircraft carrier skippered by a woman.
Capt. Amy Bauernschmidt assumed command of the Abraham Lincoln in August. The ship departed with its strike group for a regularly scheduled deployment in support of global maritime security operations, according to a Monday news release from U.S. 3rd Fleet.
"These Sailors are incredible professionals who have trained exceptionally hard to ensure they are ready for any operational obligations required of us on deployment," Bauernschmidt said in the release. "They are absolutely prepared for today's deployment, and I have no doubt they will represent our nation proudly as we defend our national interests."
A Milwaukee native, Bauernschmidt graduated with a bachelor's in ocean engineering from the Naval Academy in 1994, the first graduating class in which women were allowed to serve aboard combatant ships and aircraft, according to the Navy. She earned a master's at the Naval War College and was designated a naval aviator in 1996. She has 3,000 flight hours and numerous commendations, according to her Navy biography.
She was also the first female executive officer aboard a carrier when she stepped into that role aboard the Abraham Lincoln in August 2016.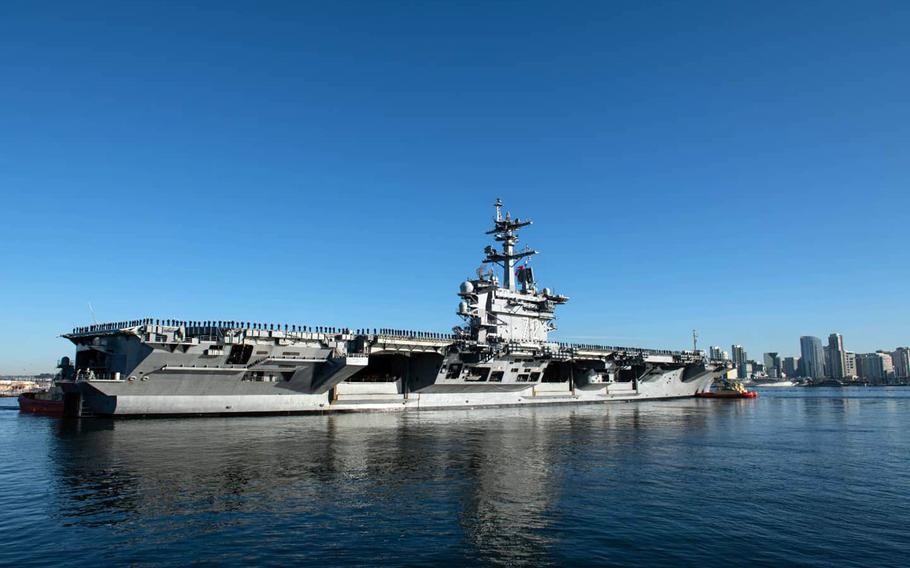 Flanking the ship is Carrier Strike Group 3, which includes the guided-missile cruiser USS Mobile Bay and guided-missile destroyers USS Fitzgerald, USS Gridley, USS Sampson and USS Spruance.
The strike group includes Carrier Air Wing 9, which 3rd Fleet described as "most advanced air wing in the Navy."
The air wing includes Marine Fighter Attack Squadron 314, the first Marine Corps squadron of F-35C Lightning II fighter jets, along with squadrons of F-18 Super Hornets, EA-18 Growlers and other aircraft.
This is the second carrier deployment for the F-35C. The USS Carl Vinson went to sea with Navy squadrons in August.
The Abraham Lincoln last deployed in 2019 from its previous homeport of Norfolk, Va., operating first in European waters before heading to the Middle East, where it operated in the Arabian Sea and Gulf of Oman.
---
---
---
---