New leader takes over Navy command on Okinawa with wide-ranging missions
by
Matthew M. Burke
Stars and Stripes
December 16, 2021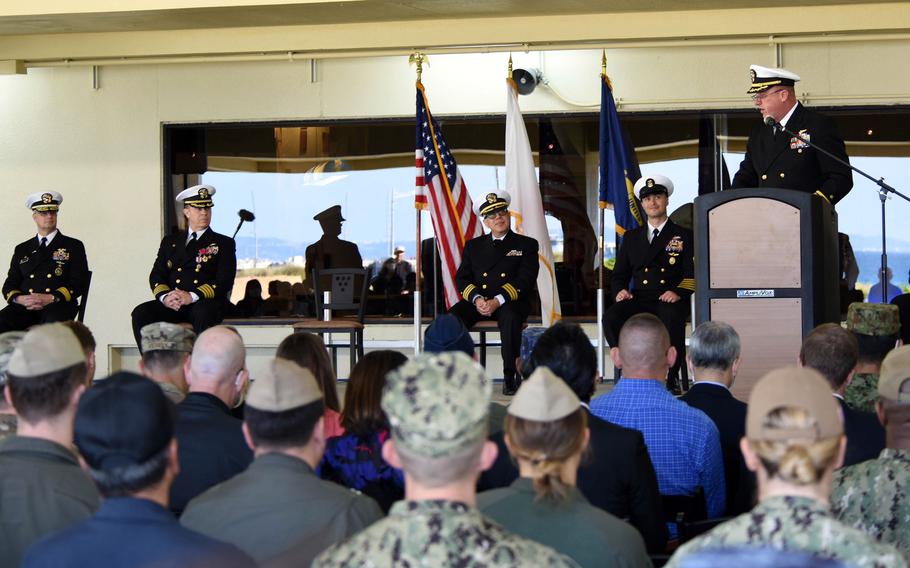 WHITE BEACH NAVAL FACILITY, Okinawa — One carrier pilot relieved another Thursday to take command of the Navy's activities on Okinawa, a unique responsibility that includes naval aviators and ocean-going sailors.
Capt. Patrick Dziekan, an E-2 Hawkeye pilot, took command of Fleet Activities Okinawa from Capt. Scott Hardy during a low-key outdoor ceremony at White Beach's Port of Call Club. The naval aviators were surrounded by approximately 150 sailors, dignitaries and special guests, in view of docked vessels and picturesque green-blue seas.
"Today is a demonstration of the commitment of the United States and Japan to a free and open Indo-Pacific," Navy Region Japan commander Rear Adm. Carl Lahti said during the ceremony.
No one mentioned China during the event. But Lahti referred to nations that would disregard the "rules-based international order" and impose their will upon the citizenry of the region.
Dziekan has his "full trust" to continue leading where Hardy had left off, Lahti said.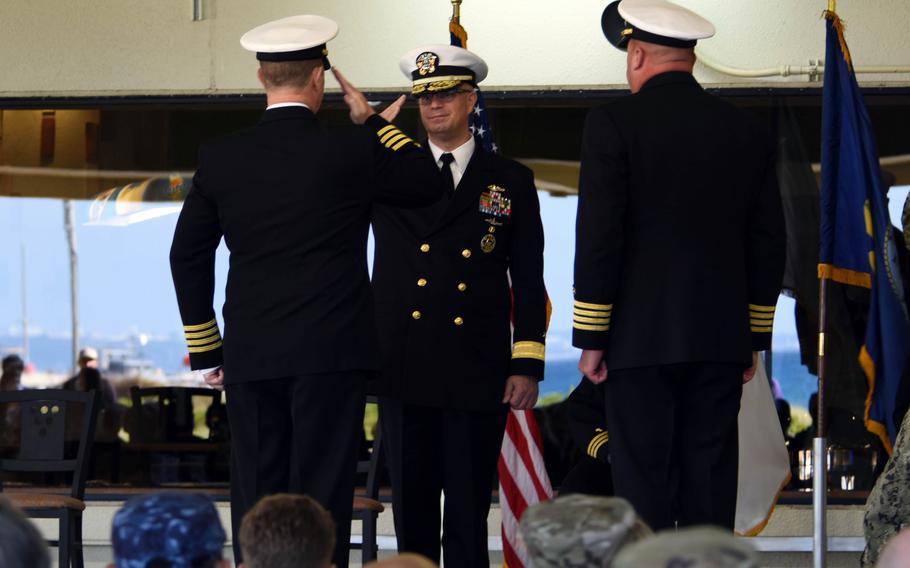 The roots of the Navy command on Okinawa go back to 1951, according to a factsheet from the service. With headquarters on Kadena Air Base, the command has a presence on four other Okinawa installations, including White Beach, its staging area for Marines headed to sea.
Fleet Activities Okinawa is responsible for 3 million square feet of facilities on 1,500 acres, across a dozen geographically separate sites, the factsheet said. It also manages 32 tenant commands and more than 8,000 sailors and civilian employees.
Its primary tenant is Task Force 76, a command that embraces several missions, including expeditionary and amphibious warfare, and humanitarian relief efforts.
Dziekan arrived from Navy Region Mid-Atlantic in Virginia, where he served as executive assistant and acting chief of staff to the commander, his Navy biography states. A native of Ellison Bay, Wis., he enlisted as a yeoman in 1990 and was commissioned nine years later.
Often referred to by his call-sign "Donk," Dziekan served aboard the aircraft carriers USS Constellation, USS Abraham Lincoln and USS Dwight D. Eisenhower, according to his biography. He recorded over 3,500 flight hours and 500 carrier landings. He also deployed to Iraq and Afghanistan and received the Air Medal and Navy Commendation Medal with Combat "V."
"Together with our mission and community partners, we play a vital role in maintaining peace, prosperity and stability throughout this region," Dziekan said during Thursday's ceremony. "I am reassured that I am now part of a strong and diverse alliance, with both our Okinawan hosts and partners and our joint leadership team."
Hardy, a former enlisted Marine turned Navy electronic-warfare pilot, heads to Cornell University where he will teach and command the school's Naval Reserve Officer Training Corps, Navy spokesman Rob Helton told Stars and Stripes after the ceremony.
Hardy, who arrived on Okinawa in February 2019, was heralded Thursday for steadfast leadership through the COVID-19 pandemic and for forging lasting partnerships with members of the local community.
"Okinawa is the only U.S. Naval facility in Japan with both airfield and port operations, and you met every mission safely and effectively," Lahti told Hardy.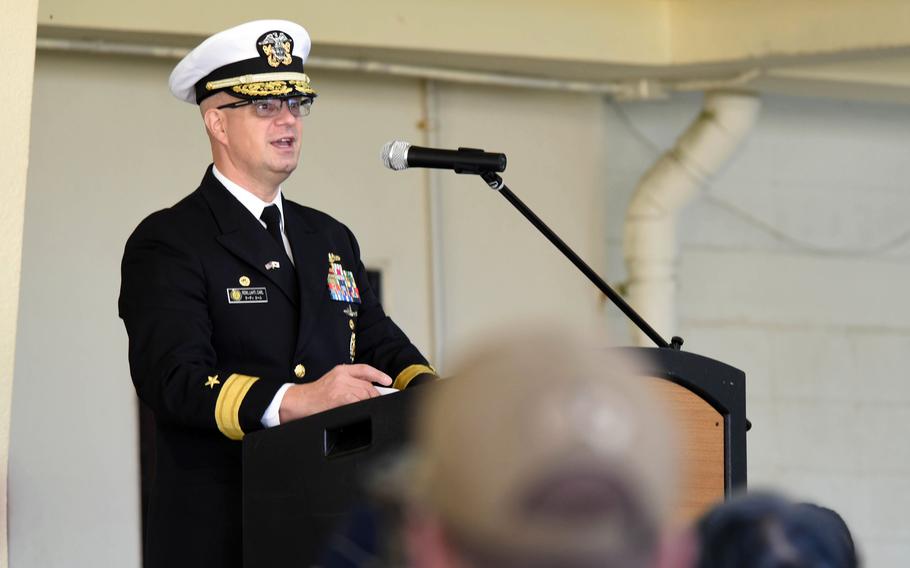 From the podium, Hardy thanked many, including officers of the Japan Self-Defense Forces and sailors of the Okinawa command.
"As I ready to leave Japan for the last time as a member of the Navy, I want to say a final thank you to the sailors of CFAO," Hardy said. "You are an irreplaceable, integral part of our efforts to ensure an open and free Indo-Pacific, a peaceful region and a global stage free of coercion and that's adherent to a rules-based order."
---
---
---
---