Navy Exchange will disconnect its afloat phone service on most ships this month
by
Juan King
Stars and Stripes
December 15, 2021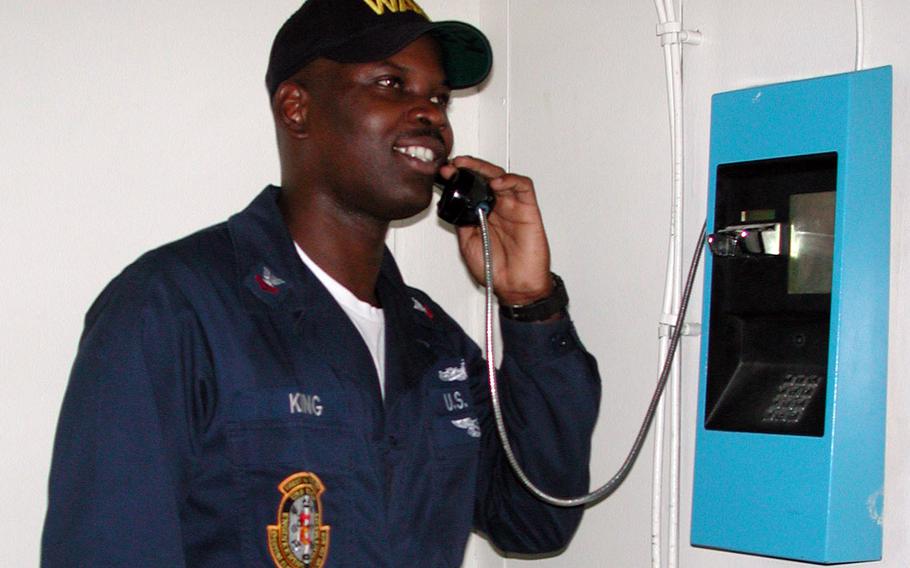 Navy Exchange Service Command is hanging up its long running phone service for service members at sea, according to a news release from the command.
The Afloat Personal Telecommunications Service, or APTS, will end Dec. 31 after providing call service to personnel aboard Navy ships for more than 25 years, according to the release on Monday.
Personal cellphones and email eventually supplanted the afloat phone service, which also grew more expensive over the years, according to an email Wednesday from exchange spokeswoman Kristine Sturkie.
Use of phone cards associated with the service has fallen by 75% since 2012, she wrote.
Sailors and Marines purchased calling cards or virtual minutes that they could use at payphones on their ships. Those calls became a relatively expensive 45 cents per minute, Sturkie said.
Along with declining demand came increasing operations and maintenance costs for continuing tests and use of satellite Wi-Fi technology, said Mary Johnson, vice president of the exchange command's telecommunications program office, in the release.
Nonetheless, keeping Navy and Marine Corps service members connected to home through the afloat service was a privilege, Johnson was quoted as saying.
Navy Exchange Service Command was designated the manager of the afloat telecommunications service in 1994 by the chief of naval operations, according to the release. It supports all unofficial, personal communications services afloat and ashore.
Although the APTS ends Dec. 31, it will remain available aboard ships deployed by that date, according to the release.
---
---
---
---