Sailor assigned to USS Ronald Reagan found dead at naval base in Japan
by
Alex Wilson
Stars and Stripes
November 22, 2021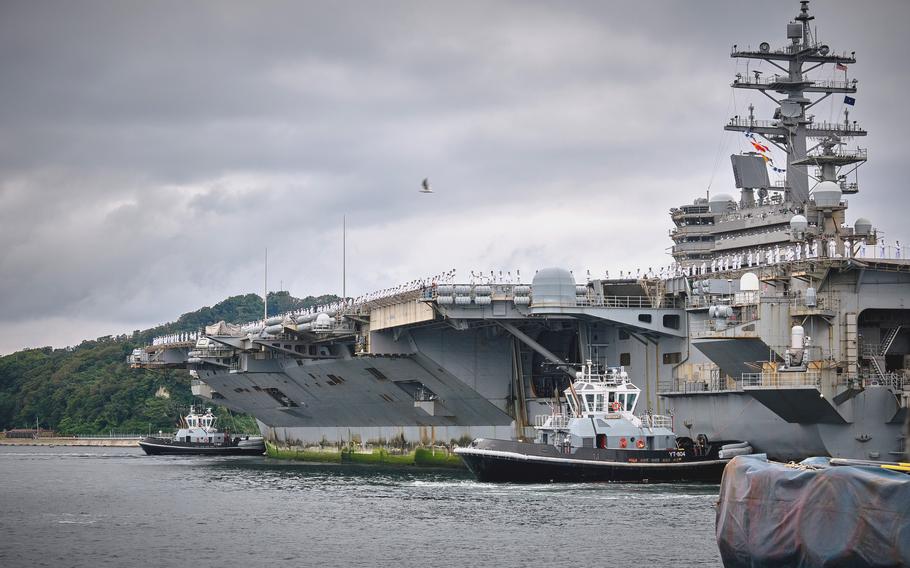 YOKOSUKA NAVAL BASE, Japan — A sailor assigned to the aircraft carrier USS Ronald Reagan was found dead Friday morning at the naval base, the carrier's homeport, according to Navy officials. 
A spokesman for the Reagan identified the sailor as Seaman Brandon Forbes, 20, of Maple Heights, Ohio, a machinist's mate fireman assigned to the Reagan's nuclear reactor department.
Forbes had failed to report for duty and was considered absent without authorization for several days prior to Friday, according to an email Monday to Stars and Stripes from spokeswoman Lt. Cmdr. Dawn Stankus.
Someone phoned the Naval Criminal Investigative Service about the body's location, according to Stankus. She declined to identify the caller or where Forbes' body was discovered or at what time.  
Investigators discovered no immediate evidence of foul play, but NCIS remains "heavily involved and invested in the situation," according to Stankus.
The Reagan's commander, Capt. Fred Goldhammer, was expected to address his crew on Monday regarding Forbes' death. 
"Our deepest condolences go out to the family and friends of Machinist's Mate Fireman Brandon Forbes," Goldhammer said, in a statement provided by Stankus. "He was an energetic young man who was dedicated to his duties and his shipmates onboard Ronald Reagan. The circumstances surrounding this unfortunate loss of life remain under investigation at this time. Our thoughts and prayers go out to Brandon's family as we all grapple with this tragedy."
Stankus said the Reagan's crew "remains focused on its mission" and will continue with the ship's scheduled in-port maintenance.