Navy sailors volunteer across Santa Fe for Navy Week
by
Michael Tashji
The Santa Fe New Mexican
November 12, 2021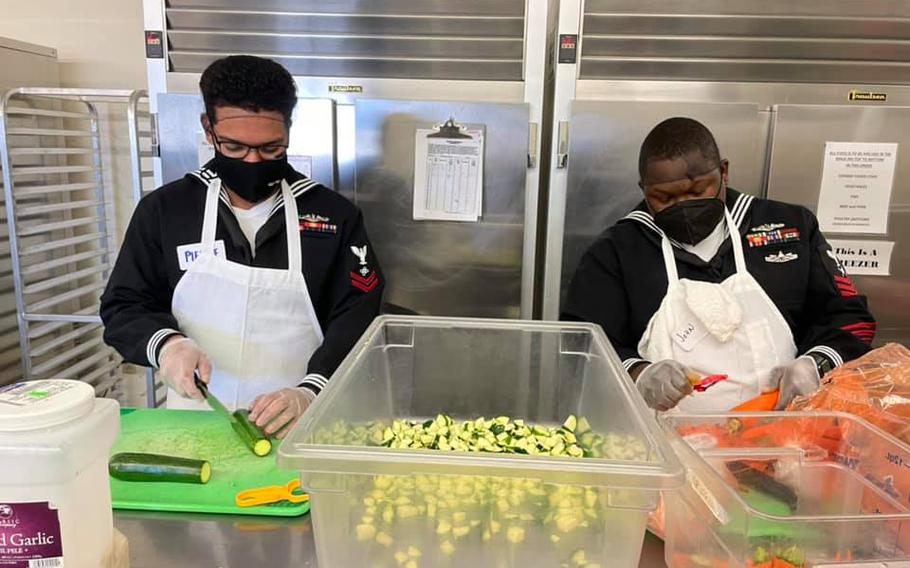 SANTA FE, N.M. (Tribune News Service) — Crew members of the USS Santa Fe rolled up their sleeves this week and got busy preparing meals for homebound residents at the nonprofit Kitchen Angels.
Sailors, accustomed to orderly galleys, were on hand volunteering for Navy Week, an outreach program designed to bring sailors into inland communities. Personnel from the USS Constitution and USS Dwight D. Eisenhower also helped out.
"Fifteen times a year, we take sailors and units from around the world and bring them to places like Santa Fe," said John Wallach, deputy director of the Navy Office of Community Outreach. "It's simply connecting with Americans who otherwise would never get to see their Navy or shake a sailor's hand."
Petty Officer 2nd Class Pierre Delgado, 25, who serves aboard the USS Santa Fe — a Los Angeles-class submarine — was chopping carrots Wednesday for a side dish to accompany a turkey dinner Kitchen Angels was preparing for people confined to their homes.
He is a member of the navigations team for the nuclear-powered warship. "I work with the officers to make voyage recommendations that keep us away from danger while we are submerged and on the surface," he said.
Delgado, who is from Killeen, Texas, said this week's visit to Santa Fe was his first. "The food is great. It reminds me of back home," he said. "And the hospitality — people are very warm, very welcoming."
He was one of about a half-dozen sailors volunteering at Kitchen Angels on Wednesday. More were expected to help out Friday.
The nonprofit fills a void left by programs such as Meals on Wheels by catering to clients under the age of 60 across Northern New Mexico.
Workers make meals for clients with different dietary needs, and an all-volunteer workforce of 300 delivers them.
"We serve about 500 people during the course of the year," said Tony McCarty, the group's executive director. Some clients need the service for a period of time as they recover from injuries sustained in a car accident or recover from surgery, he said. Others have chronic illnesses, such as kidney disease.
Kitchen Angels recently added a "caring callers" program that allows volunteers to visit with clients to combat loneliness. It also creates and delivers holiday gift baskets filled with locally sourced items. Several sailors helped fill baskets Wednesday.
Not all the sailors who volunteered were enlisted.
Retired service member Patrick Murphy, 74, of Santa Fe, served from 1965-70 and was stationed on the USS Sea Owl, a diesel-propelled Balao-class submarine. "A lot of other countries had diesel boats. So we were constantly going out from [Naval Submarine Base] New London [in Connecticut] and running exercises, where we would try to hide from ships," he said.
"We'd run on the surface for a while, to see if they could pick us up," he said, "and we would dive, and then try to just sit there and be quiet."
Murphy said when the submarine base was planning a party, they would sail down to St. Croix in the Caribbean and buy inexpensive rum. "We put it in the torpedo tubes," he said. "So when we would roll, you could hear them clinking."
Many Navy ships are named after cities or states, and Wallach said the connection between them is often a strong one.
"For submarines like the USS Santa Fe, the city will send care packages to the sailors on board," he said. "They'll maintain ties while they're on their deployment. They'll follow them in the news."
"And we try to get a small contingent of the crew back to their namesake city or state, just like we're doing here in Santa Fe," Wallach said.
Navy crews worked with several local nonprofits this week, lending a hand with food aid and construction projects, and inspiring children with music lessons and presentations. Sailors also have been engaged in other outreach activities, including visits with local schools and the Santa Fe Fire Department.
A crew from the USS Santa Fe and the USS Eisenhower helped build a house on Blue Feather Road, digging fence postholes, mixing concrete and framing.
"Definitely not afraid of work," said Rob Lochner, construction director for Santa Fe Habitat For Humanity.
Petty Officer 1st Class Jonathan Citizen, 33, who also was helping prepare meals at Kitchen Angels, serves aboard the USS Santa Fe as leading yeoman. He's responsible for administrative tasks for the 161 crew members, including pay, legal affairs, personal problems and incoming and outgoing correspondence.
Citizen, who is from Houston, said it was his first time visiting Santa Fe, too.
"I love the city. I love this small-town feel," he said. "Everyone takes care of everyone. It feels like a submarine to me."
(c)2021 The Santa Fe New Mexican (Santa Fe, N.M.)
Visit The Santa Fe New Mexican (Santa Fe, N.M.) at www.santafenewmexican.com
Distributed by Tribune Content Agency, LLC.
---
---
---