Gamer takes over Navy destroyer's official Facebook page in apparent hacking
by
Alex Wilson
Stars and Stripes
October 7, 2021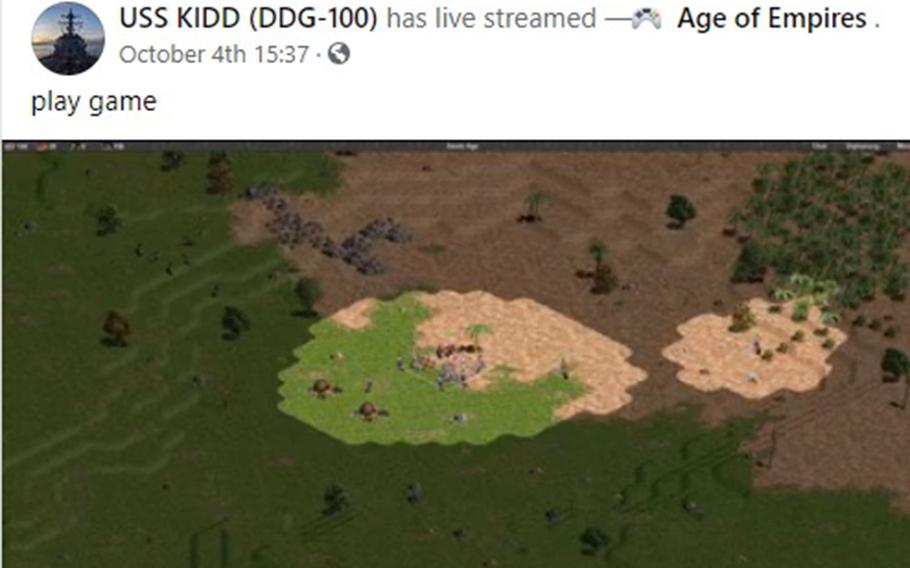 The USS Kidd's official Facebook page has been hijacked by someone who spent more than six hours livestreaming a 1990s-era video game called Age of Empires.
The first gameplay video of the popular real-time strategy franchise appeared on the destroyer's page Sunday morning with this taunting caption: "Hahahahaha."
Five more videos, each of which are more than an hour long, popped up over the next several hours with the captions "play game," "hi everyone," "hi guys," "fffffffffffff" and "POSC."
The page's description was also altered to read "Gaming Video Creator" and "Level Up." The videos were still up as of Wednesday night in Everett, Wash., where the Kidd is homeported.
News of the incident was first reported by the military news website Task & Purpose on Wednesday.
"The official Facebook page for USS Kidd was hacked," Navy spokeswoman Cmdr. Nicole Schwegman told the site. "We are currently working with Facebook technical support to resolve the issue."
A spokesperson for the Kidd did not immediately respond to emails from Stars and Stripes requesting more information on Wednesday.
The six videos had garnered more than 19,000 views and about 80 comments as of Wednesday night. One person wrote, "Just in time for Cyber Awareness month." Another quipped that the Navy's tactics "sure have changed a lot in recent years."
The Kidd returned to Naval Station Everett on Sept. 24 after a nearly four-month deployment that saw a trip through the Taiwan Strait and a coronavirus outbreak that infected 330 sailors and sidelined the ship in San Diego for six weeks.