USS Ronald Reagan steams into South China Sea after summer deployment to Middle East
by
Alex Wilson
Stars and Stripes
September 24, 2021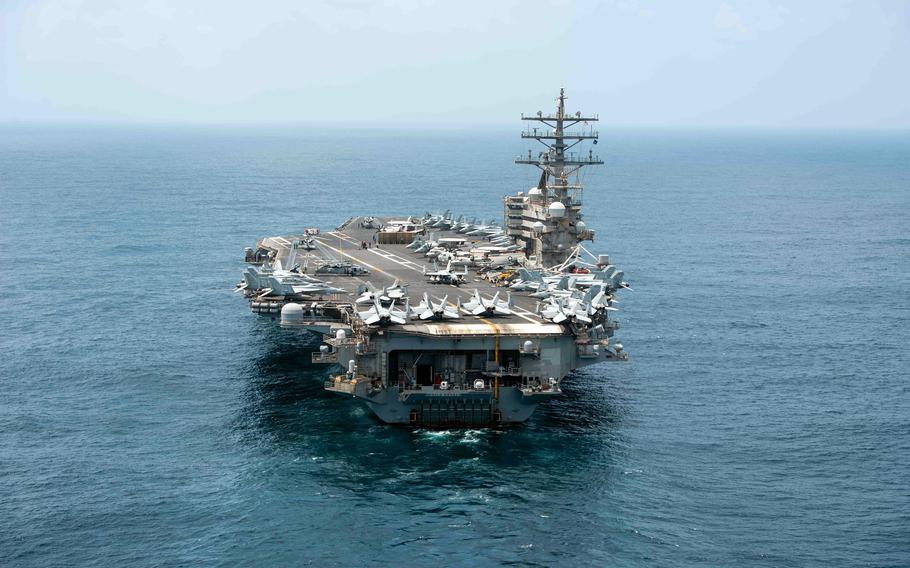 The Ronald Reagan Carrier Strike Group, fresh from duty in the Middle East, sailed into the contentious South China Sea on Friday.
The Navy announced the strike group's entry into the area in a news release the same day. Led by the aircraft carrier USS Ronald Reagan, the strike group returns to the region after spending nearly three months in the Arabian Sea supporting the U.S. withdrawal from Afghanistan.
"We look forward to leveraging our recent out-of-area experience as we return to the South China Sea and our rapidly growing alliances and partnerships dedicated to the Indo-Pacific," said Rear Adm. Will Pennington, commander of Task Force 70 and Carrier Strike Group 5, in the release.
The strike group, on patrol from its homeport at Yokosuka Naval Base since May, will conduct flight operations, maritime strike operations, anti-submarine operations and tactical training while in the South China Sea, according to the Navy.
"Ronald Reagan and all components of its strike group have operated with relentless energy and commitment throughout the deployment, showcasing the strength and resilience of America," said Capt. Fred Goldhammer, the Reagan's commander, in the release. "As we continue our mission in the South China Sea, we remain vigilant and ready to answer the call."
The Reagan's arrival comes as tensions continue to rise in an area that China asserts is part of its territorial waters. Beijing has steadily increased its military presence there by building artificial islands and remote military installations.
Last week, Australia announced a new deal with the United States to purchase American-built nuclear-power submarines. News of the deal follows the Royal Navy's announcement earlier this year of an increased presence in the region.
The U.S. has also continued to offer more vocal support of Taiwan. Beijing considers the functioning democracy to be a breakaway province that must be reunited with the mainland, possibly by force.
The head of U.S. Indo-Pacific Command, Adm. John Aquilino, said during a press conference last month that the U.S. is ready for "any contingency that may occur," including armed conflict, when it comes to the Indo-Pacific region and Taiwan.
"We are here to continue to operate to ensure peace and prosperity through the region, and we have to be in a position to ensure that status quo remains as it applies to Taiwan," he said.