New Navy carrier USS Gerald R. Ford makes it through explosive 'shock trials' with no major issues
by
Dave Ress
The Daily Press
August 9, 2021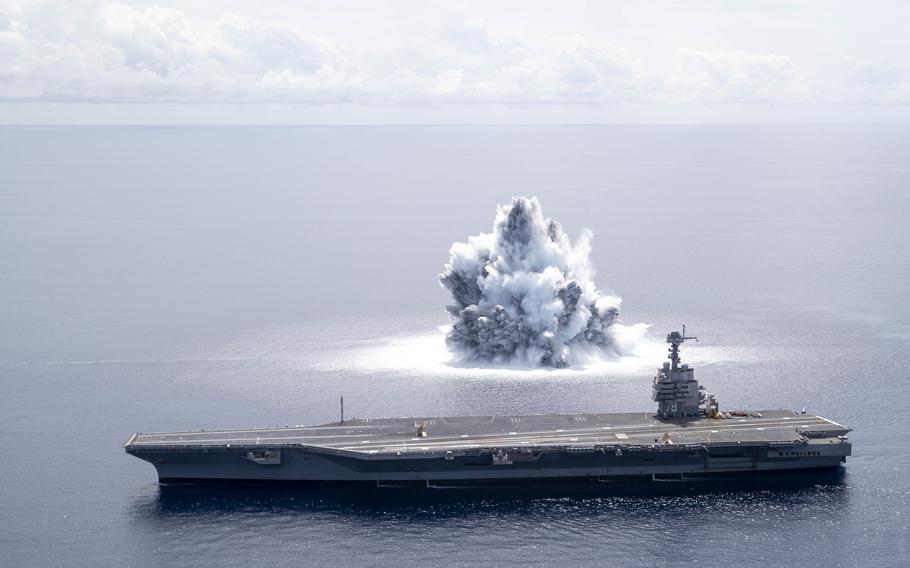 NORFOLK, Va. (Tribune News Service) — The countdown came early Sunday, a bright clear morning off the Florida coast. At USS Gerald R. Ford's repair locker 3, Lt. Shunsey Brooks and Petty Officer 2nd Class Justin Harness knew to brace themselves.
The blast was like two simultaneous Chernobyl nuclear plant explosions within yards of the aircraft carrier — the third of this summer's three full ship shock trials.
"The first shot, that made me a little nervous, because you don't know what will come. But the second and third, you know what you're going to face," Harness said.
And that meant he and Brooks were ready to scramble after the carrier shook from the force of the blast, ready to put out any fires, patch any cracks and pump out any water, fix any broken equipment or systems. Except in repair locker 3′s area of responsibility, there was nothing to fix.
Brooks was the officer in charge of repair locker 3′s sailors — everyone from machinist's mates to cooks to yeomen — who double as firefighters and damage control specialists when the ship is in danger.
Harness, a seven-year veteran, is the on-site leader of a team that deals with any specific damaged, flooded or on-fire compartment. In turn, he relies on those younger sailors to know how to deal with second-by-second crises when there's no time to check in.
All in all, the Ford came through this summer's three separate blasts of some 40,000 pounds of explosives with no damage the crew couldn't fix with tools and spare parts on hand.
The shock trials, the first for a carrier in more than three decades, are a key test of how ship and crew would fare in the thick of a close-quarters fight.
Within minutes of the third blast, Ford was landing helicopters and moving aircraft around, as if ready to launch and recover, said Capt. Paul Lanzilotta.
There was no flooding anywhere in the ship. No fires. No serious injuries.
Within minutes, sailors were fixing items that had shaken loose or that were damaged — none of them among the equipment planners worried might be at risk, and none of them critical to the ship and its ability to fight, Lanzilotta said.
"Nobody knew what was going to happen, and the ship continued to operate," said Rear Adm. James P. Downey, the Navy's program executive officer for aircraft carriers, who was on board for the first blast, on June 18, and Sunday's third blast.
While the thousands of sensors set up in every corner of the 1,092 foot long carrier focused on how the steel, electronics and internal systems of the ship weathered the blasts, shock trials are as much about the crew and how they respond, Downey said.
"We trained hard for this," said Brooks. "We were prepared."
The Ford will stay out at sea for several more days, doing detailed engineering studies. It then heads in to Newport News Shipbuilding for a six month maintenance and modernization effort.
So far, initial assessments suggest the shock trials will not add to the workload or timeline for that work, Downey said. Most of the work at the yard will involve installing updates of the ship's various systems.
Once that work is done, the Ford will be ready for deployment next year.
Before each blast, the Navy advised mariners and boaters to avoid the area. A team of more than a dozen scientists and observers kept a lookout for marine life — any signs of their presence within several miles of the blast sight would halt the test.
Ultimately, the go-no go decision for each blast was Lanzilotta's. He had to weigh the crew's readiness, the weather, state of the seas as well as making sure no stray animals or vessels were nearby.
"Safety was always the driving consideration throughout the shock trials," recalled Lanzilotta. "So, once we were ready and in position, pausing the countdown to the shot could really test our focus and persistence."
The last Hampton Roads-based warship undergo a shock trial was the amphibious transport dock USS Mesa Verde in 2008. The Navy ran shock trials for the littoral combat ships USS Jackson and USS Milwaukee, but the last carrier to be tested was USS Theodore Roosevelt in 1987.
—
©2021 Daily Press.
Visit dailypress.com.
Distributed by Tribune Content Agency, LLC.