Navy to reexamine training in Pacific after whale strikes
by
William Cole
The Honolulu Star-Advertiser
July 16, 2021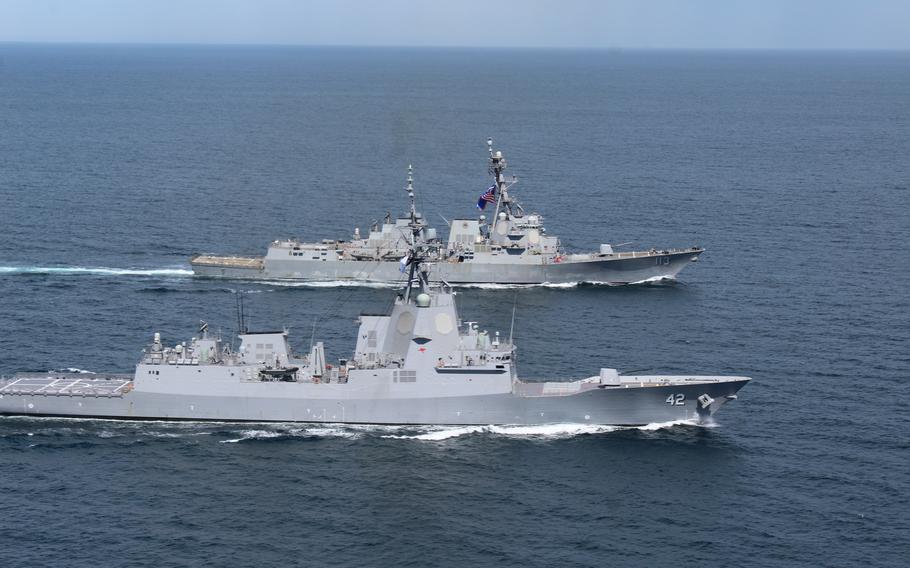 (Tribune News Service) — The Navy said it will formally reexamine training and testing around Hawaii and Southern California, with the Center for Biological Diversity threatening to sue following the May arrival of an Australian destroyer in San Diego with two dead endangered fin whales stuck to its hull.
"The whales, likely a mother and her calf, were apparently killed by a collision with an Australian vessel (HMAS Sydney) conducting military training exercises with the U.S. Navy in the Pacific Ocean," the conservation organization said, adding it was a "tragic reminder of the harm Navy training activities can have on endangered species."
A 2020 ruling by the National Oceanic and Atmospheric Administration, which oversees the National Marine Fisheries Service, allows certain levels of disruption of marine animals in the course of Navy training. The approval expires in December 2025.
The ruling notes that the average speed of large Navy ships ranges between 10 and 15 knots (11 to 17 mph), while submarines generally operate between 8 to 13 knots (9 to 15 mph) — slower than most commercial vessels, with full speed for a containership typically at 24 knots (27 mph ).
In late 2018 the National Marine Fisheries Service gave authorization for the Navy to potentially disrupt thousands of whales, dolphins and monk seals during annual sonar and explosives training and testing between Southern California, Hawaii and west to the international dateline. Those rules are still in effect in the 2020 update.
"Minimizing impacts on the marine environment is important to the Navy," U.S. Pacific Fleet spokeswoman Brenda Way said Thursday in an email. "The Navy's use of sonar and explosives may affect certain marine species. Based on current research, monitoring, and modeling data, the analysis indicates that the majority of effects on marine mammals would be behavioral responses (i.e., movement in another direction or a minor change in behavior). The Navy will implement mitigation and monitoring measures to avoid or minimize effects on marine species."
National Marine Fisheries expects some animals will be killed as the result of that training.
The Center for Biological Diversity said it sent the Navy and NOAA Fisheries a letter demanding the agencies consult on ways to avoid killing endangered whales. It threatened to sue under the Endangered Species Act.
"We're glad to see the Navy re-examining the harms of its training exercises on these mighty but vulnerable creatures," Kristen Monsell, oceans program legal director at the center, said in a release. "These military activities can wreak havoc on whales, dolphins and other marine mammals through explosions, sonar and ship strikes. We hope this process leads to new mitigation measures like slowing ships down in important whale habitat."
The Fisheries Service in late 2018 said the regulations that were put in place were more protective and covered a larger area than those previously proposed.
"The Navy has balanced our conservation requirements for marine mammals with their critical national security requirements for training and military readiness," Timothy Gallaudet, then acting administrator of NOAA, said at the time.
NOAA Fisheries said it was imposing "stringent" mitigation measures that it expected would reduce adverse impacts to marine mammal stocks, including limiting Navy sonar operations in certain areas during reproduction, migration or foraging.
(c)2021 The Honolulu Star-Advertiser
Visit The Honolulu Star-Advertiser at www.staradvertiser.com
Distributed by Tribune Content Agency, LLC.