Rush across the tarmac: Eisenhower carrier air wing returns with homecoming — the traditional way
by
Dave Ress
The Daily Press
July 13, 2021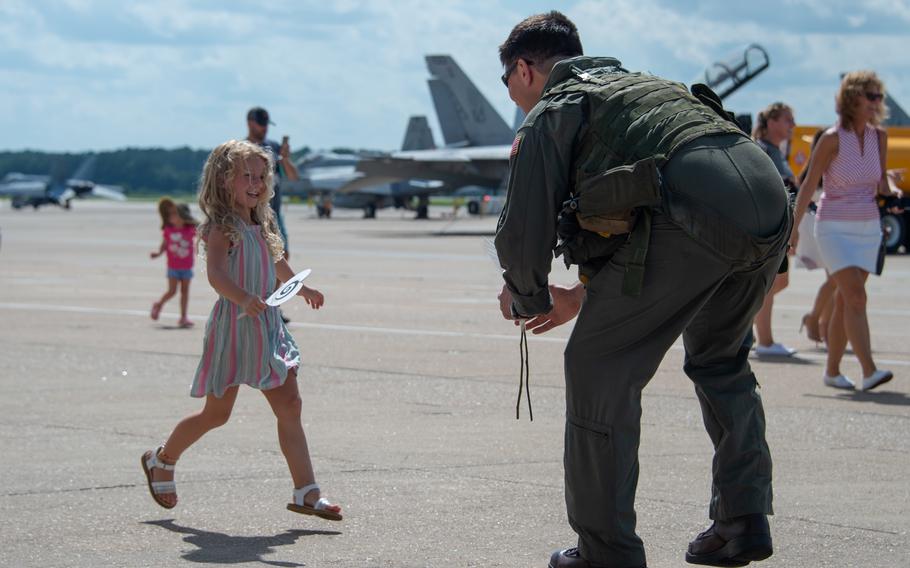 VIRGINIA BEACH, Va. (Tribune News Service) — Bonds, within and between families as well as within a Navy air wing, grow during deployment. So when Lt. Andrew Laton left for his second deployment but his wife Kelsey's first, the spouses of other VFA-32 pilots rallied round.
And they all were there, too, waiting eagerly in the hangar at Naval Air Station Oceana as the squadron made a first pass in a tight 12-plane diamond, and then as each division of four flew over in their smaller diamonds, peeling off one at a time to position themselves for landing.
Kelsey held Hallieann, born just a month before Andrew and the squadron sailed off in USS Dwight D. Eisenhower for a six-month deployment in the Mediterranean and Arabian seas. So was Katy Brady and 1½-year-old Jaxon. Their friend Kaitlyn Haueter gave them a final inspection to make sure all were perfectly turned out, and took the babies when any in the group needed a break in the blistering heat to sip some water or soda pop.
"We all help each other out," Haueter said. "It isn't easy when they're deployed."
But that's life in the Navy — just like the brightly hand-painted signs "Welcome Home Da-Da" or "Lithard Loves his Reagan," or the hand-held American flags or the jets screaming past or waiting those final 15 minutes as the pilots go through their final checklists to secure their F/A-18 SuperHornets.
"It was tough; the baby came a couple of weeks early, we had to quarantine ... It's what a Navy wife does, she gets through it," said Stephen Vitali, who helped daughter-in-law Megan, a former Navy nurse, take care of granddaughter Reagan, born just two weeks before his son Stephen deployed.
The family knows a lot about Navy life and deployment — the wings on Vitali Jr.'s best uniform were the same ones his mom pinned on his dad, and that his grandmother pinned on his grandfather.
So they knew, just like Carrier Air Wing 3 Cmdr. Marcus Jasso's wife did, to bring baby-sized hearing-protection headphones.
"After nine deployments, you learn some things," Jasso said.
"When we started out, we were to work with partners and allies in the region; but we got the call for Afghanistan," Jasso said. President Joe Biden's decision to withdraw American forces there by Sept. 11 meant a new mission, and a longer time away, for the Eisenhower carrier strike group and its air wing.
"I was on the Enterprise when 9/11 shocked us, now I was there when the longest war in American history ended, to do my part," he said.
That, he said, is the Navy tradition.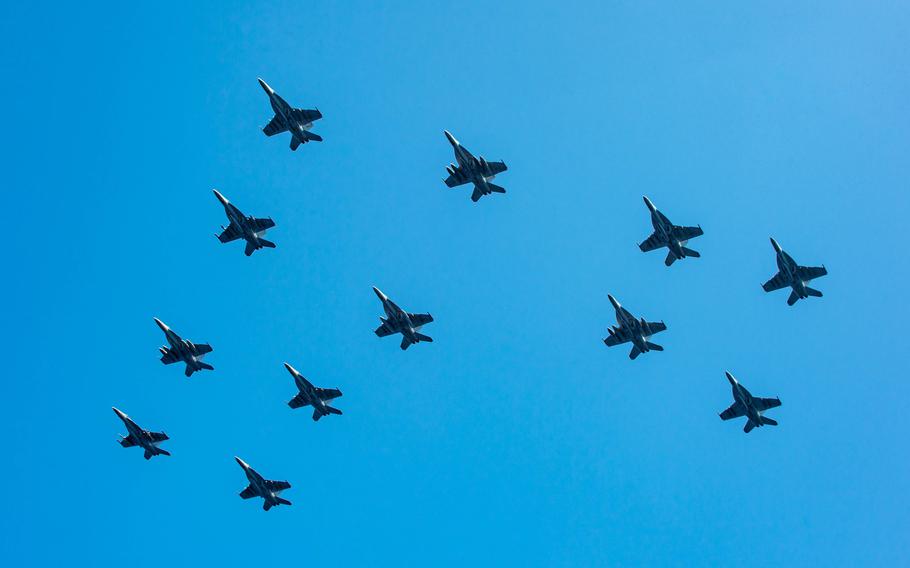 Homecoming — this was the first done the traditional way for an Oceana-based air wing since the pandemic started — means the excited, but patient wait after the thrill of the fly-by, so pilots can do those final checks and huddle on the tarmac between two lines of fighter jets for a final briefing.
Then, there's the rush across the tarmac — not quite a run, but more than a walk — as each family gathers again for the first time since February.
There are plenty of hugs; toddlers walking toward dads, arms outstretched, then to be swept skyward, laughing.
When breath is caught, husbands and wives, parents and children hold hands and walk back toward the planes.
Lt. Shane Brady lifted Jaxon high so his baby could touch his plane. Lt. Andrew Laton, walking past, hand in hand with Kelsey and holding Hallieann tight, paused and smiled.
"They've gotten so big," he said.
—
©2021 Daily Press.
Visit dailypress.com.
Distributed by Tribune Content Agency, LLC.