Navy focusing on flawed parts and logistics to improve efficiency of littoral combat ships
by
Caitlin Doornbos  
Stars and Stripes
June 8, 2021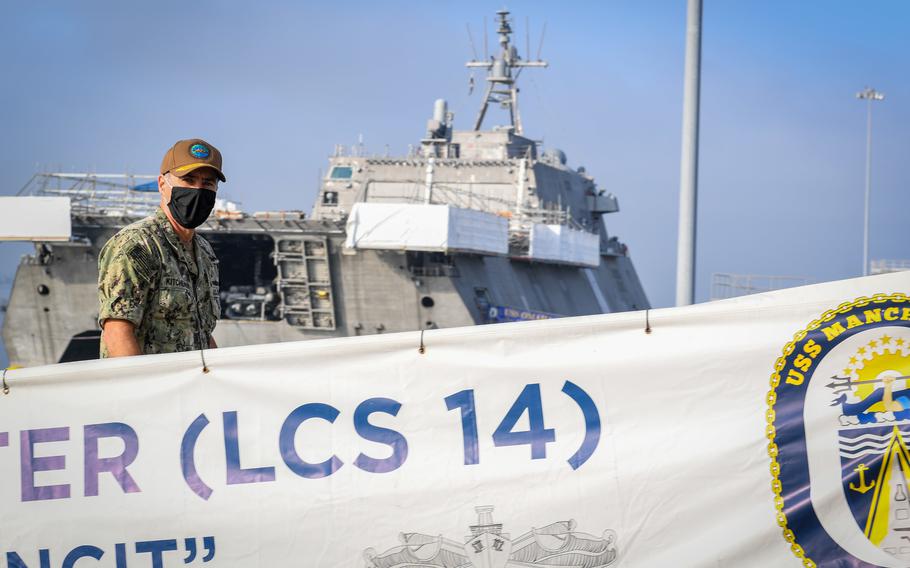 WASHINGTON – The Pentagon is proposing to cut four littoral combat ships from the U.S. fleet as the Navy makes headway in addressing the controversial vessel's reliability issues, the commander of Naval Surface Forces said.
The Navy identified 32 reliability factors across the Freedom and Independence variants of the ship "that were impacting our ability to get underway" and meet operational needs, Vice Adm. Roy Kitchener told reporters Monday during a teleconference.
First delivered in 2008, the LCS is a small surface combatant ship designed to operate in "near-shore environments, winning against 21st century coastal threats," according to the Navy. But the ship has been plagued with technological issues and delays that have cost LCSs "hundreds of days" of operations, Kitchener said.
Of the 32 reliability factors, the service prioritized nine — including a well-documented design flaw in the ship's combining gear in the transmissions of the Freedom-class vessels — that were costing valuable time at sea for maintenance and repairs, Kitchener said.
"The idea was, 'How do we quickly identify fixes to improve LCS reliability and sustainability?'" Kitchener said. "What we found was we were having high-failure rates from some critical parts that were reducing our number of days underway."
The Pentagon in its 2022 budget cited the combining gear issues and their "significant associated repair costs" as reasoning behind decommissioning the Freedom-class USS Detroit and USS Little Rock littoral combat ships. In total, the budget seeks to cut four of the ships to save about $186 million.
The flaw, which affects the gearing mechanism that links the ships' engines, has caused propulsion failures in the USS Detroit and USS Little Rock, according to a Jan. 19 report by U.S. Naval Institute News.
But the combining gear redesign has finished its ground-based testing and will be installed soon in the USS Minneapolis-Saint Paul and undergo additional testing, Kitchener said.
Another factor in the time drain was logistical, Kitchener said. It takes up to 21 days to get contractors to sites to work on ships, he said. LCS crews rely heavily on contractors for repairs, but Kitchener said there is a plan to move the "preponderance of maintenance" to sailors on maintenance teams.
"We'll still be required to use contractors on some of the more technical systems that we have," Kitchener said.
Even with the littoral combat ship's issues, Kitchener said LCSs give the Navy more ships to help close the 60-vessel gap from the goal of a 355-ship fleet. Of the Navy's 296 ships in service, 23 are littoral combat ships — with that number expected to grow to 31 by 2026, he said.
"Forward presence counts, and if you put strike missiles on those and perhaps some other promising things that we can use to increase its offensive capability, it's a viable ship platform or choice [for] great-power competition against our adversaries," Kitchener said.
Congress in the 2018 National Defense Authorization Act required the Navy to achieve a 355-ship fleet "as soon as practicable," but the proposed 2022 budget funds just eight new ships in the coming year – a number top service officials have said will not be enough to reach the mandatory goal.
Littoral combat ships are also well-suited for missions such as counter-narcotics, freeing up more warships for higher intensity operations, Kitchener said.
"For example, if you look last year when we were required to provide a surface combatant presence in [U.S. Southern Command], initially we were doing that with a [guided-missile destroyer]," Kitchener said. "We have other things for [destroyers] to do forward in the Western Pacific against a more capable adversary, [so] LCS Freedom variants picked it up."
Twitter: @CaitlinDoornbos