Amid Pacific tensions, Yokosuka ship readies for inspection
By
Erik Slavin slavin.erik@stripes.com
April 29, 2013
---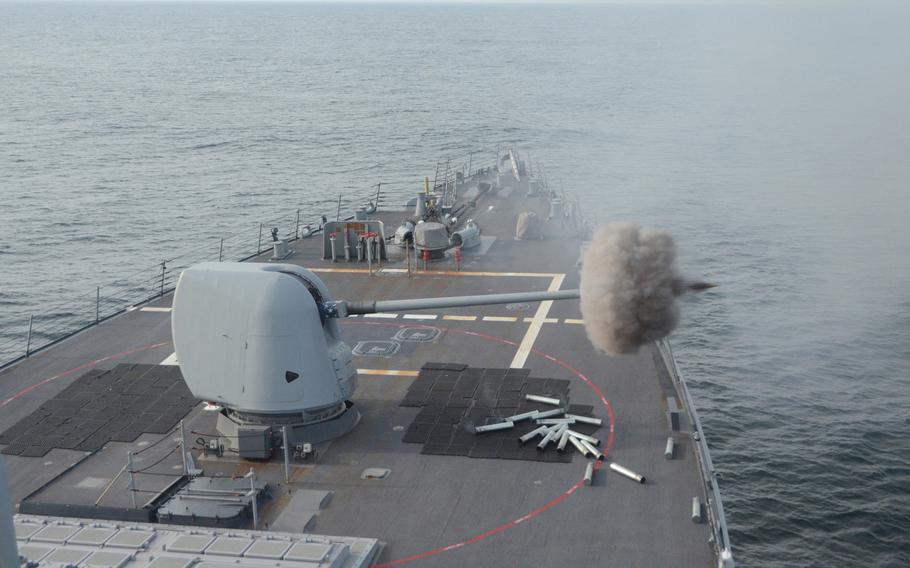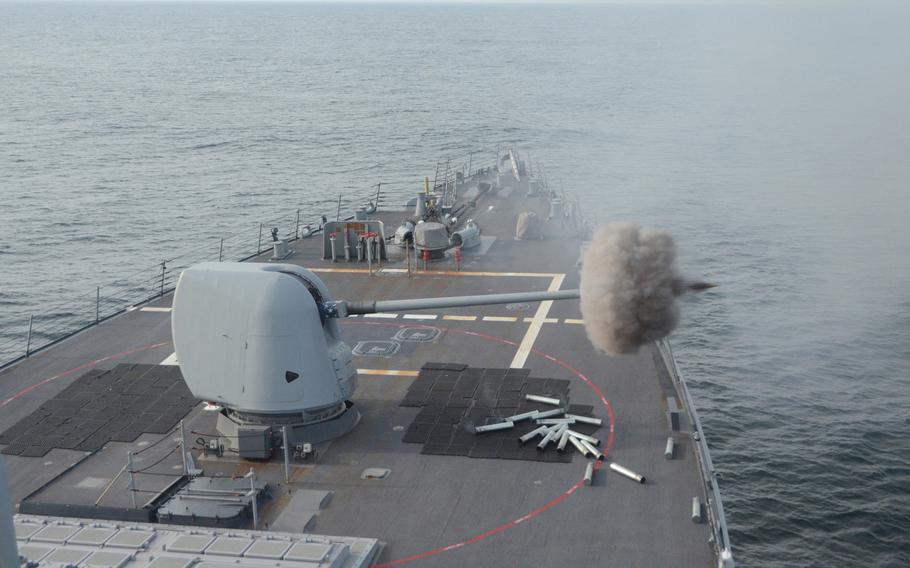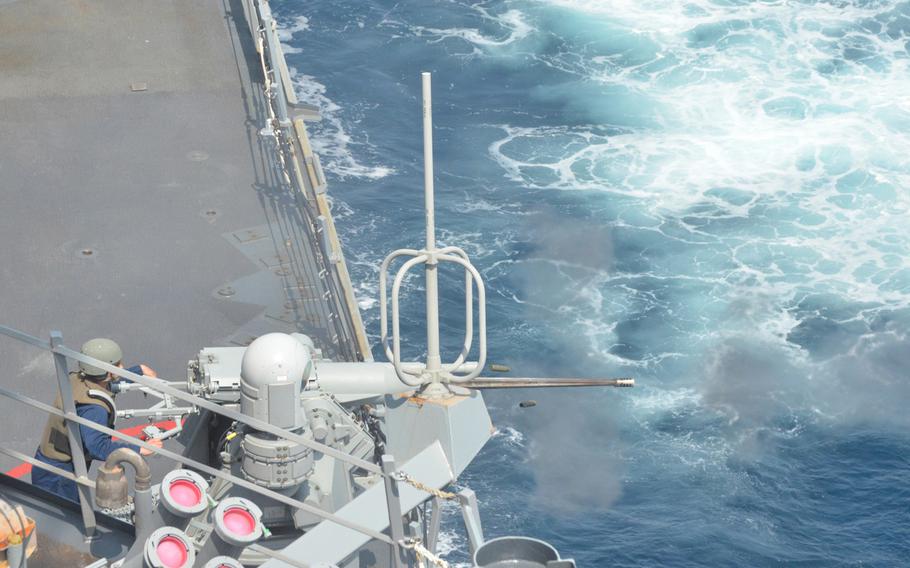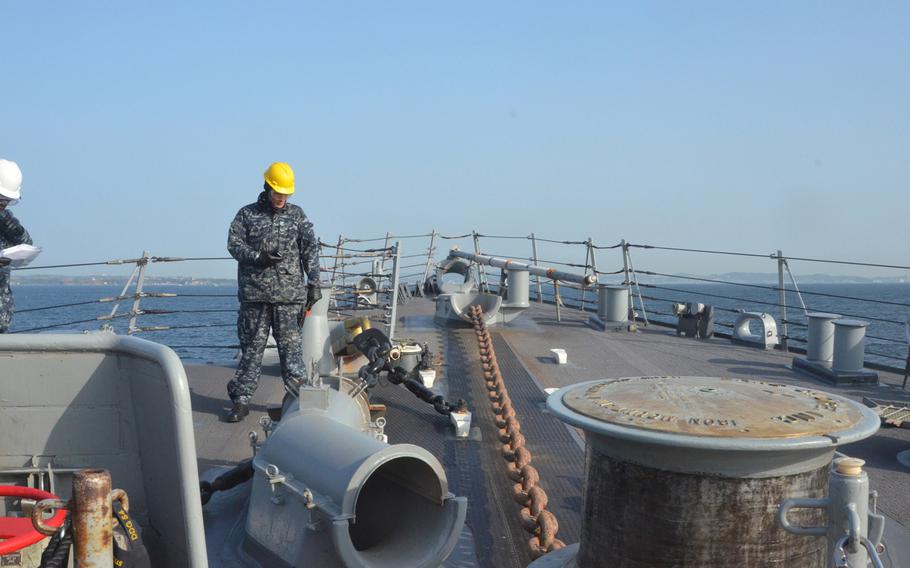 YOKOSUKA NAVAL BASE, Japan – If North Korea launches a ballistic missile in the coming months, the destroyer USS Curtis Wilbur could be among the first to spot it — and if necessary, attempt to shoot it down.
Pyongyang repeatedly has threatened to use nuclear missiles against South Korea, Japan and the United States this year, and Pentagon officials have stated that they expect North Korea will conduct further ballistic missile tests.
With such tests likely to happen over water, the Curtis Wilbur and a handful of other ballistic missile defense-equipped Navy ships remain an important part of the United States' Asia-Pacific defense strategy.
But is the Curtis Wilbur up to the task?
This week, a team from the Navy Board of Inspection and Survey, well-known to sailors as INSURV, will comprehensively review the Curtis Wilbur's readiness.
The ship's leadership recently invited Stars and Stripes for a day afloat, as it demonstrated the preparations for the underway INSURV inspections. It's been practicing since February — on some days, the ship leaves its Yokosuka dock at 6 a.m. and returns 15 hours later.
The ship's in-house inspection team has combed over every piece of the ship, said Cmdr. Joe Femino, the ship's commander, while standing on the starboard bridge wing. He pointed to a barely noticeable piece of gray metal that had degraded over the course of 18 years of saltwater abuse.
Successive crews may have kept the rusted metal from becoming a bigger problem, but never fixed it – an example of the larger issue at hand, Femino said.
"It's a case of 'make it work' versus 'fix it right,' " Femino said. "There needs to be some of both … but the plan now is to fix it."
While making small fixes might seem elementary, the Navy as a whole hasn't operated under that mentality for decades, as outlined in the service-commissioned 2010 Balisle Report. Navy officials sometimes viewed maintenance dollars as competition for new ships. Meanwhile, a plan dubbed "optimal manning" led to at-sea manpower shortages that further strained readiness, according to the report.
The strain became glaring between 2010 and March 2012, when a House congressional hearing revealed that 24 percent of the 59 ships reviewed by INSURV received "degraded" or "unsatisfactory" ratings.
In January, the Navy overhauled INSURV, mandating inspections every 30 months, instead of once every 60 months.
And last year, the Navy effectively ended optimal manning and began adding thousands of sea billets. The Curtis Wilbur now has the crew numbers it needs, Femino said, though the ship still grapples with losing subject matter experts and not getting replacement sailors for several months.
The most recent threat to ship readiness decried by Navy leaders is sequestration, which indiscriminately slashed billions of dollars from defense programs when Congress could not agree on a more targeted cost-cutting measure. The cuts are expected to reduce sea time for the Curtis Wilbur and other Japan-based ships through October, but not as much as ships in other parts of the world.
Part of the reason sequestration hasn't hit as hard is because the Pentagon has used what little flexibility it has under the cuts to preserve operations in the Asia-Pacific region, which President Barack Obama and the Pentagon have repeatedly identified during the past year as their highest long-term priority.
Besides the ongoing tensions with North Korea, the United States must contend with the rapid military modernization of China, and the tensions that rise has bred among Japan and U.S. allies in the region.
Although relations between Beijing and Taiwan have warmed recently, China still claims the island as its territory, and the U.S. remains sworn to defend it. The U.S. has also pledged to defend the Japanese-administered Senkaku Islands, which China claims as its own.
Those territories are now theoretically in reach of China's Dong Feng-21D missile, which has been designed to attack moving aircraft carriers. The missiles were recently moved opposite Taiwan, where they augment more than 1,200 short-range ballistic missiles, according to a Defense Intelligence Agency report released to Congress on April 17.
China is also developing the Jin-class nuclear-powered missile submarine alongside the JL-2 submarine-launched ballistic missile, which the report stated "may reach initial operating capability by 2014."
The Curtis Wilbur's job, among others, is to defend the aircraft carrier USS George Washington from ballistic missiles.
"It's crucial that we know our jobs as well as we do, because you never know what's around the corner," ship weapons officer Lt. Jerry Daley said.
---
---
---
---