Marines say bullet that broke glass pane at Okinawa home isn't theirs
By
Matthew M. Burke and Hana Kusumoto
Stars and Stripes
July 8, 2022
---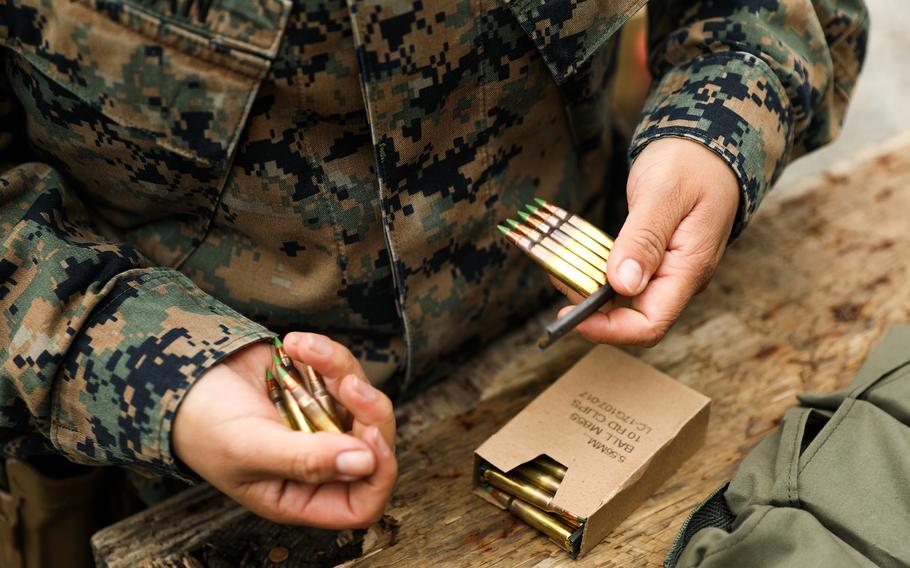 CAMP FOSTER, Okinawa – A projectile that apparently shattered a glass pane Wednesday at a home near the Marine Corps' Camp Hansen did not come from any of the camp's live-fire ranges, a Marine Corps spokesman said Friday.
Okinawa prefectural police collected a 2-inch-long bullet from a kitchen door in Kin town about a quarter mile from Hansen on northern Okinawa, a town spokeswoman told Stars and Stripes by phone on Friday. A resident heard the glass break between 2 and 3 p.m. Wednesday, according to the Ryukyu Shimpo newspaper on Friday.
A neighbor reported the incident to the Kin town hall at 1:35 p.m. Thursday, the spokeswoman said.
The projectile didn't come from any of the ranges nearby, according to a spokesman for III Marine Expeditionary Force on Friday.
"Marine Corps officials have examined the object and determined the aged and corroded projectile could not have been fired by any weapon system used during carefully observed and controlled live-fire training aboard Camp Hansen" on Wednesday and Thursday, according to an email to Stars and Stripes from 1st Lt. Zachary Voss.
The Okinawa Defense Bureau notified Kin town that Hansen would hold live-fire training sometime between July 4 and Sunday, the town spokeswoman said.
After the report, "Camp Hansen range safety personnel rapidly took action to inspect live-fire ranges taking place to ensure all safety measures were in place, and that proper safety procedures were being followed," according to Voss.
The bullet broke one of two panes of glass and lodged between the glass and a screen, the town spokeswoman said. Japanese government officials customarily speak to the media on condition of anonymity. No one was injured in the incident, she said.
Only the outside glass pane was broken, according to a statement Friday from the Okinawa Defense Bureau.
Kin Mayor Hajime Nakama met with bureau officials and requested they "confirm the facts" as soon as possible, the spokeswoman said.
In a 2018 incident, a mango farmer discovered two broken windows in his shed and 2-inch-long bullet on the floor. The bullet was traced back to nearby Range 10 at Camp Schwab. Okinawa politicians filed a criminal complaint of attempted murder against the III MEF commander at the time, Lt. Gen. Lawrence Nicholson, and others, but police dropped the matter.
---
---
---
---