Mattis marries physicist in Vegas ceremony
By
Stars and Stripes
June 29, 2022
---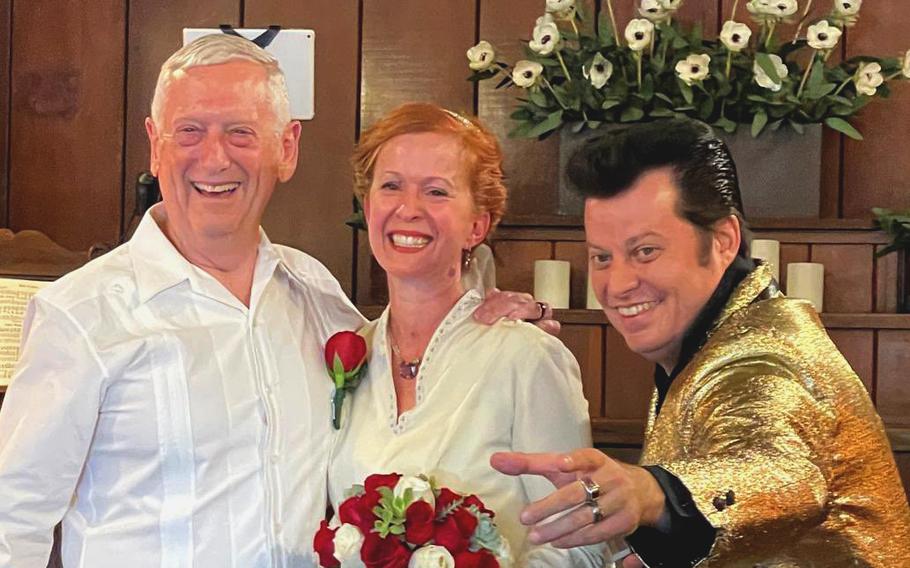 Former Marine Gen. and Defense Secretary James Mattis married a physicist in a ceremony officiated by an Elvis impersonator Saturday in Las Vegas, according to reports.
The 71-year-old, who led the U.S. Central Command from 2010-2013 and served in President Donald Trump's cabinet from January 2017 to January 2019, married Christina Lomasney in a riverside ceremony, Politico reported Tuesday.
Photographs tweeted by the news organization, which reported that the couple met in a bar, show a beaming Mattis and Lomasney standing with the Elvis impersonator who officiated the ceremony.
Maximilian Uriarte, the creator of the comic "Terminal Lance" about life in the Corps' lower ranks, tweeted that a weekend-in-Vegas wedding was "very on-brand Marine Corps."
Brian Mills, the Elvis impersonator who claimed credit for the union responded: "80,000 couples are getting married here in 2022. Many of them aren't Marines. He was one of the happiest Grooms I've had in 20 years, though."
Mattis fashioned a reputation among Marines as a warrior monk who wielded "knife hands" during four decades of infantry leadership that included the wars in Iraq and Afghanistan.
Bachelorhood during his military career allowed Mattis "a single-minded focus on his career and a passionate engagement with the military's traditions and history," according to a May 22, 2017, profile in the New Yorker magazine.
After leading troops in Afghanistan after 9/11, Mattis commanded the 1st Marine Division during the invasion of Iraq and later during the first battle of Fallujah in 2004, which became pivotal as Iraq descending into a sectarian insurgency.
Lomasney, a onetime project manager at Boeing and a tech entrepreneur, is director of commercialization at the Pacific Northwest National Laboratory in Richland, Wash., the GeekWire website reported Tuesday.
---
---
---
---