Marine Corps completes littoral regiment with combat team in Hawaii
By
Stars and Stripes
June 28, 2022
---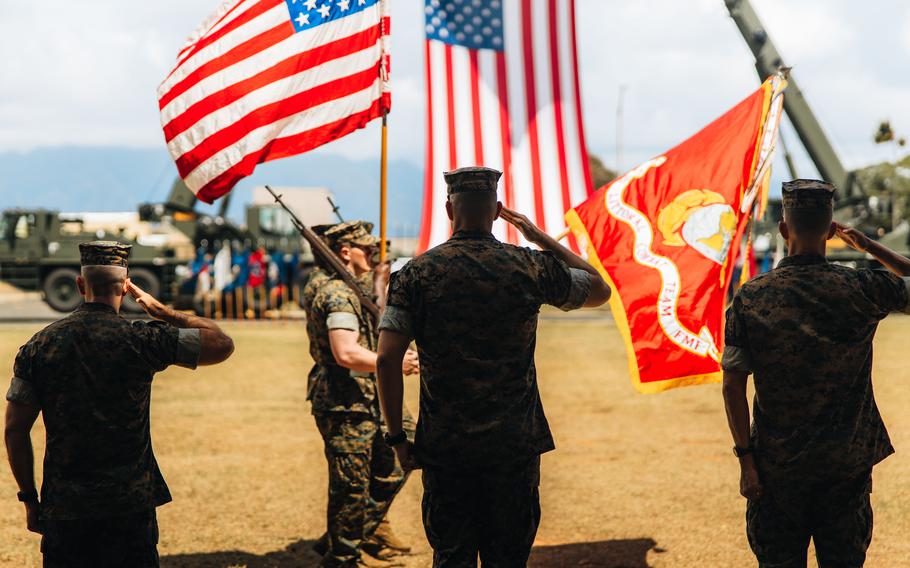 FORT SHAFTER, Hawaii — The Marine Corps continued its decade-long force overhaul by launching a littoral combat team and realigning a logistics battalion last week in Hawaii.
The 1st Battalion, 3rd Marines, was redesignated 3rd Littoral Combat Team, while Combat Logistics Battalion 3 was realigned under the 3rd Marine Littoral Regiment at ceremonies Thursday and Friday at Marine Corps Base Hawaii, the Marine Corps said in a news release Friday.
The 3rd Marine Regiment was redesignated 3rd Marine Littoral Regiment in February, a major step in the Marine Corps' Force Design 2030 modernization effort in Hawaii.
The changes are intended to remold the service into a lighter force more adapted to fighting in the kinds of contested maritime spaces expected to be central in a conflict with China.
"This is a significant moment in Marine Corps history," Col. Timothy S. Brady, commander of the 3rd Marine Littoral Regiment, said in the news release. "This transformation began two years ago when the Commandant of the Marine Corps laid out his guidance for the force of the future in Force Design 2030."
The ceremonies last week mark the completed assembly of the 3rd Littoral Regiment's subordinate units.
The 3rd Littoral Anti-Air Battalion was administratively activated in February, according to the Marine Corps release. The regiment is not expected to be fully operational for several years.
The newly designated 3rd Littoral Combat Team is being organized and equipped to support the Navy in controlling areas of sea and denying adversaries access to contested waters, according to the release.
The team's Marines will "conduct reconnaissance and counter-reconnaissance, employ and enable multi-domain fires, and establish expeditionary sites to support a naval expeditionary force's maritime campaign" in conflict areas, the release states.
Combat Logistics Battalion 3 will provide tactical logistics — such as equipment maintenance, transportation and engineering — and explosive ordnance disposal, the Marine Corps said.
The 3rd Marine Littoral Regiment is slated to participate in the Rim of the Pacific maritime exercise in Hawaii, which kicks off on Wednesday.
---
---
---
---