Marine Corps deactivates two helicopter squadrons in Hawaii in bid to modernize force
By
Stars and Stripes
April 23, 2022
---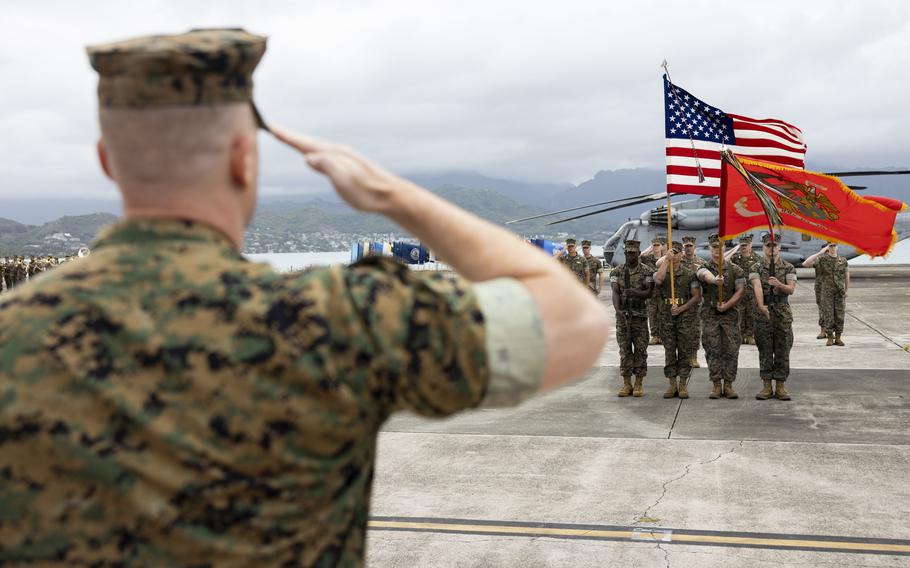 FORT SHAFTER, Hawaii – A pair of Hawaii-based Marine Corps helicopter squadrons were deactivated this week, casing the colors of units that trace their lineage to World War II.
Marine Heavy Helicopter Squadron 463 cased its colors during a ceremony Thursday, followed by the deactivation Friday of Marine Light Attack Helicopter Squadron 367, the Marine Corps said in separate news releases.
Both squadrons were part of Marine Aircraft Group 24 at Marine Corps Base Hawaii.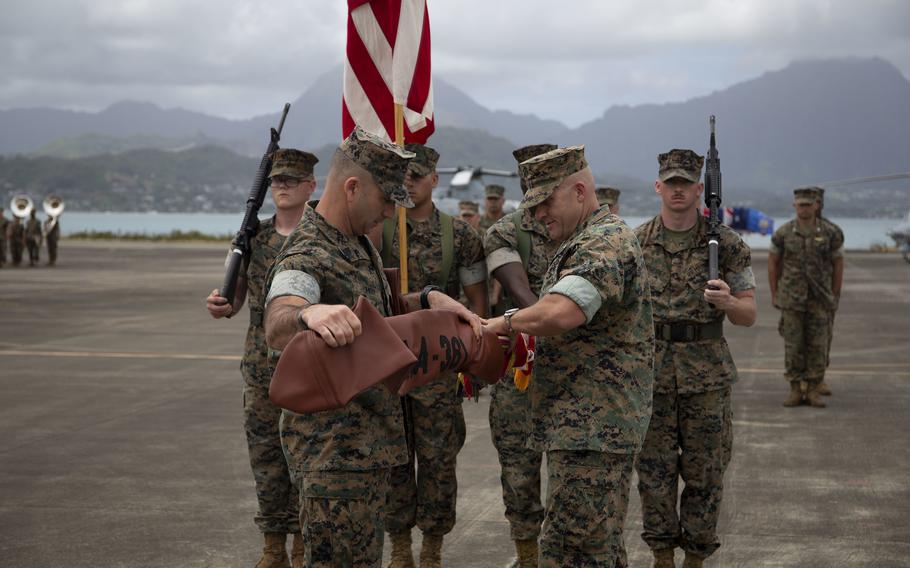 Squadron 463, nicknamed Pegasus, was stood up in 1944 and was involved in the Vietnam War, Operation Desert Storm and more recently to operations in Iraq and Afghanistan.
"When you think of every clime and place, you must think of the Marines and Sailors of Pegasus," Maj. Gen. Brian Cavanaugh, commander of 1st Marine Aircraft Wing, said in a news release Thursday following the deactivation ceremony at Marine Corps Air Station Kaneohe Bay.
"During my time in 1st MAW, which spans across three decades, I've witnessed HMH-463 operate across the entirety of the range of military operations," he said.
Marine Light Attack Helicopter Squadron 367, nicknamed Scarface, activated in 1943 as Marine Observation Squadron 351 in Quantico, Va.
"Legacy is what makes today's deactivation ceremony special," Lt. Col. Page Payne, Squadron 367's commander, told the ceremony's audience on Friday according to a news release that day. "Scarface is fortunate to have a guaranteed future in the very near term, resurrecting to carry on our legacy, lineage, and the warfighting spirit of those before us."
The squadron will later this year be reactivated as a unit of Marine Aircraft Group 39, 3rd Marine Aircraft Wing, Marine Corps Air Station Camp Pendleton, Calif., the Marine Corps said.
It will bring along its 27 AH-1Z Viper attack helicopters and UH-1Y Venom utility helicopters, the Marine Corps said.
The dual deactivations are just the latest changes as the Marine Corps implements its Force Design 2030 to remold the service into a lighter force more adapted to fighting in the kinds of contested maritime spaces that would be central in a conflict with China.
Squadron 463's dozen CH-53E Super Stallion helicopters are being distributed to other aviation units across the Marine Corps, the Marine Corps said.
Force Design 2030 led to the deactivation in January of the Hawaii-based 2nd Battalion, 3rd Marine Regiment.
In February, the Marine Corps activated the 3rd Littoral Anti-Air Battalion in Hawaii, the first such unit to be stood up under the restructuring plan.
Marine Heavy Helicopter Squadron 463 was activated in 1944 in North Carolina as Marine Bombing Squadron 463, the Marine Corps said. Since then, the squadron has operated on both coasts of the continental United States and Hawaii, as well as serving in all three of the Marine Corps' aircraft wings.
The unit has been based in Kaneohe Bay, Hawaii, since 1971.
During a nighttime mission in January 2016 on the north end of Oahu, two of the Squadron 463's Super Stallions collided and crashed into the sea, killing all 12 Marines aboard both aircraft.
A Marine Corps investigation of the crash determined the cause to be "pilot error," but the probe also revealed an overall lack of unit readiness because helicopters were too often sidelined for maintenance problems to provide adequate training time for crews.
The squadron's most recent rotation ended in May 2021 after spending nine months with the 31st Marine Expeditionary Unit based in Japan, the Marine Corps said.
Marine Light Attack Helicopter Squadron 367 has been based at Marine Corps Air Station Kaneohe Bay since 2012.
Among the honors bestowed on both squadrons are the World War II Victory Streamer, National Defense Service Streamer with two bronze stars and Vietnam Service Streamer with two silver and one bronze stars, the Marine Corps said.
---
---
---
---