Marine Corps updates standards on hair, manicures, socks and maternity garb
By
Stars and Stripes
March 24, 2022
---
Updates to uniforms and grooming standards announced Wednesday by the Marine Corps will impact troops from head to toe.
The Corps decided on the changes last month, but they became official with the publication of an administrative memo to all Marines.
Among the updates is the authorization allowing Marines to maintain a thicker head of hair.
The limit for so-called "bulk of hair," which is the thickness of hair lying flat on the scalp, has been extended from 2 to 3 inches, according to the memo.
The Marine Corps remains the only service that does not allow women to sport ponytails while in uniform after the Coast Guard authorized the style last summer.
The Corps now allows men to "edge up" their hairlines.
This cut is used for "undesirable" hair that extends beyond or below the natural hairline, the memo said.
For example, it can be used to remove a widow's peak or other excess hair on the forehead, "as long as it provides a neat, professional, and natural appearance," the memo said.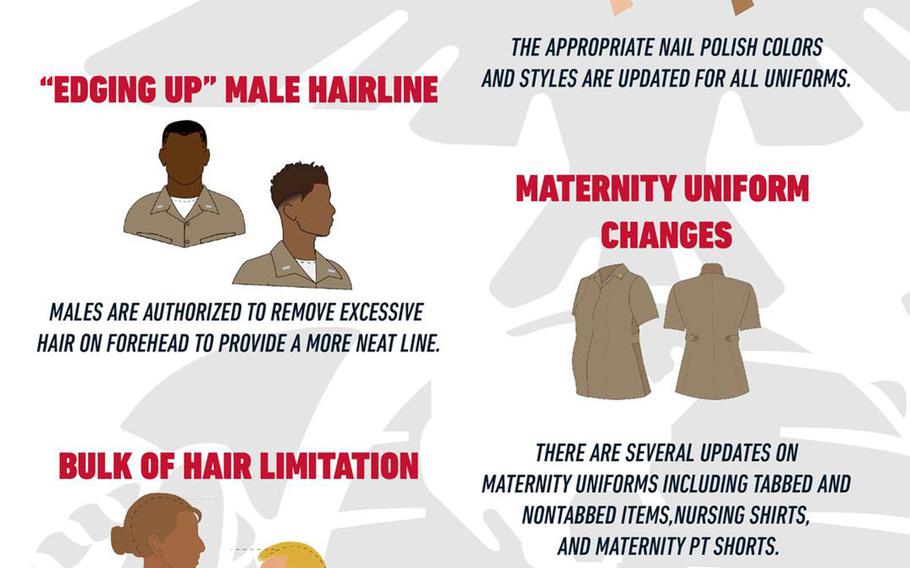 The Corps is also changing what Marines can have on top of their heads in limited circumstances.
Marines can wear several colors of commercial-brand liners beneath helmets, and they "may be worn as an outer garment for short periods when the helmet is removed, per the Commander's discretion," the memo said.
Nametapes on uniforms are now authorized to include special characters that are helpful in pronunciations, such as apostrophes, accent marks, tildes and hyphens.
The special characters will be used only as space allows, however, as the overall length of nametapes is unchanged, the memo said.
The Air Force made a similar change to nametapes in 2020 as a means of adapting to a more ethnically diverse force.
Several changes to maternity uniforms have been adopted.
They include adjustable side tabs on the tunic and short- and long-sleeved shirts that will make it easier to get the best fit during the course of a pregnancy.
Pregnant Marines are also authorized a supplemental cash allowance to buy two maternity undershirts.
Still under development are maternity dress blue skirt and slacks and physical training shorts, the memo said.
Female Marines now have more manicure options.
Fingernail polish that is clear or matches the wearer's skin tone is now authorized for all uniforms.
Marines are also now allowed to wear olive drab or black cushion socks with their combat utility uniform, the memo said.
---
---
---
---