Marine Humvee fire stops traffic on North Carolina highway
By
Stars and Stripes
February 24, 2022
---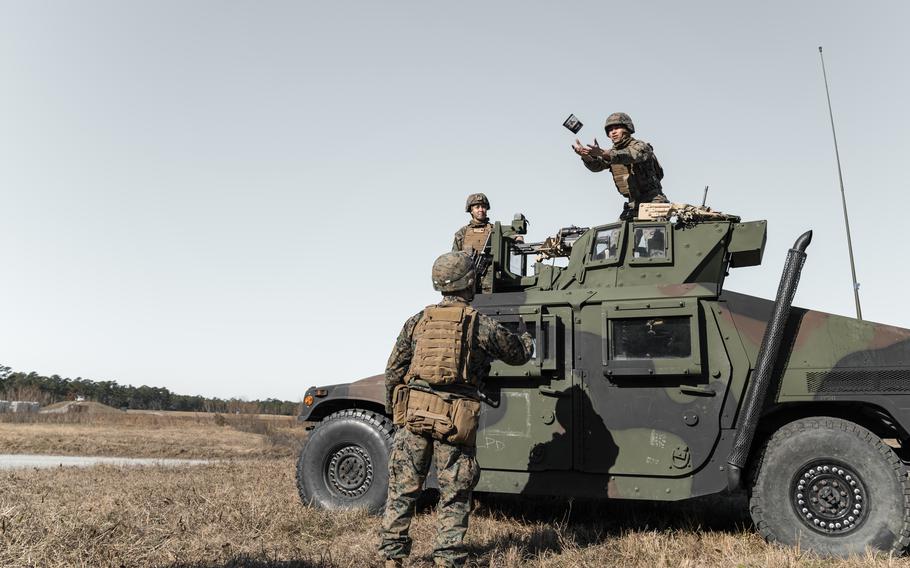 A Humvee fire on a highway near Camp Lejeune involved members of the 2nd Marine Division, which is headquartered at the North Carolina installation, a division spokesperson said.
There were no casualties, 1st Lt. Sydney E. Murkins said in a statement emailed to Stars and Stripes a few hours after the incident that tied up the Thursday morning commute. The circumstances were still being investigated, Murkins said.
Emergency services crews responded to a military vehicle fire on U.S. Highway 17, south of Jacksonville, N.C., the Onslow County government said in a message on Twitter about 7:45 a.m. local time.
"Travelers along US17 (Wilmington Hwy) might want to avoid the area near Canady Road," the post said. "Crews are reporting a HumVee fire."
The vehicle fire was affecting southbound traffic only, the county government said in a later post.
The vehicle was cleared from the roadway, the 2nd Marine Division said on Twitter about three hours after the initial report.
The fire comes just over a month after a tactical vehicle rollover at the intersection of U.S. Highway 17 and state Highway 210 a few miles further south that left two Marines dead.
---
---
---
---