'Designated lifesaver': Marine's quick actions likely saved victim of drive-by shooting
by
Chad Garland
Stars and Stripes
December 21, 2021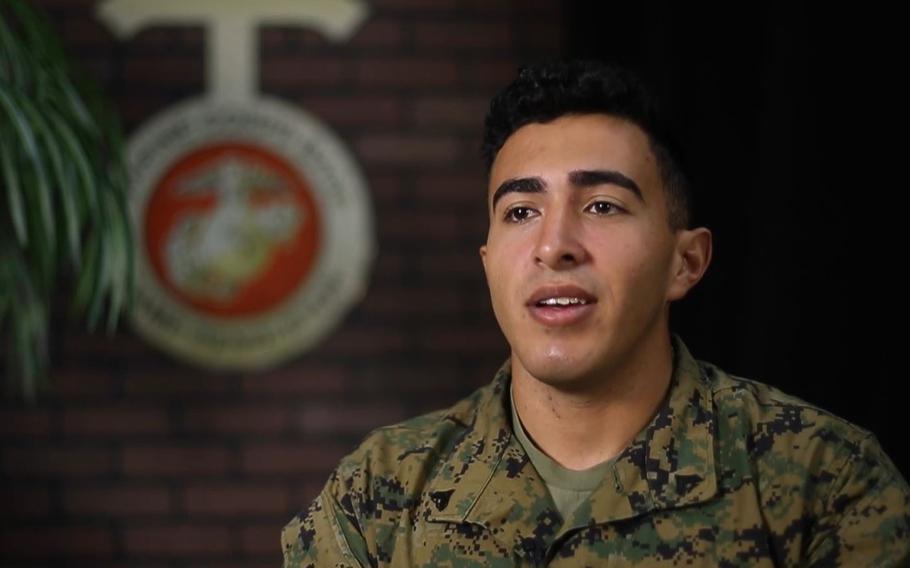 A Marine corporal's visit to a San Diego-area coffee shop turned out to be a godsend for a wounded man, who is still alive thanks to first aid given by the Marine, authorities say.
Cpl. Giovanni Brunacini and a friend were leaving the Starbucks in the Lemon Grove Plaza shopping center on Nov. 17 when gunfire was unleashed some 200 yards away, leaving a homeless man badly injured.
The Camp Pendleton-based infantryman hurriedly administered medical care, which authorities say kept the man from dying in the apparent drive-by shooting.
"The victim is stable and is expected to survive his injuries, thanks to the help of the Marine," Sgt. Pat Fox of the San Diego County Sheriff's Department said in an email Monday.
A marksmanship instructor, Brunacini was visiting a friend working at the coffee shop. Their goodbye was interrupted by the shots.
"It was relaxed; it was very chill. We were laughing, and all the sudden, boom, it just, combat mindset happened," Brunacini said in a Marine Corps video released Friday.
He grabbed his medical bag and ran through the parking lot toward the gunfire, ducking behind cars along the way, he said. When the shooting was over, he saw a man on the ground and no one was helping him.
After sprinting over, Brunacini found him lying in a pool of blood with two shots to his lower abdomen, an exit wound in his belly button and a shattered forearm, he said in the video.
"What was going through my head was what my corpsman had taught me," he said, crediting combat-lifesaver training with giving him the skills to treat the man until police and paramedics arrived.
A rifleman with 2nd Battalion, 5th Marine regiment who'd deployed to Iraq, Brunacini now believes every Marine should get the medical training that prepared him for the violence back home.
The wounded man was taken to a local hospital and was out of surgery a few hours after the shooting, Fox said that night. Detectives are still investigating leads.
Brunacini had deployed to protect the U.S. Embassy compound in Baghdad, he told local news. Marines reinforced the embassy for much of 2020 after a riot there and the U.S. airstrike that killed an Iranian general at an airport in the Iraqi capital that January.
"I was the designated lifesaver for our squad," Brunacini told San Diego's NBC 7 News on Nov. 18. "I knew what I had to do there, and I knew what I had to do … last night."
Days after the shooting, the family of 37-year-old victim Robert Mansi thanked Brunacini in-person, San Diego's ABC 10 News reported.
"He's a hero, definitely a hero in my life, always," said Alicia Mansi, the man's mother.
---
---
---
---