Okinawa-based Marine receives national service award for saving suicidal colleague
by
Matthew M. Burke 
Stars and Stripes
December 6, 2021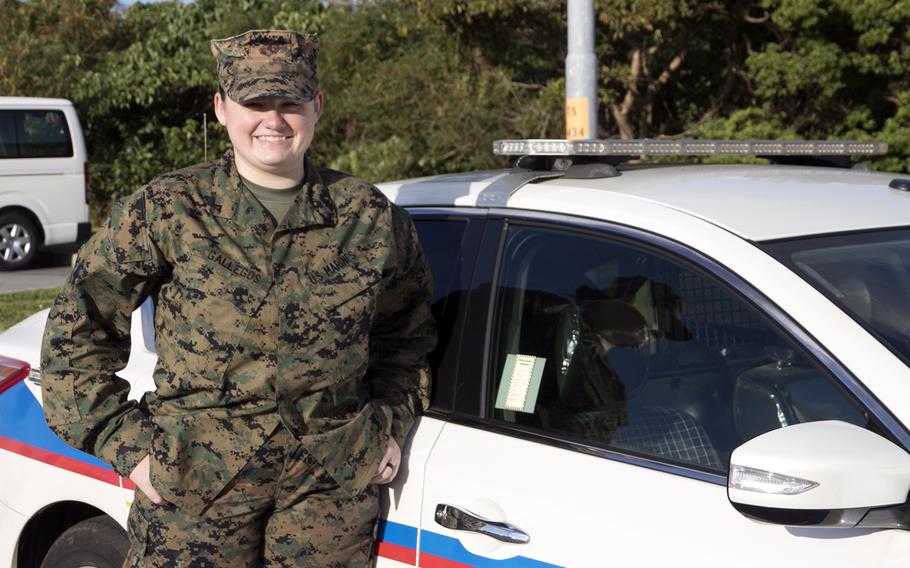 CAMP COURTNEY, Okinawa — A Marine law enforcement officer was awarded for bravery after she stopped her roommate from an apparent suicide attempt in their Okinawa barracks last year.
Lance Cpl. Noelle Gallegos, 21, of Shenandoah, Pa., received the Marine Corps Law Enforcement Foundation's Jim Kallstrom Award for her actions on Aug. 31, 2020. Brig. Gen. William Bowers, commander of Marine Corps Installations Pacific, handed Gallegos the award at a ceremony Nov. 3 at Camp Foster.
"I was very nervous," Gallegos said Monday. "The award's a big deal."
The annual awards go to two Marine law enforcement officers who exemplify "the ethos of protect and serve," and who show a genuine concern for the well-being of the Corps, their fellow Marines and the community they serve, according to a Marine statement in February.
Gallegos recalled the incident that brought her the award during an interview Monday at her office.
"It was a crazy hour," she said.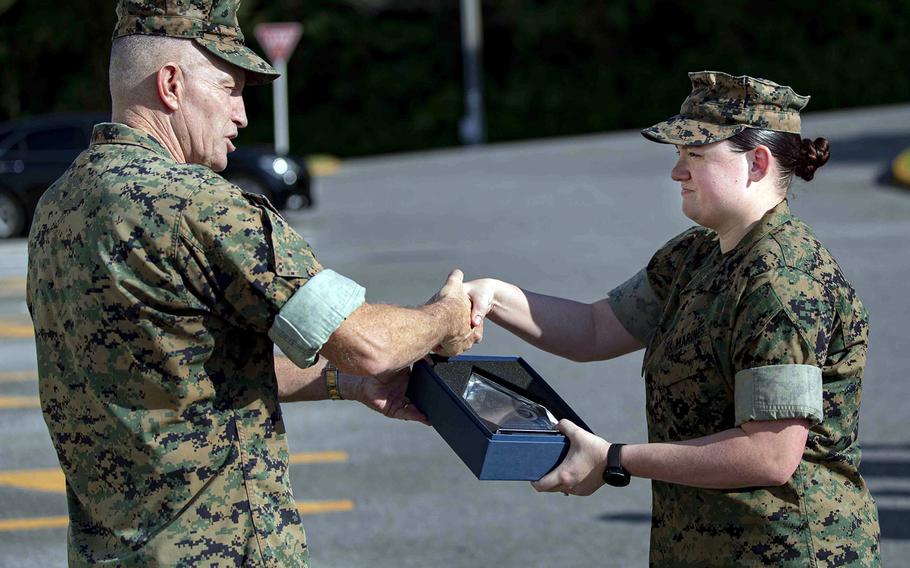 A night-shift patrolman with the provost marshal's office at Camp Courtney, Gallegos said she was awakened at approximately 1:45 p.m. by screaming and the sound of things smashing.
Gallegos found her roommate in the bathroom amid an array of broken items, she said. The roommate was acting erratically and saying she might harm herself.
Earlier in the day, the roommate, who did not drink or use drugs, had been acting out of character, Gallegos said.
Gallegos said she called 911 as she rushed to find the duty officer. When Gallegos' co-workers arrived, her naked roommate pulled a knife. Gallegos said she quickly disarmed the woman and stopped her from stabbing herself in the neck with a pen and jumping from a window.
The men among the military police officers who responded were wary about touching her roommate, Gallegos said, so she restrained the woman while a first responder checked her condition. As time came to take her into custody, the woman became aggressive. She kicked and screamed before being handcuffed, Gallegos said.
Gallegos, who received a certificate of commendation for her actions, was unaware she had been nominated by her command for the Jim Kallstrom Award.
"Gallegos has always been a hard-working Marine," provost marshal noncommissioned officer-in-charge Staff Sgt. Amanda Phelps said in a Marine Corps statement Nov. 14. "She has always been outgoing and she is easy to speak with. She has great people skills and maintains a mature personality."
The award was named for Marine Corps Law Enforcement Foundation co-founder and former chairman James Kallstrom, a decorated Marine and FBI agent who died earlier this year. The organization has raised over $80 million in aid for children who have lost a parent in service, Kallstrom's obituary said.
Gallegos plans to pursue a career practicing law after her enlistment in the Marine Corps is up, she said.
---
---
---
---