The deaths of 2 Marines in Kabul underscore the evolving roles of women in the military
By
 Alex Horton, Travis M. Andrews
The Washington Post
August 29, 2021
---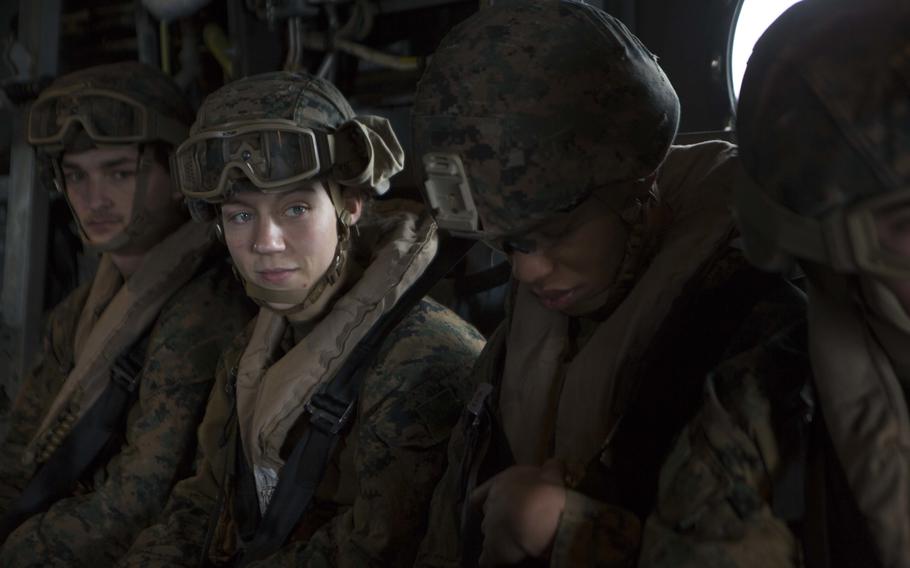 Clad in body armor with her hair pulled back in a tight bun, Marine Sgt. Nicole Gee cradled the barefoot Afghan infant in her arm as softly as she could through thick work gloves.
"I love my job," the 23-year-old wrote in an Instagram caption last week, after her unit's enormous task of processing thousands of Afghan and American evacuees through the Kabul airport gates after the capital fell.
Gee, of Roseville, Calif., was one of the 13 U.S. service members killed in a terrorist attack in Kabul on Thursday when a suicide bomber detonated explosives outside Abbey Gate, where U.S. troops were focusing their efforts. Most were Marines in their early 20s, and two were women: Gee and Marine Corps Sgt. Johanny Rosario, 25, of Lawrence, Mass.
The deaths of Gee and Rosario underscore the unique mission women in the military have played in two decades of conflict in Iraq and Afghanistan. Even as women were barred from officially serving in combat jobs until recent years, female service members were already on the front lines, exposed to the same danger as infantrymen and working in roles where risk did not discriminate according to gender.
In many cases, female service members volunteered for teams focused on gathering intelligence from women and searching them on patrol — both jobs difficult for male troops to accomplish because of Islamic cultural sensitivities. The roles, often voluntary in nature, were conduits for women to sidestep restrictions and work alongside grunts and Special Operations troops.
Those advances and histories converged Thursday. Gee and Rosario, a maintenance technician and a supply chief, respectively, were assigned duties to search incoming Afghan women and children, Marine Corps officials said, putting them at the epicenter of risk exposure that the suicide bomber exploited. Rosario had volunteered with her unit's female engagement team, said 1st Lt. Jack Coppola, a Marine Corps spokesman, and "was screening women and children at Abbey Gate when the attack took place."
Gee, who was promoted last month, was also involved in searching women and children, officials said.
Her father, Richard Herrera, told The Washington Post that he wasn't sure why his daughter, trained in overseeing equipment, was at risk. He "never expected her to be on the front lines in Afghanistan," he said.
The grueling task of searching evacuees was placed squarely on the shoulders of junior troops and young leaders, such as Gee and Rosario, and there is no substitute for placing hands directly on bodies, officials said, to ensure that no militants were slipping by with explosives. Troops on duty ordinarily report in shifts and rotate on a roster.
But the Marine Corps has far fewer women in its ranks relative to other services, and the female Marines on hand may have been working more shifts at the gate than male counterparts, said Kyleanne Hunter, a former Marine Corps officer who flew Cobra attack helicopters in Iraq and Afghanistan.
"Any time you are in contact with a person, you're opening yourself up to risk of the unknown. It puts you in a greater proximity to danger," said Hunter, a senior adjunct fellow at the Center for a New American Security think tank.
All-female groups, known as lioness teams and later as female engagement teams or cultural support teams, were key to counterinsurgency campaigns that long ignored what could be learned from female civilians on the battlefield.
In Iraq and Afghanistan, women were added to infantry units to engage with women they encountered, but the efforts became more formalized, said Hunter, who served on a Pentagon advisory committee on women in the military.
Women flourished in those roles, despite pushback from lawmakers and Pentagon officials trying to keep them from combat duties, and in other duties that men long held.
"As the wars in Iraq and Afghanistan — with their blurry front lines — intensified, the discrepancy between what was technically allowed for women in war zones and what was actually happening became more apparent," wrote Kasey Cordell, in a 5280 magazine story about women in combat. "It was impossible to deny the fact that women, regardless of their assigned jobs, were very much involved in 'engaging an enemy on the ground.' "
Although bans on women serving directly in combat roles were not lifted until 2013, the services took years to implement their rules. The first female Marine Corps infantry officer earned her designation in 2017.
Female service members dotted the casualty list before then, often in noncombat roles.
Lt. Ashley White Stumpf joined one such all-female Army cultural support team in August 2011, when she was tasked with building and improving relations with Afghan civilians. She served alongside Special Operations forces, "encountering the same type of intense risks as their male counterparts," the Military Times reported.
The 24-year-old Ohio native was killed in an IED blast two months into her deployment. She was posthumously awarded the Bronze Star. A book about her and other women, "Ashley's War: The Untold Story of a Team of Women Soldiers on the Special Ops Battlefield," is being developed into a film produced by Reese Witherspoon.
Two years later, Army Capt. Jennifer Moreno, 25, was killed while serving on a Special Operations task force in Kandahar province. Although Moreno, a nurse by training, survived the initial blast, she stepped on a land mine while rushing to help a wounded soldier.
"None of us would have done what you did, running into hell to save your wounded brothers, knowing full well you probably wouldn't make it back," Capt. Amanda King, the commander of Moreno's cultural support team, wrote in her eulogy, according to Task and Purpose. The San Diego native was posthumously awarded the Bronze Star, the Combat Action Badge and a Purple Heart.
Before Thursday, the last female service member killed in combat appears to be Senior Chief Petty Officer Shannon Kent, a Navy cryptologist who died in a 2019 Islamic State bombing in Manbij, Syria, along with another service member, a Defense Department civilian and a U.S. contractor working as an interpreter.
As more women filter into combat jobs previously closed to them, more will be wounded and killed, said Hunter, illustrating the need for Americans to better understand who gets remembered for valor, and who counts as veterans.
"Women have been part of this fight for a long time," she said.
---
---
---
---