Corps strength: Marines to drop crunches from PFT in favor of planks in 2023
by
Chad Garland
Stars and Stripes
August 5, 2021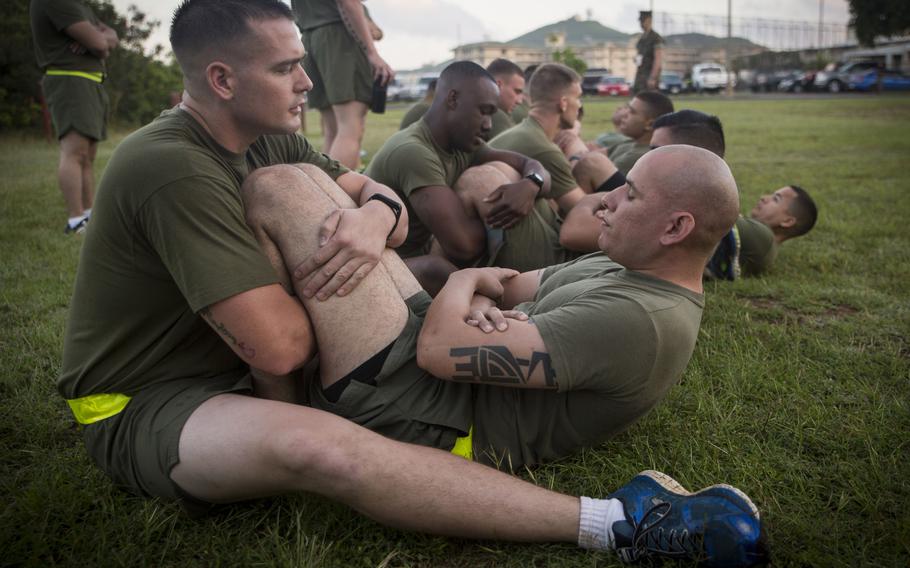 The Marines are changing how they'll work the core.
Over the next two years, the Marine Corps physical fitness test will undergo two important changes related to abdominal strength tests, eventually replacing crunches with the plank, a new administrative message said.
The plank reduces the risk of injury and engages almost twice the abdominal muscles that the crunch does, making for a good test of midsection endurance, the message said.
"With increased core strength, Marines are less likely to experience injury or fatigue during functional tasks like hiking, lifting and low crawling," the service said in a statement.
The Corps is announcing the changes now to allow Marines time to train.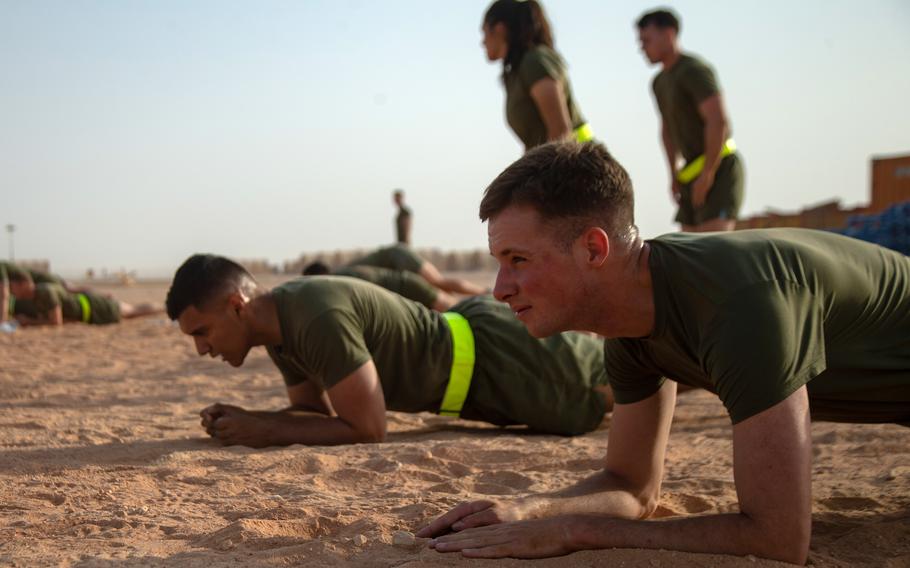 "You will see updated infographics and the plank workout plan on Fitness.Marines.mil very shortly," said Capt. Sam Stephenson, a spokesman for Marine Corps Training and Education Command.
The isometric plank became an optional event in 2020, and will remain so in 2022, though the minimum and maximum times will change. In 2023, the exercise will become mandatory. 
"Research has shown that sit-ups and crunches with the feet restrained require significant hip flexor activation," the statement said. "This has been linked to an increased risk of injury, including lower back pain."
The maximum time for the plank will decrease from 4 minutes, 20 seconds to 3 minutes, 45 seconds. The minimum time will increase by seven seconds to 1 minute, 10 seconds.
Earlier this month, the Air Force also announced that the plank would be an option in its annual fitness assessment test starting next year.
The Navy replaced curl-ups in its physical readiness test with a forearm plank in March after determining the "repeated spinal flexion movement of the curl-up is not operationally relevant," that it might aggravate back injuries and wasn't challenging enough.
The functional exercise is required in 85% of shipboard pushing, pulling, lifting or carrying tasks, the Navy said in a November administrative message.
The Army announced in March that it was adding a plank event as a fully graded alternative to the leg tuck in the latest proposed version of the new Army Combat Fitness Test, which began assessment that month.
Army officials expected an uptick in scores, the service said, but the leg tuck would remain the primary test of core strength because it better correlated between fitness requirements and the real world.
"Every Soldier should strive to lift themselves, but the plank allows Soldiers the time they need to train on this skill," the Army said.
The Marine Corps is expected to change the scoring tables for the PFT in changes made to its standing fitness test order before the end of this year.