Video shows gunman opening fire in Times Square, wounding Marine tourist with stray bullet
by
Rocco Parascandola
New York Daily News
June 28, 2021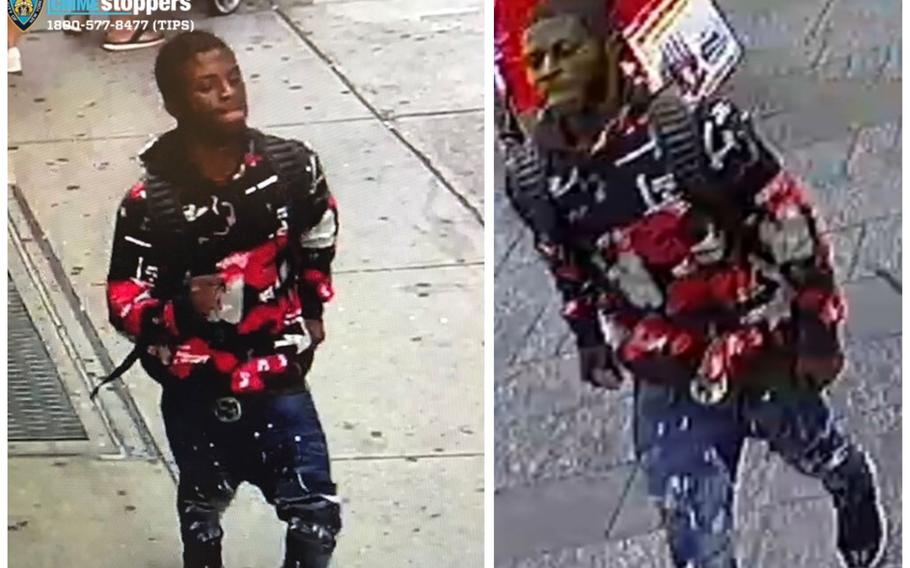 (Tribune News Service ) — Video released by police Monday captures the moment a gunman opened fire in Times Square, wounding a Marine who was visiting New York City.
The shooter held the gun in his right hand even as he fled the scene on Broadway near W. 45th St., outside the Minskoff Theatre, about 5:15 p.m. Sunday, the video shows. He has not been caught or identified.
WANTED for an Assault: On Sunday June 27, 2021 at approx. 5:15 P.M., in the vicinity of West 47st. and 7th Ave. @NYPDMTS a unknown individual shot a 21 year old innocent bystander causing serious injury Call @ 800-577-TIPS or DM NYPDTips Reward up to $3500 pic.twitter.com/j199kR3iYj

— NYPD Crime Stoppers (@NYPDTips) June 28, 2021
Police said the latest shooting — just steps away from where a girl was hit by gunfire last month — was triggered by an argument between two men, possibly street vendors or performers.
The slug ricocheted and struck the 21-year-old victim in the back, sources said. Medics took Samuel Poulin in stable condition to Bellevue Hospital.
Poulin, who recently graduated The Citadel, the military college in Charleston, S.C., with a Marine Corps commission, was visiting the city from upstate with his family, including his wife.
On May 8, 4-year-old Skye Martinez and two adult bystanders were hit by stray bullets after they were caught in the middle of a vendor war between two brothers.
The accused gunman, Farrakhan Muhammad, 31, was later arrested in Florida.
Cops are asking the public's help identifying the gunman in Sunday's shooting. Anyone with information is asked to call Crime Stoppers at (800) 577-TIPS.
©2021 New York Daily News.
Visit nydailynews.com.
Distributed by Tribune Content Agency, LLC.