Marines no longer have to send 360-degree tattoo photos to the Corps
by
Chad Garland
Stars and Stripes
June 28, 2021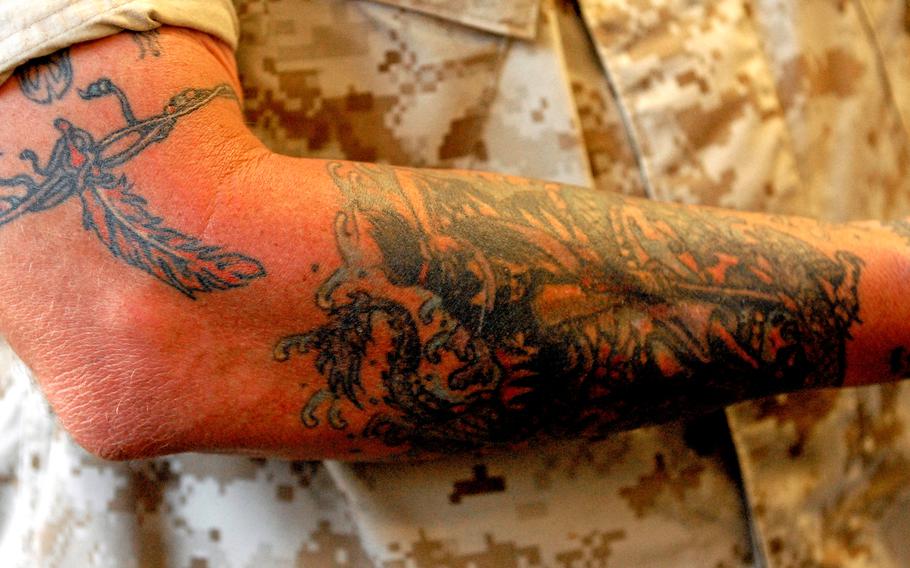 The Marine Corps has done away with a tattoo policy rule requiring its members to submit 360-degree photos of themselves when seeking enlisted retention, or special assignments like embassy guard or drill instructor.
In an administrative memo last week, the service ended the nearly 7-year-old requirement for the photos, which were used to validate compliance with the service's tattoo regulations, the strictest in the Defense Department.
Marines have complained for years that the tattoo policy hurts careers and retention and may prevent otherwise qualified recruits from joining the service. Other Marines have lamented all the body art they won't get — such as "sleeves" — so long as the rules remain in effect.
As the Corps drew down from 202,000 to 182,000 active-duty personnel and reduced its involvement in Afghanistan, officials in 2014 began to focus more on issues of appearance and grooming standards.
The service's tattoo rules were relaxed somewhat in 2016 to "balance the personal desires of Marines with high standards of professional military appearance and heritage," the Corps said at the time.
But after years at war, the still-rigid tattoo order was still seen as a "career killer" for some combat veterans who said they weren't allowed to reenlist, Marine Corps Times reported in 2017.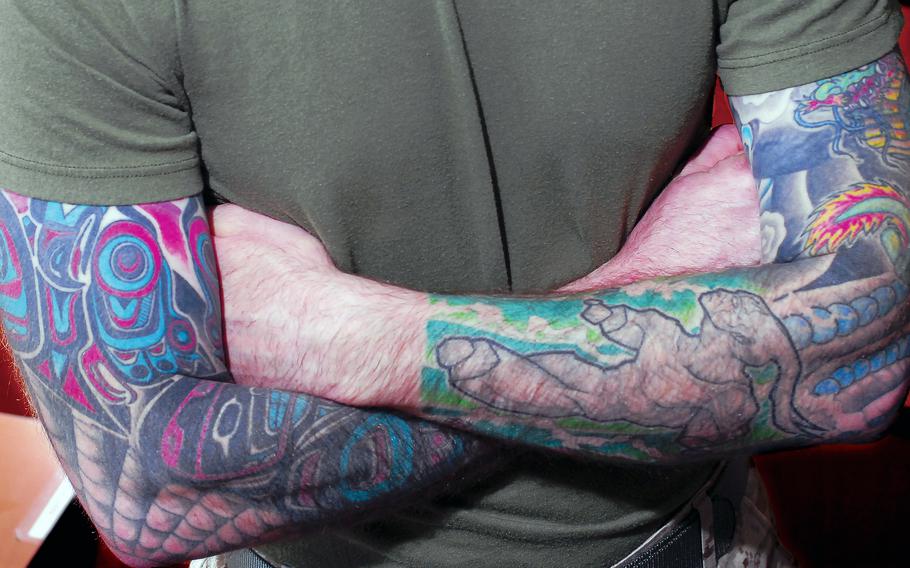 Marines can have "an unlimited number of tattoos" that can't be seen when they're wearing a physical training uniform. But they are prohibited from designs on the head, neck, mouth, wrist, knee, elbow or hand, and there are limits on the size and number of tattoos visible when in PT gear.
The new photo policy does not change those standards. And it requires Marines with visible tattoos to provide a close-up photo of each, aligned with a measuring device to show that each one isn't too close to a knee or elbow, as required by the tattoo regulation.
But Marines whose tattoos aren't visible in the T-shirt and shorts of the PT uniform no longer have to submit photos or sketches of their hidden tattoos.
Marine officials over the years have justified the service's stringent body art rules as just one of many ways the Corps sets itself apart.
Still, many Marines have bridled at the restrictions. Last year, an infantry corporal started a Change.org petition seeking a modification to allow sleeve tattoos. It received over 76,000 signatures.
The sleeve ban has also been a source of disagreement at the highest levels. Former Commandant Gen. Robert Neller, who implemented the 2016 policy, told Military.com two years later that his wife thought he was "stupid" for prohibiting the full-arm designs.
"I just don't want them being Marines," Neller told her in response, he said.
The Marine Corps did not immediately respond to an inquiry about the reason for the change to the photo requirement.
Twitter: @chadgarland