The Marine Corps has pinned wings on one of its last Hornet fighter jet 'back-seaters'
by
Chad Garland
Stars and Stripes
June 4, 2021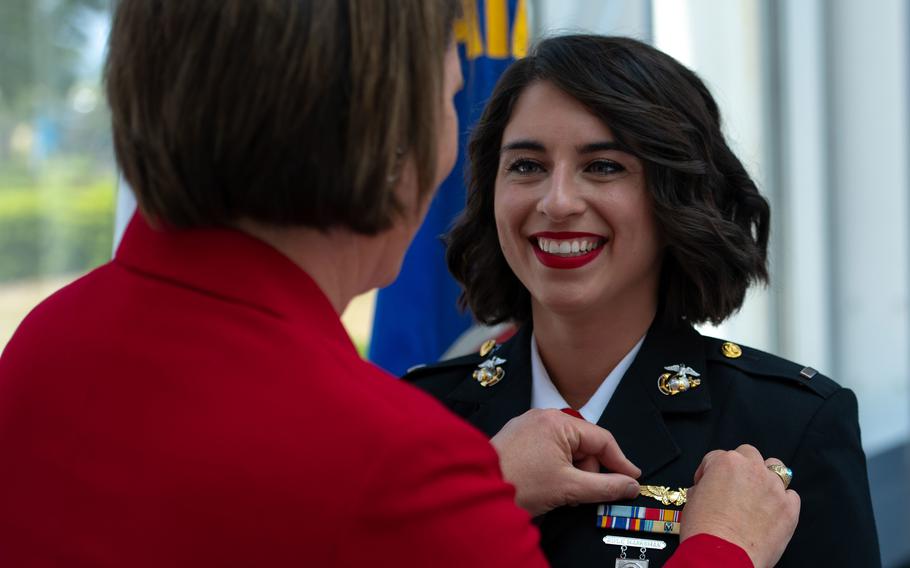 When 1st Lt. Brenda McCarthy was preparing to earn her wings as the last female weapons systems officer in the Marine Corps, she wanted as her guest one of the first women to earn those wings.
McCarthy wrote a letter inviting retired Lt. Col. Amy McGrath to the May "winging" ceremony at Naval Air Station Pensacola, Fla. McGrath was one of the first women in the Marine Corps to fly an F/A-18 into combat.
"I thought it would be a true inspiration for my sisters who are pretty young, and females in general in the military to see empowering women in aviation, in a men's club, just honoring each other," McCarthy was quoted saying in a Marine Corps statement. "And she accepted."
Just before Memorial Day weekend, McGrath pinned the gold wings on McCarthy, signifying her completion of training to become a naval aviator.
McCarthy's position as a weapons systems officer, also known as a "wizzo" or WSO, is behind the pilot in the two-seat F/A-18D Hornet, where she'll provide situational awareness, navigation and communications support.
As the guest of honor at the May 27 winging ceremony, McGrath spoke to the 16 Navy and Marine graduates of Training Squadron VT-86 about her efforts to push for women to be allowed to fly fighter jets, recalling that she wrote letters to the newspaper on the issue when she was 12 years old.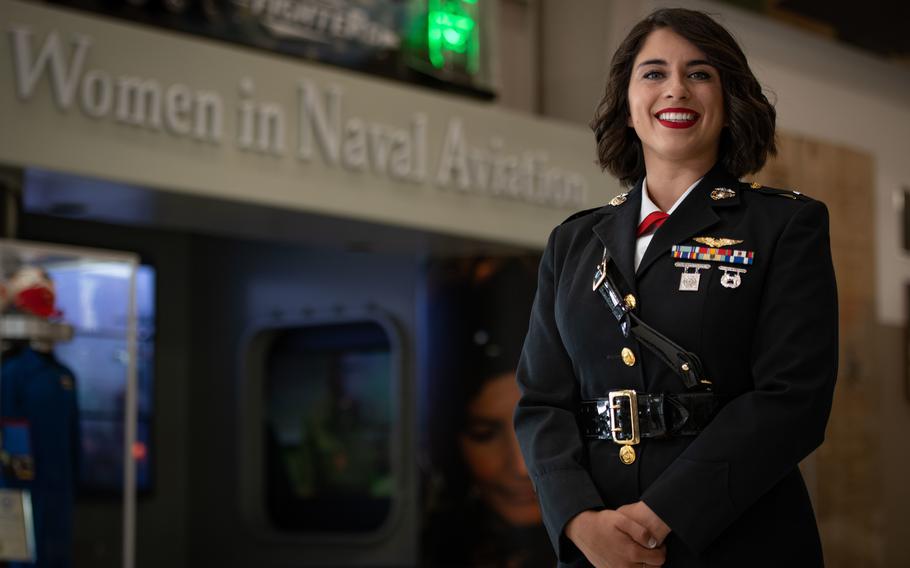 A 1997 U.S. Naval Academy graduate, McGrath completed flight school in 1999 and flew the first of her more than 85 combat missions in her career while deployed to Kyrgyzstan for Operation Enduring Freedom, the war in Afghanistan.
"We didn't even know I was the first," McGrath told The New York Times in 2018, after she retired the previous year. "It really wasn't until after the first couple of missions that someone said, 'Hey, I think you're the first woman to do this in the Marine Corps.'"
In her invitation letter, McCarthy thanked McGrath for paving the way for other women.
"For the past 25 years or so, females have been blazing the way the whole time in this community," McCarthy said in a Marine Corps video released this week. "I might be the last, but I'm like really excited to be a part of the community."
Two male Marines also are training to become WSOs, but the Marine Corps is phasing out the Hornets by 2030 as it transitions to the F-35 Lightning II.
A squadron based out of Marine Corps Air Station Miramar, Calif., completed the last Marine Corps deployment of the legacy Hornets on an aircraft carrier earlier this year.
The last deployment of F/A-18D is slated for fiscal year 2028, but there may be some of those aircraft in service into the following year, Marine Corps spokesman Maj. J. A. Hernandez said in an email Friday to Stars and Stripes.
"With the reduction of multi-seat aircraft, the Marine Corps' final weapons systems officers are scheduled to graduate in September 2021," Hernandez said, but the Corps will maintain refresher training through fiscal 2026. 
As for McCarthy, she'll head next to follow-on training with a squadron in Miramar.
"I want to be a contributing member to whatever aircraft I'm flying in," she said in the statement. "I want to make sure that my pilots know that I have their back wherever we are."
Twitter: @chadgarland
Correction
This story has been updated to reflect that Amy McGrath was one of the first women to earn wings as a weapons systems officer in the Marine Corps.