Marines train on Okinawa for jungle warfare in the Pacific
By
Stars and Stripes
June 3, 2021
---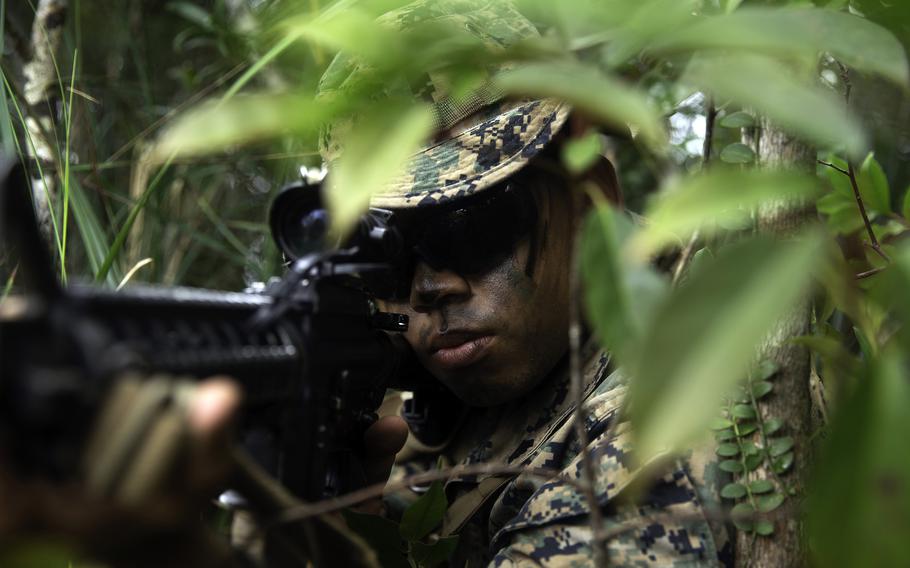 Snakes, spiders and thick jungle added realism to training on Okinawa where Marines spent last week honing skills they'd need to fight and win against a well-equipped enemy force on Pacific islands.
About 800 Marines participated in the Jungle Warfare Exercise in Okinawa's Northern Training Area from May 24 to 28. The scenario pitted members of the 2nd Battalion, 2nd Marine Regiment, out of Camp Lejeune, N.C., against an opposing force from 3rd Battalion, 3rd Marine Regiment out of Marine Corps Base Hawaii.
The training simulated the sort of engagements Marines might face going up against a peer-level adversary contesting key maritime terrain in the first island chain, which runs through Okinawa, Taiwan, the Philippines and Borneo.
The area is the focus of great power competition between the U.S. and China, which claims sovereignty over Taiwan and numerous other islands in the region, some of which are administered by neighboring countries.
China has been rapidly modernizing its military and building up amphibious forces that could be used to seize contested territory.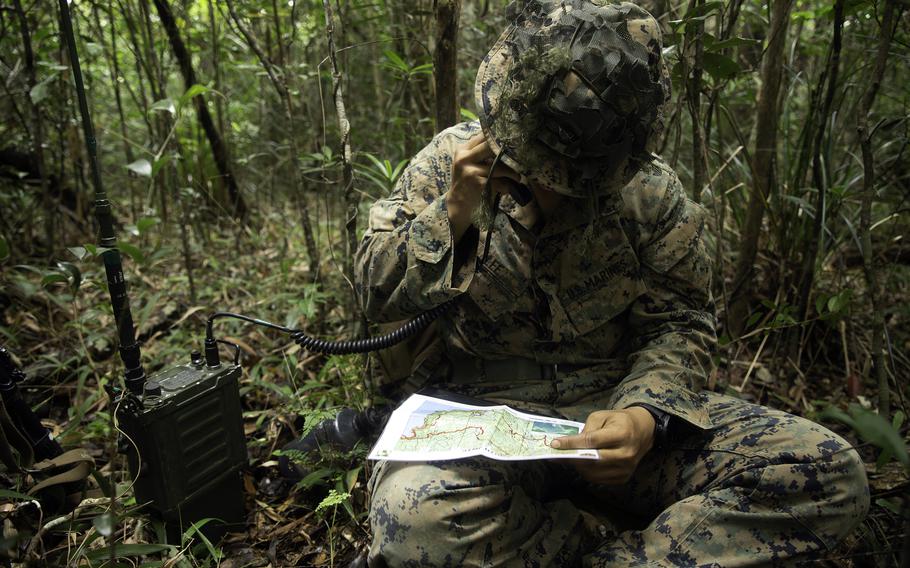 The event last week was the largest such event in the Northern Training Area in decades, said Maj. Kurt Stahl, a 3rd Marine Division spokesman, during a conference call Wednesday.
At the start of the exercise, 3rd Battalion Marines air assaulted into the jungle while others arrived in small boats to secure key maritime terrain, said Maj. Matthew Chomiak, 33, assistant operations officer for 4th Marine Regiment, which oversaw the exercise, during the same call.
Meanwhile Marines from 2nd Battalion arrived in helicopters to seize an objective, he said.
The Marines battled it out with blank ammunition in engagements refereed by observer controllers before the larger 2nd Battalion force was victorious, Chomiak said.
The training tested the Marines' ability to insert, persist and establish command and control and situational awareness in a tough environment that replicates the conditions they would face fighting in the first island chain, he said.
The Marines trained to tap into joint force support such as aircraft and artillery, Chomiak said.
The Marines traveled light, carrying items they could pack into a helicopter or move on golf-cart sized Utility Task Vehicles, which can also be carried by MV-22 Osprey and CH-53 Super Stallion aircraft, Maj. William McCabe, 35, of York, Pa., operations officer for 3rd Battalion, said during the call.
"I would rather be out in the jungle than in an office," said Staff Sgt. Drew Toboy, 32, of Detroit, another member of 3rd Battalion on the conference call.
The Marines have done plenty of force-on-force training but, in recent years, it has usually been done in a desert or urban setting, he said.
"It's not easy operating in the jungle," he said, noting that visibility there is only 65 to 100 feet.
Another 3rd Battalion Marine, Cpl. Justin Rohn, 24, of San Bernardino, Calif., said he expected to go to either the desert or the jungle when he enlisted.
"The toughest thing was negotiating the terrain and trying to make movements through it," he said of the training area. "It is always changing, and no map will be able to accurately depict it."
The Marines traversed about 25 miles of jungle during the event and "expected to be drenched in sweat after every movement," he said.
Twitter: @SethRobson1
---
---
---
---