Memorial service honors fallen members of the Coast Guard
By
Grand Haven Tribune
August 9, 2022
---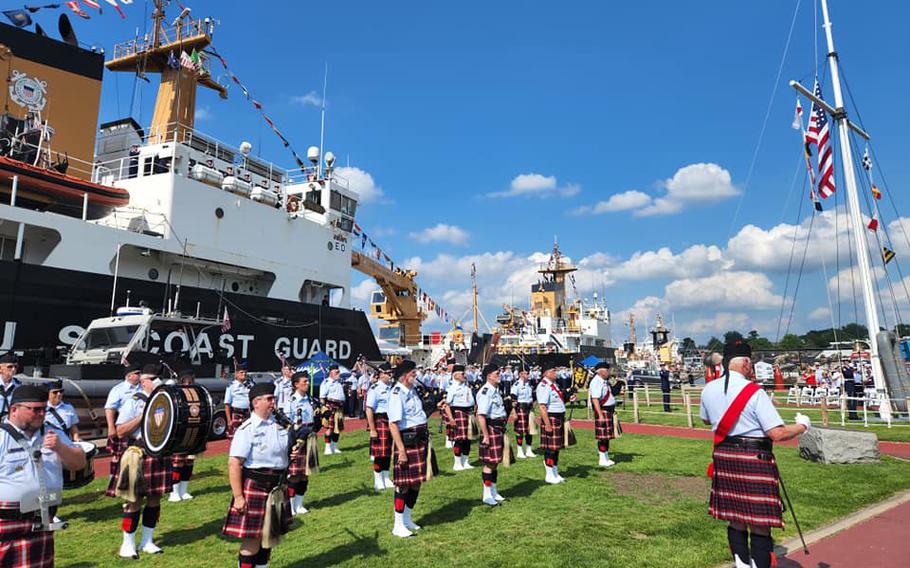 GRAND HAVEN, Mich. (Tribune News Service) — The National Memorial Service honoring fallen U.S. Coast Guard officers was held Friday during the annual Grand Haven Coast Guard Festival.
There were no members of the Coast Guard who died during active duty in the past year.
Uniformed officers stood in rows in front of the visiting Coast Guard vessels docked alongside Escanaba Park, where many people stood or sat on the grass watching the ceremony.
U.S. Coast Guard Chaplain Daniel Mode was one of the speakers at the service. Visiting Grand Haven for a few days, Mode said he had plans to lead Mass at St. Mary's Catholic Church in Spring Lake and would also be attending Saturday's parade.
"The key thing that we do is care for all," Mode said of his job as chaplain. "We're there 24/7, sometimes a phone call away — because our units ... in the Coast Guard are spread out especially here all throughout the Great Lakes."
Mode said he speaks with servicemen and servicewomen on some of their best and worst days.
"Sometimes they just had a baby, or sometimes it's a hard thing like they just lost a parent — so we're there for them," he said. "We provide that spiritual support when needed. As a Catholic priest, I love celebrating Mass wherever I go, so there's always a bunch of Catholics who may not have had Mass for months because of their deployment cycles and their operations, or they haven't had the chance to get to a parish because they're out at sea."
There are about 150 chaplains serving the Coast Guard, Mode said.
"There were a couple hundred Coast Guard men and women standing tall and hearing, maybe for the first time at a ceremony like this, knowing their colleagues from the past have paid that ultimate price because they stood the watch, they were deployed, they said they would go into harm's way," Mode said. "And guess what? The next time a cutter has to go into harm's way or a helicopter ... they'll think about that."
A group of retired Coast Guard servicemen who were enlisted together at various times, some who hadn't been back to Grand Haven or seen each other in decades, attended the memorial service.
"It choked me up a little bit," said Christian Tramp, retired USCG officer. "We've lost shipmates in operational conditions, we've lost them when they passed away, we know the stories of the vessels."
Additionally, the men from out of town said they appreciate the way the Grand Haven community shows their support for the Coast Guard, especially during the annual festival.
"Driving through the neighborhoods, the local support, it's very heartwarming," said Tim Montowski, a retired Coast Guard officer. "I have friends in other services and they're amazed at the Coast Guard as far as the camaraderie and the support compared to other services. As a whole, that's unique to the Coast Guard and the Coast Guard families. It really is."
The Coast Guard Pipe Band also performed during the waterfront service.
The ceremony also celebrated the 60th anniversary of the Canadian Coast Guard, which serves a portion of the Great Lakes.
(c)2022 the Grand Haven Tribune (Grand Haven, Mich.)
Visit at www.grandhaventribune.com
Distributed by Tribune Content Agency, LLC.
---
---
---
---