Coast Guard makes a different kind of rescue — and 2 turtles are now at a Florida Keys hospital
By
Miami Herald
March 31, 2022
---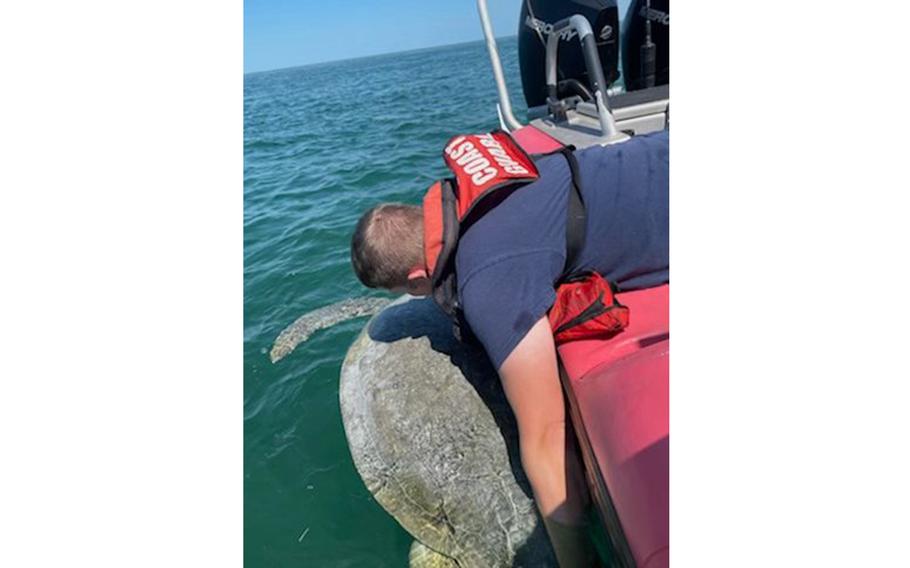 MIAMI (Tribune News Service) — The U.S. Coast Guard has been busy on the waters this year as the agency deals with a surge in migration to Florida from Cuba and Haiti.
But crews have been busy saving other lives, too.
On Monday, Coast Guard crews from Station Key West rescued two injured green turtles in separate discoveries off the Lower Florida Keys.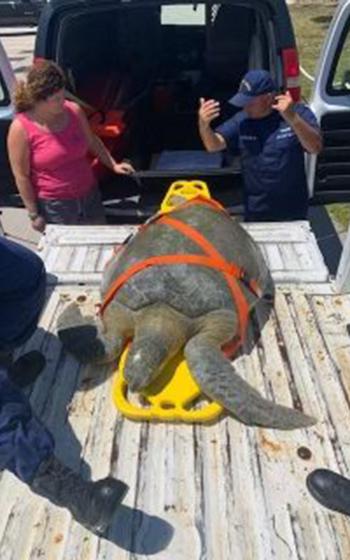 Atlas
The first reptile was spotted by boaters off Fleming Key — an island just north of Key West — around 11:30 a.m., said Petty Officer Jose Hernandez.
Crews brought the turtle on board a patrol boat and took it to the Turtle Hospital, a nonprofit veterinary hospital in Marathon dedicated to the treatment and rehabilitation of sea turtles.
"Flippers crossed we can get this magnificent reproductive male back to good health," the hospital said in a statement.
The Turtle Hospital said on its Facebook page that the reptile, which staff named "Atlas," is suffering from positive buoyancy disorder. That's an inability to submerge often due to trapped gas within the animal's body, according to the Wider Caribbean Sea Turtle Conservation Network.
The condition is dangerous because it makes them unable to get away from dangers, including collisions with boats, often the cause of trapped air from the start.
Bette Zirkelbach, manager of the Turtle Hospital, said it's not clear if Atlas was hit by a boat because there are no obvious strike marks.
Sometimes turtles are hit by smaller vessels, like personal watercraft, and those injuries can be more blunt and harder to detect. Either way, the condition of Atlas is serious enough that it will likely be awhile before he can be released.
"There are some serious GI or internal issues here," Zirkelbach said.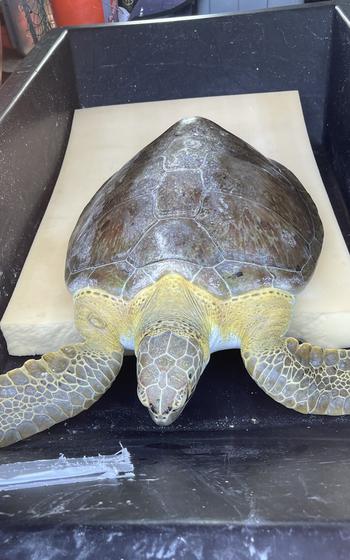 Buddy
Around 4 p.m. Monday, another crew from Coast Guard Station Key West pulled an injured loggerhead turtle from the waters off Cudjoe Key, an island about 23 miles north of Key West. That animal was also taken to the Turtle Hospital, where staff named it Buddy.
Buddy, who also suffers from buoyancy problems, was hit by a boat, Zirkelbach said.
"The shape of his shell tells us it was a boat strike for sure," she said.
Both are green sea turtles, but there's a significant age difference, Zirkelbach said.
Atlas weighs more than 300 pounds and is a sexually mature male, probably about 50 years old — still pretty spry for a species with a life expectancy of up to 100 years, Zirkelbach said.
"And, it's mating season, so we hope to get him back out as soon as possible," she said.
Scientists can tell Atlas is a male by the length of the tail, which grows as long as the shell at sexual maturity between 20 and 25 years old, Zirkelbach said.
Buddy, who weighs about 58 pounds, is much younger, so Turtle Hospital workers are not sure if the animal is male or female.
Sadly, while the hospital's staff is optimistic Buddy will survive, the reptile has severe spinal injuries, and its chances of returning to the wild don't look good, Zirkelbach said. Without the ability to submerge quickly, Buddy would be an easy target for prey and too slow to get out of the way of vessels.
However, Zirkelbach said, this means he or she will likely be adopted by an aquarium and live a comfortable life as "ambassador to its species."
©2022 Miami Herald.
Visit at miamiherald.com.
Distributed by Tribune Content Agency, LLC.
---
---
---
---