Coast Guard workload has grown in Hampton Roads, Kaine and Luria say
By
Daily Press
February 22, 2022
---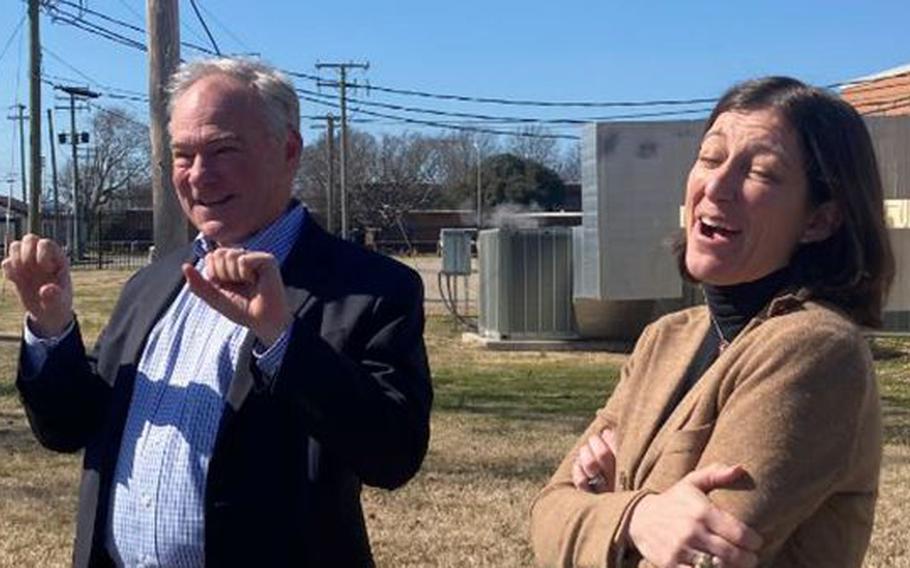 (Tribune News Service) — After an hour flying with a U.S. Coast Guard helicopter crew over Hampton Roads, Sen. Tim Kaine, D- Va., and Rep. Elaine Luria, D- Norfolk, said they're both struck with how much has piled on Hampton Roads Coast Guardsmen's workload lately.
And they're concerned that the Coast Guard may not have all the resources they need.
With a surge in shipping traffic, major construction projects on the Hampton Roads Bridge-Tunnel, Chesapeake Bay Bridge-Tunnel and the main shipping channel, managing traffic — just one of the basic missions of the Coast Guard — is a growing challenge, Luria said.
"I think they're worried," she said.
Luria, who is member of the House Homeland Security Committee, which oversees the Coast Guard as well as the Armed Services Committee, said the Coast Guard overall needs more resources to tackle its missions.
The Coast Guard has seen a rise in search and rescue work, which seems to be linked to the pandemic, as people tried out boating for the first time and got into trouble they weren't prepared for, Kaine said.
And thinking ahead about search and rescue operations as Dominion Energy's offshore wind farm takes shape, as well as the activity involved in moving cumbersome turbine components from the port to the wind farm site 27 miles off the Virginia Beach shore, is another concern, he said.
Permitting and environmental monitoring of the bridge-tunnels and channel widening projects is another major workload, Kaine added.
On top of that, the Coast Guard's recent concentration of cutters in Portsmouth keeps cutters and crews in Hampton Roads busy on fisheries regulation and law enforcement work, including combating drug smugglers and preventing illegal immigration by sea.
Both Kaine and Luria said they believe Congress will move soon on a defense spending bill for fiscal year 2022, which includes stepped up funding for Ford-class carriers and Virginia-class submarines built at Newport News Shipbuilding, as well as money for the shipyard's refueling of older nuclear carriers. Spending so far this year has been pegged at last year's level under a series of continuing resolutions, although the latest resolution did provide extra money for the new Columbia-class ballistic missile submarine program.
The two said they're also seeing bipartisan support in Congress for U.S. sanctions if Russia invades Ukraine.
©2022 The Virginian-Pilot.
Visit pilotonline.com. 
Distributed by Tribune Content Agency, LLC.
---
---
---
---