'It's what we do:' Rescue diver discusses daring descent
by
Tom Lizardo
Lockport Union-Sun & Journal, N.Y.
December 11, 2021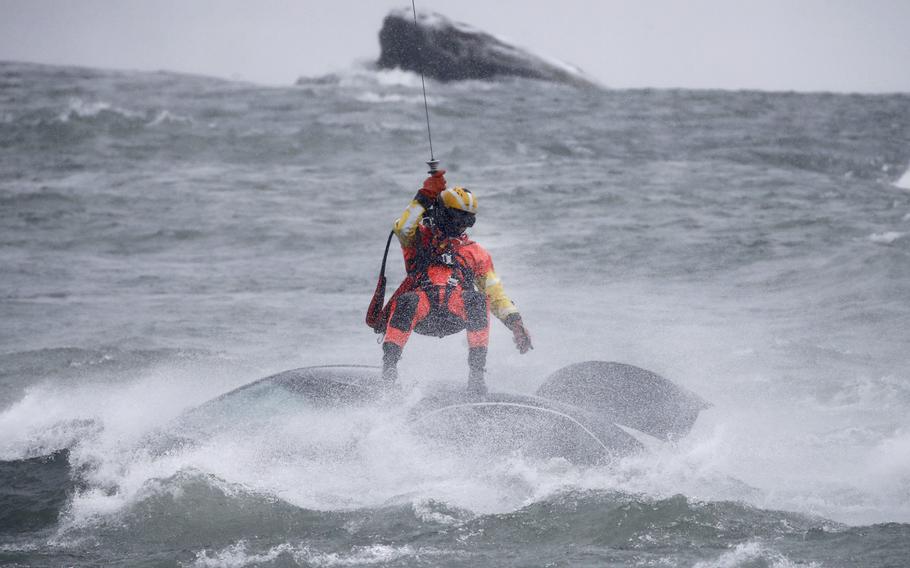 (Tribune News Service) — It's a good thing for America that Derrian Duryea has the love of a good person.
"She couldn't be a more supportive partner, she's an incredible woman," Duryea said of his fiancee on Friday, just two days after the 28-year-old U.S. Coast Guard rescue swimmer pulled the body of a local woman from a car at the brink of Niagara Falls.
Asked about the reaction and praise he's received on social media and elsewhere, Petty Officer 2nd Class Duryea was matter of fact, "This is my job. It's what we do."
There are only a few hundred people who do this type of work for the Coast Guard, about a dozen of them, including Duryea, stationed at the Coast Guard's Detroit Air Station.
"It could have been any one of us doing that case," Duryea said, "It just happened to be me."
The rescue swimmer gave effusive praise to his crew and described how they received a call Wednesday at about 12:30 p.m. letting them know there was a car in the upper Niagara River near Niagara Falls.
Duryea detailed how his Flight Mechanic, AMT 2 Jon Finnerty, gave Duryea "a pin-point hoist, even though there were hurricane-force winds coming off the copter as it hovered."
He also talked about how expertly pilot Lt. Christopher Monacelli and co-pilot Lt. Jake Wawrzyniak held the hover still, in the extreme conditions.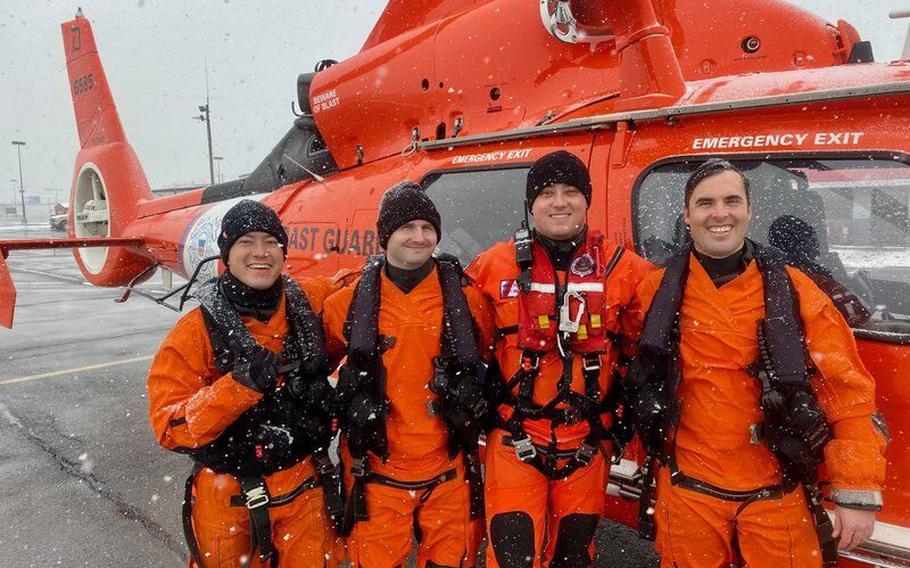 The crew had been preparing for a routine training flight to Lake St. Cloud, Minnesota, when they were redirected to Niagara Falls.
They first faced harsh weather around London, Ont. And, later, as part of Crew Resource Management (CRM), they had to discuss several "what if" scenarios, Duryea said.
"What if we had engine failure? What if I got caught up and we had to cut the hoist? What if the car moved while we approached it?"
In high school, the Ridgefield, Connecticut native was a competitive swimmer who always felt a calling to military service. "In the end, I chose the Coast Guard because of its humanitarian missions, because I'd get the chance to save lives," Duryea said.
It was not until the crew arrived on the scene that they knew how close the car was to the brink of the American Falls, where deteriorating weather conditions provided additional challenges.
"The temperature was 20 degrees and there was snow, plus we had the mist from the Falls. The helicopter did not have de-icing capabilities ... It was hard to see."
Later the crew realized that the cockpit door had also glazed over with ice.
Duryea attended the U.S. Coast Guard Academy, where he also swam competitively, entering at the age of 17. After two years he decided to go the rescue swimmer route, one he has stayed on now for about seven years, and that brought him to Niagara's brink Wednesday.
This was not the 10-year Coast Guard veteran's first high-profile mission. Duryea was previously stationed for about five years in Clearwater, Florida where one case he worked on resulted in an interview by a national cable television news network.
Duryea worked on a number of cases in Florida, with some 30 lives saved.
There was great coordination throughout the entire agency, Duryea said, specifically citing the Coast Guard Station in Buffalo and the Joint Rescue Coordination Center. He also mentioned that the Niagara Falls Fire Department was on hand to provide medical attention to the victim.
The CRM scenario-planning "left us with a great game plan," said Duryea, adding "I'm grateful we were able to bring the victim home for the family."
Dureya plans to wed his fiancee in Detroit in May of 2022.
___
(c)2021 the Lockport Union-Sun & Journal (Lockport, N.Y.)
Visit the Lockport Union-Sun & Journal at lockportjournal.com
Distributed by Tribune Content Agency, LLC.
---
---
---
---