Congress to consider funding another Great Lakes icebreaker
by
Tom Henry
The Blade
September 19, 2021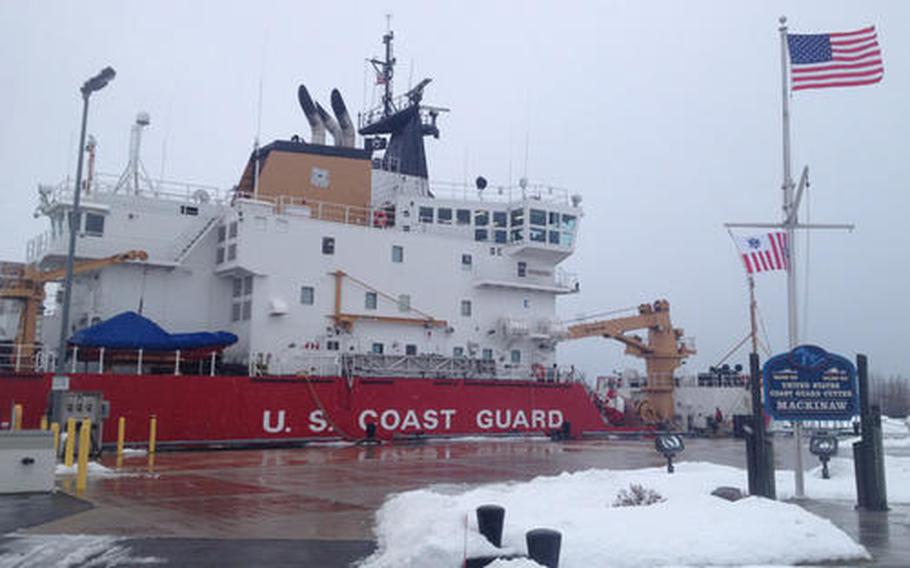 (Tribune News Service) — Hopes for building a $350 million, state-of-the-art Great Lakes heavy icebreaker for the U.S. Coast Guard have moved out of committee and will be voted on by the full U.S. House of Representatives as part of President Biden's $3.5 trillion reconciliation bill.
"Our nation's defensive capabilities, manufacturing industries, and economic vitality depend on the ability of vessels to reliably, safely, and efficiently navigate the more than 2,000 miles of shipping lanes of the Great Lakes region," U.S. Rep. Marcy Kaptur (D., Toledo) said.
She was one of four co-chairs of the bipartisan House Great Lakes Task Force who co-signed a July 28 letter to House Speaker Nancy Pelosi and Minority Leader Kevin McCarthy calling upon the government to fund a new icebreaker. Also signing that letter were U.S. Rep. Debbie Dingell (D., Mich.), U.S. Rep. David Joyce (R., Ohio) and U.S. Rep. Bill Huizenga (R., Mich.).
The letter states that "changing climate patterns are resulting in fluctuating lake levels, more frequent winters with heavy ice cover, and a higher intensity and frequency of extreme storms."
"These conditions impact ice thickness and create unpredictable ice flows," the letter states. "Both ice cover and severe storms cause closures of critical waterways across the region, stalling shipping traffic."
Currently, the Coast Guard's Great Lakes District commands only one heavy icebreaker, the USCGC Mackinaw. A second one "will double the Coast Guard's capacity to clear Great Lakes shipping lanes of ice," Ms. Kaptur's office said.
The Toledo-Lucas County Port Authority has lobbied for an additional icebreaker for years, as has the Lake Carriers Association, American Great Lakes Ports Association and other industry groups, Joe Cappel, the port authority's vice president of business development, said.
Meanwhile, the latest statistics show a continued upward movement of Great Lakes shipping this year.
The 20.7 million metric tons of cargo shipped through the St. Lawrence Seaway from the Seaway's 2021 opening on March 22 through Aug. 31 represent a 5.2 percent increase over the same time in 2020.
Iron ore, steel, and cement are among the commodities on the rise, according to the Great Lakes Seaway Partnership, a coalition of U.S. and Canadian maritime organizations.
Iron ore exports to high-demand countries such as China, Japan, and South Korea experienced a 29 percent tonnage increase compared to the same months of 2020, Craig H. Middlebrook, Great Lakes St. Lawrence Seaway Development Corp. deputy administrator, said.
Grain exports to Europe, South America, and Asia are expected to be high as fall harvest arrives, especially with corn and soybean yields up over 2020, he said.
Mr. Cappel noted that the Port of Toledo is "home to several very active grain terminals, including one of the largest flour mills in the world operated by Mondelez."
He said cargo through the Toledo port exceeded 2020 totals by more than 25 percent, surpassing six million tons through August for the first time since 2011.
Mr. Cappel attributed much of that to the new Cleveland-Cliffs' Toledo Direct Reduction Plant, formerly known as Cleveland-Cliffs HBI.
He said iron ore produced by that facility "has really helped elevate the Port to the next level."
"It's exciting to think about the potential of this Port as we look toward the future," Mr. Cappel said.
The Chamber of Marine Commerce issued the same figures in a separate news release, stating that shipments of iron ore, steel, cement, and stone "surged through the region."
"Great Lakes- St. Lawrence ships and ports specialize in efficiently transporting the metals and minerals that are now fueling North America's manufacturing and general economic recovery," Bruce Burrows, Chamber of Marine Commerce president and chief executive officer, said. "We expect this surge in materials through our trade corridor to continue in the coming months."
(c)2021 The Blade (Toledo, Ohio)
Visit The Blade (Toledo, Ohio) at www.toledoblade.com
Distributed by Tribune Content Agency, LLC.