Coast Guard patrols from Japan for fisheries violators
by
Juan King
Stars and Stripes
August 18, 2021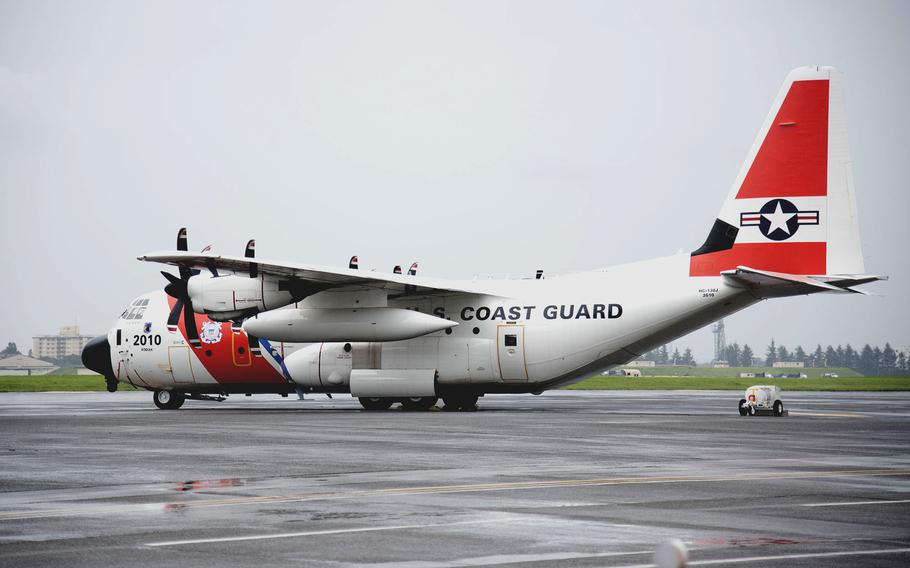 YOKOTA AIR BASE, Japan — An HC-130J Super Hercules that stayed a short time on the Yokota flight line seemed like a good fit for this Air Force airlift hub in western Tokyo.
But its red-and-white livery set it apart as property of the U.S. Coast Guard. The aircraft and its crew, normally based at Air Station Kodiak, Alaska, arrived Aug. 12 in Japan as part of Operation North Pacific Guard, according to Air Force Staff Sgt. Jessica Avallone, a spokeswoman for the 374th Airlift Wing at Yokota.
The C-130 and its crew of seven stayed only a few days, said Coast Guard Cmdr. Steven Stowers at Yokota, but another crew is scheduled to take its place next week.
North Pacific Guard, an annual operation, targets illegal, unreported and unregulated fishing on the high seas. The Coast Guard typically commits a surface vessel and a C-130 to the operation. The fisheries enforcement program is one area in which the United States and China, more often at cross-purposes in the Pacific, on paper are expected to work together.
The operation is a joint endeavor of nations of the North Pacific Rim, also including Japan, Russia, South Korea and Canada, that aims to curtail illicit fishing, according to a Coast Guard news release from the 2020 operation.
Each nation is responsible for providing surface and air patrols and sharing intelligence that guide those patrols to make at-sea inspections that target illicit fishing activity.
The China Coast Guard sent two of its vessels from Shanghai on July 31 to cruise the North Pacific as part of the enforcement program, the state-run Global Times reported at the time.
The Chinese ships will be on patrol for 31 days, according to the Global Times.
The U.S. Coast Guard did not respond to a query Monday by Stars and Stripes seeking further information on this year's North Pacific Guard.
In 2020, the Coast Guard cutter Munro, which arrived Sunday in the Western Pacific for a months-long deployment with the Navy's 7th Fleet, patrolled the Bering Sea for two months as part of North Pacific Guard, according to the Coast Guard. The Munro in July 2020 worked alongside the Russian Border Guard vessel Kamchatka, according to a post on the Munro's Facebook page.
North Pacific Guard originally targeted illegal driftnet fishing but expanded to counter all forms of illicit fishing in the North Pacific Ocean, according to the Coast Guard. The operation covers 3 million square miles of open ocean.
Last year, the Coast Guard said the Munro boarded 11 fishing vessels for inspections at sea and found 14 potential violations of fisheries conservation and management measures. Three of those vessels were Chinese-flagged squid fishing boats, "on which serious potential violations were detected."
The remainder of that unspecified number of Chinese fishing boats afterwards left the area, according to the Coast Guard.