Coast Guard endurance athlete raises money for clean water, one mile at a time
by
Caleigh Bartash
Stars and Stripes
July 23, 2021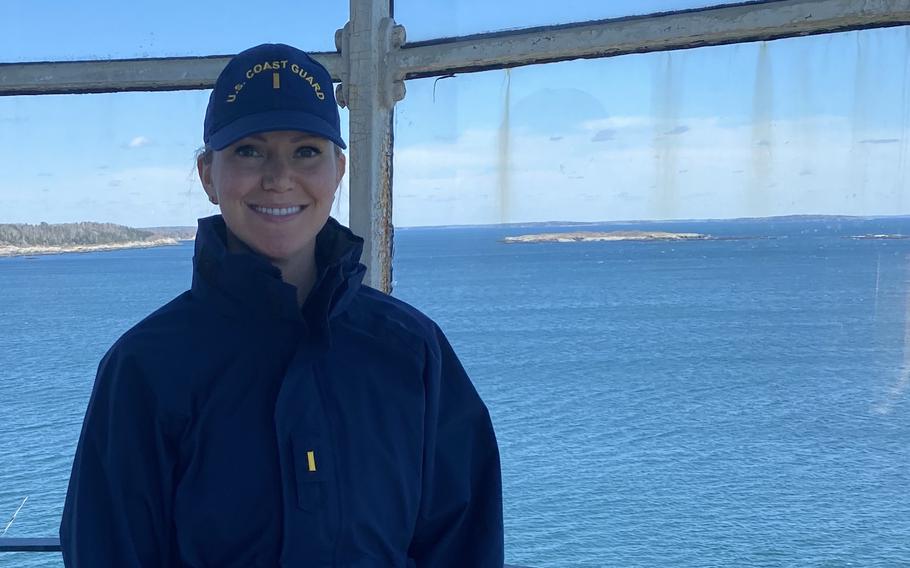 Coast Guard Lt. j.g. Katie Spotz ran 341 miles across Ohio in 11 days from June 21 to July 1. Now, she's waiting for Guinness World Records to tell her if she broke the women's record for most consecutive days to run an ultramarathon distance.
It wouldn't be the first time Spotz ended up in the record books.
In 2010, at age 22, Spotz became the first American and youngest person to row solo across the Atlantic in a trip from Dakar, Senegal, to Georgetown, French Guiana.
Her list of athletic accomplishments has grown since that 70-day excursion, including the announcement in May that she had been named the U.S. Coast Guard Elite Female Athlete of the Year for her success in sport and community service. 
For Spotz, it is more about service than running for her own fitness.
As an undergraduate studying abroad in Melbourne, Australia, Spotz said she noticed that the country's drought and ensuing water crisis were making headlines. She started to learn more about clean water scarcities around the world and decided to raise money for the cause through her endurance events.
"I just couldn't unlearn it. I couldn't forget it," Spots said. "And I knew I wanted to do something, and adventure became that something."
To date, Spotz has raised over $300,000 for clean water initiatives and had an impact on over 25,000 lives through her activism, according to a press release from nonprofit H2O for Life.
Service, for Spotz, includes the Coast Guard.
She enlisted in 2018 and is a response officer at Sector Northern New England. Among her collateral duties are morale officer and victim advocate. Spotz chose the assignment to the base on land in Portland, Maine, in part because she has more places to run than if she were on a boat.
Training for an ultramarathon takes time, even for an established athlete. Spotz has an authorized 90 minutes of fitness each day during the week with the Coast Guard; she saves her longest runs for Saturdays.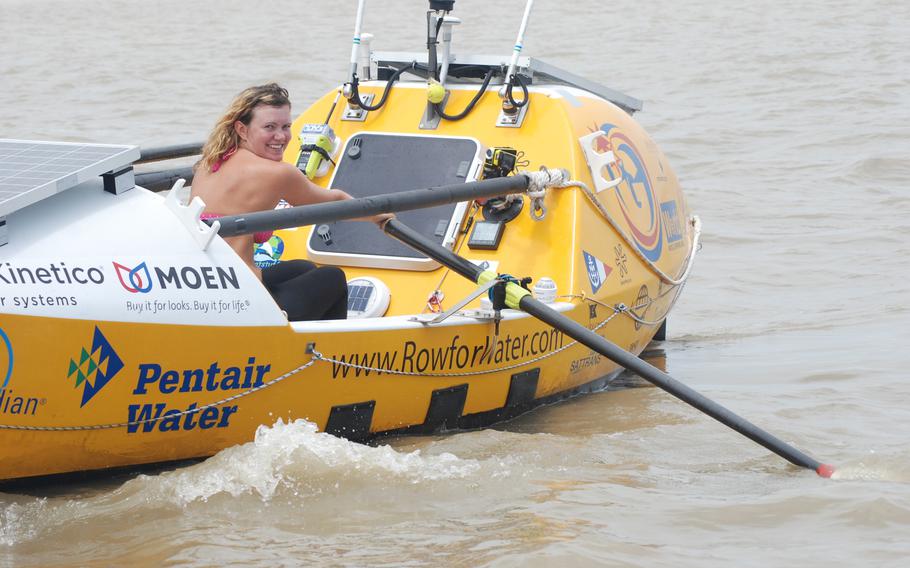 Spotz, 34, accrues two and half days of vacation per month, which others might take as an opportunity to relax. But she uses her time off to push herself to her mental and physical limits, just not past them.
"I don't ever want to run so far that I outrun my joy of running. And so, if it's not fun. It's not worth it. This is what I'm doing for fun in my free time. And so that's a priority for me to make sure I'm getting joy out of it, but I did find this last run joyful," Spotz said.
In the Ohio run, her latest partnership with H2O for Life, she set a goal to draw $34,100, or $100 per mile. Spotz exceeded that figure by thousands, H2O for Life said, and she said she is still hoping to raise more for projects in Uganda.
Patty Hall, the founder of H2O for Life, said Spotz spoke at 50 schools across the U.S. on behalf of the nonprofit, which seeks to involve young people in clean water activism. Hall said she has been impressed with Spotz's dedication to advocacy.
"She could probably raise funds to do this and not have a charity on the other end, but I think that that's really important to her, so she's doing it for a cause," Hall said.
Laurie Wise-Maher, a friend and former boss at nonprofit because I said I would, said the people Spotz has raised money for in Africa, Asia and Central America are not the only ones affected by her activism. Wise-Maher crewed the latest endurance event in Ohio, providing water and other supplies as needed across the routes, and said she noticed onlookers moved to tears by Spotz's accomplishment.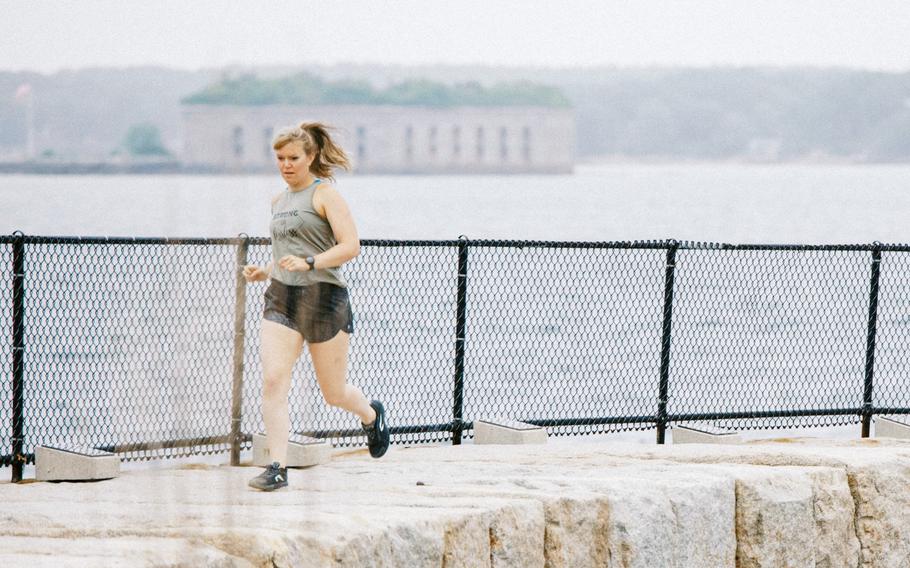 Though Spotz knows that the fundraising for clean water has helped people in countries as far away as India, she does not always see the effects her success has on the people right in front of her, Wise-Maher said.
"It's very uncomfortable for her to be idolized for her accomplishments, but this is the way to bring attention to something that is important," Wise-Maher said.
Growing up, Spotz said, she never thought she would become the extreme endurance athlete she is today. Rather than stress about competition, Spotz's goal was always to have fun — even if it meant less playing time, she said.
"I wasn't a star athlete growing up. I was more or less a benchwarmer. And when you sit on the bench for long enough, you believe you belong there," Spotz said.
Once she started running, Spotz found herself feeling less pressure, she said. Spotz said she no longer had to worry about losing or letting teammates down. But before she could run 341 miles, she needed to run one.
Spotz started running reluctantly, in a walking-running course in senior year of high school, she said. It was a class that she unsuccessfully tried to petition out of.
At first, Spotz only walked, not thinking it was possible for her body to run a full mile, she said. But the boredom bothered her, and eventually, she decided to pick up her pace.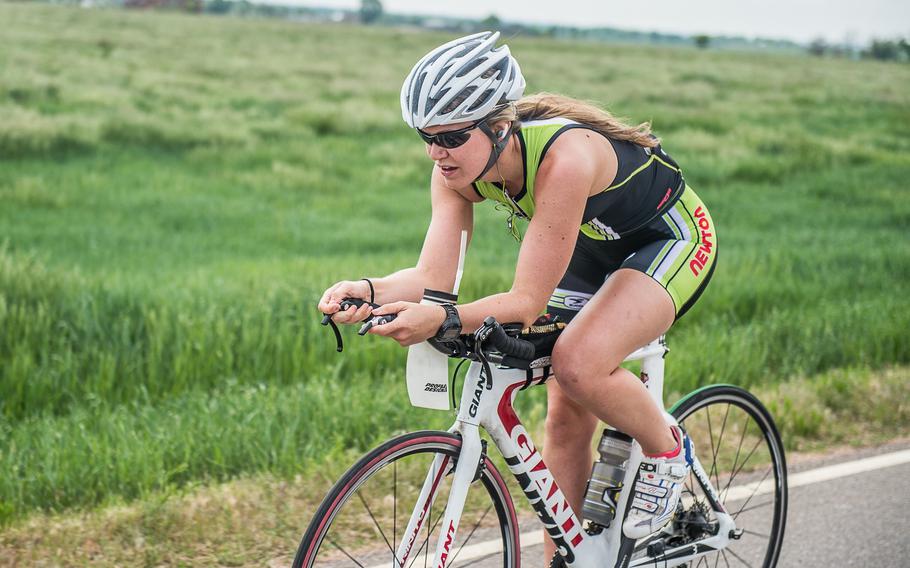 "I really didn't enjoy it at first. My lungs were burning and I didn't know how to pace myself and it was challenging, but I was also very encouraged because my body proved to be capable of doing something I never thought it could do," Spotz said. "And so then that's where the seed was planted of 'Hey maybe I could do more.' "
Spotz would do more. She ran nearly 140 miles nonstop across Maine in 33 hours, swam the length of the 325-mile Allegheny River and cycled from Seattle to Washington, D.C., among many more athletic feats. Next, she plans to cycle the approximately 350 miles of Maine's coastline in under a week.
Yet Spotz said her first big race, the Columbus Marathon that she ran at age 18 in her home state of Ohio, is her favorite experience — even if the soreness she felt days later meant her dad had to carry her up the stairs to her dorm room at the nearby Kent State University.
That day in Columbus, Ohio, Spotz said she realized that marathons are not just for elite athletes but also everyday people who have grit and determination. It is a message she wants to share with others.
"I would hope that my story is not one that's like, 'Oh that's great. She could do these things, but that's not me,' " Spotz said. "Instead say 'Hey, maybe there's this thing' — maybe it's not running but their thing — that they would feel more encouraged to dare to try."