'Pinks and greens'-inspired uniforms will be issued to new soldiers in 2021, Army says
by
Christian Lopez
June 12, 2020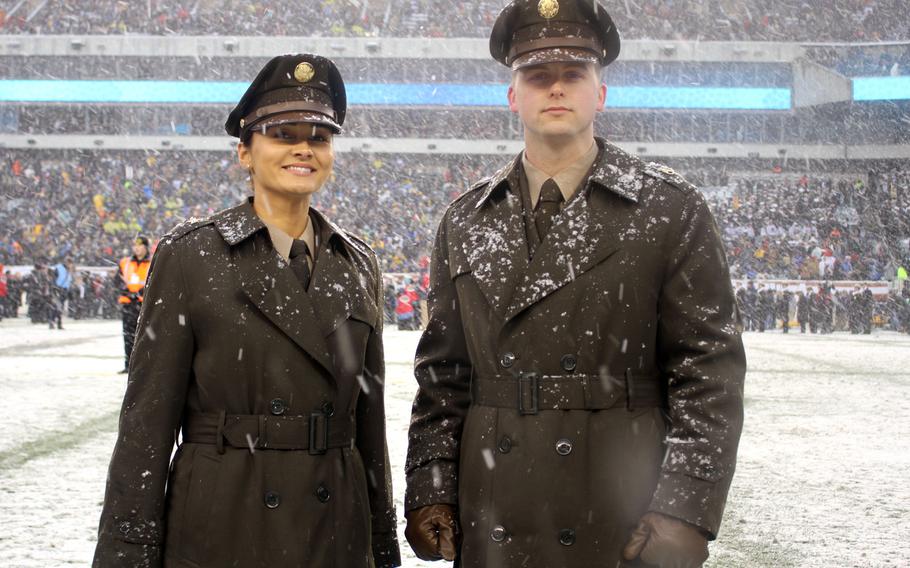 Modeled in the image of the Army's iconic World War II-era "pinks and greens," the Army Green Service Uniform is set to be a part of every new soldier's wardrobe in 2021.
Starting with the new year, troops completing basic training will be issued the new uniforms with pinkish-brown trousers and dark olive jackets, Lt. Col. Jonathan Allen, product manager for soldier clothing and individual equipment, told Stars and Stripes via email Thursday.
The uniform, which officials said would be "cost-neutral" to enlisted soldiers and would not come at an added cost to taxpayers, was originally expected to be fielded to soldiers reporting to their first units beginning this summer.
Allen said recruiters and drill sergeants will receive their new uniforms in the final three months of this year. Troops already in the service have until Oct. 1, 2027, to acquire their own service greens.
"The Army is currently the only service that does not have a uniform for everyday business environments," he said. The green service uniform "sets a more appropriate standard for professionalism in an office setting than the [Army Service Uniform] or the Army Combat Uniform."
The Army has already issued 850 service green uniforms to select senior leaders, the Army Band, recruiters and the Old Guard for their feedback on the retro-style uniform. The service greens will become the official service uniform of the Army, replacing the Army Service Uniform, or ASU, which will remain an option for soldiers on formal occasions.
Army Reserves Staff Sgt. Joseph Williams, in an email to Stars and Stripes on June 1, said his grandfather during World War II wore the uniform that inspired the contemporary version.
"I look forward to the change to the Pinks and Greens," Williams said. "The history of the uniform is a source of great personal pride."
lopez.christian@stripes.com Twitter: @Clopez_Stripes