JBLM doctor teams up with local school to teach staff to 'stop the bleed'
By
Stars and Stripes
September 16, 2022
---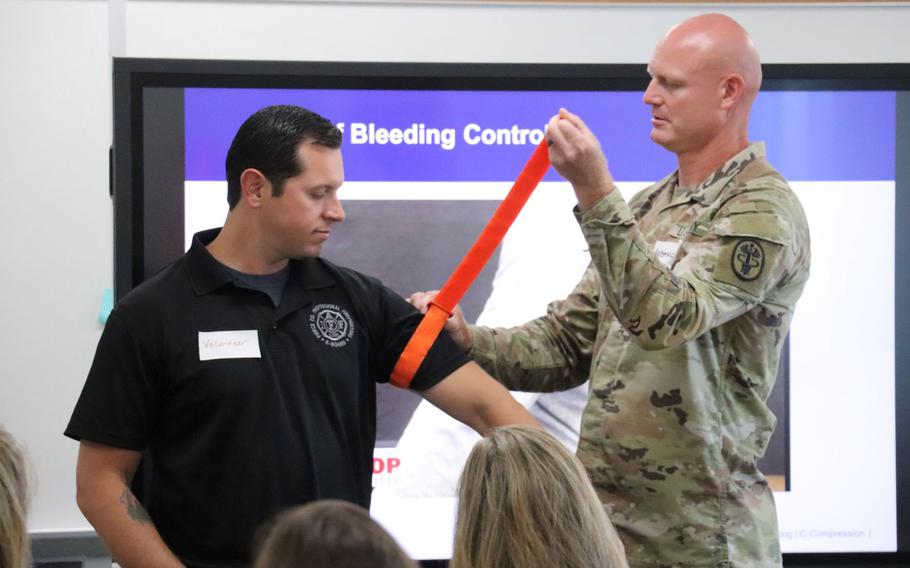 Dr. Quinton Hatch, an Army surgeon, saw the news in May of a shooting at an elementary school in his home state of Texas and couldn't shake it from his mind.
As a parent of school-aged children, he said he imagined the teachers and students saw injuries and wounds in Uvalde's Robb Elementary School similar to those seen in combat.
Fear that such an incident could happen at his own children's school near Joint Base Lewis-McChord, Wash., he decided to advocate for the district to utilize a Defense Department-backed program known as Stop the Bleed that trains civilians on how to respond to traumatic injuries with techniques that the military has refined through its decades fighting in Iraq and Afghanistan.
"Having tools in your toolkit is what allows you to face down fear sometimes. We don't have to be completely helpless," said Hatch, who is a lieutenant colonel and director of the general surgery program at the base's Madigan Army Medical Center.
Last month, he helped lead a training event with 26 school health professionals at the Peninsula School District in Gig Harbor, about 20 miles from Lewis-McChord. He heard from participants that they felt empowered by the knowledge.
"Working directly with the military took our emergency training to the next level by giving us first-hand knowledge of what to expect during a mass casualty event," said Aimee Gordon, spokeswoman for the Peninsula School District.
The training, which is offered nationwide through the American Red Cross and other partner agencies, goes beyond just active-shooter situations to include more likely scenarios that school staff could witness, such a child falling on the playground or a bus accident. Participants learn how to apply direct pressure on bleeding wounds, use tourniquets and effectively communicate with other bystanders and emergency response personnel.
Dr. Craig Goolsby, an Air Force veteran who served two tours in Iraq where he led the emergency department of a combat hospital, was one of the many collaborators to help launch Stop the Bleed about seven years ago. He is now a professor and chairman of the emergency medicine department at Harbor-UCLA Medical Center in California.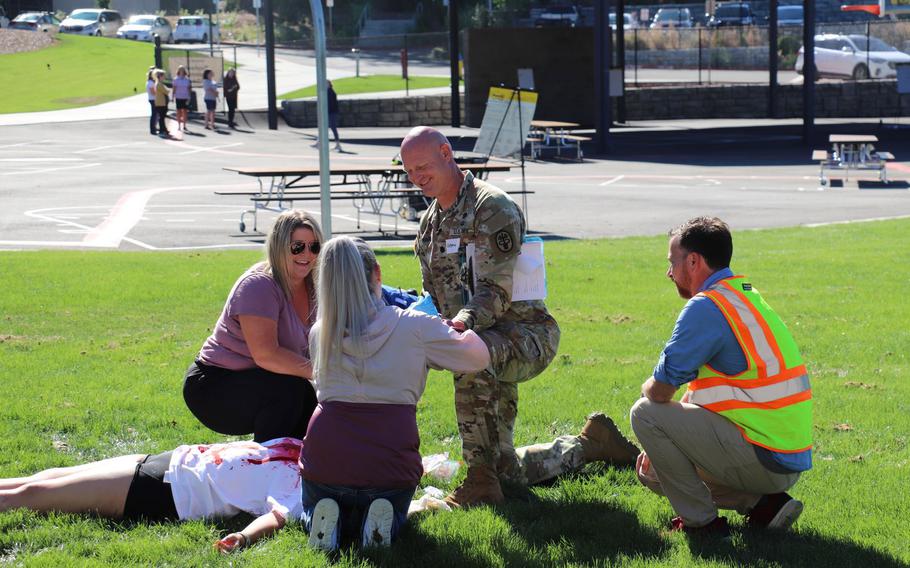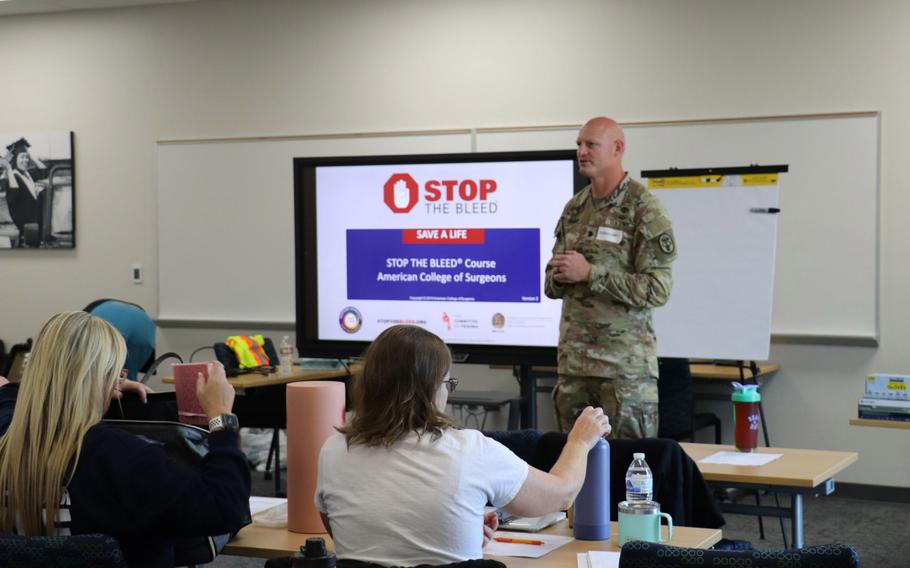 It was his time in Iraq that led him to explore how military skills could apply to a civilian world because trauma is the leading cause of death for people younger than 45, Goolsby said. He was continually amazed to see how service members were able to keep wounded troops alive despite suffering major injuries.
"I thought at the time that the same patients may not have made it to us alive in the other places I practiced in the United States," he said. "The difference really was these very simple devices and simple actions and techniques that were taken by fellow soldiers on the battlefield before they ever got to medical care."
Most service members, regardless of their job, learns techniques to save a life in combat, such as applying direct pressure on bleeding wounds or using tourniquets. They're given inexpensive, easy-to-use devices that can keep people alive long enough to get to a hospital where doctors have a better chance at success, Goolsby said.
Goolsby, who previously taught at the Uniformed Services University in Maryland, worked as a principal investigator to adapt the Stop the Bleed training to a high school-aged audience called First Aid for Severe Trauma, or FAST. Getting the information out to more people only increases the chance of witnesses to trauma knowing how to respond, he said.
"Fortunately, it doesn't happen often, but when it does happen, being able to do the right thing at that time can be really important," Goolsby said. "When somebody is seriously injured, the first few minutes could make the difference between life and death."
Hatch said he's looking to expand training opportunities to other districts near Joint Base Lewis-McChord and spread the word about the resources available to communities through Stop the Bleed. He also wants to emphasize how important it is to include nearby agencies that would respond to any major event to occur at a school.
"We've learned over the last 20 years the importance of rehearsals and planning for worst-case scenarios," he said. "While we can [train] people with how to place a tourniquet, to optimize those abilities, EMS providers need to know what the school nurses know, what's been taught to teachers, and they need to know where those supplies are kept in the schools."
For more information, go to Stop the Bleed training.
Thayer.rose@stripes.com
Twitter: @Rose_Lori
---
---
---
---