Fort Drum renames barracks after Sen. Bob Dole, original member of 10th Mountain Division
Watertown Daily Times
September 7, 2022
---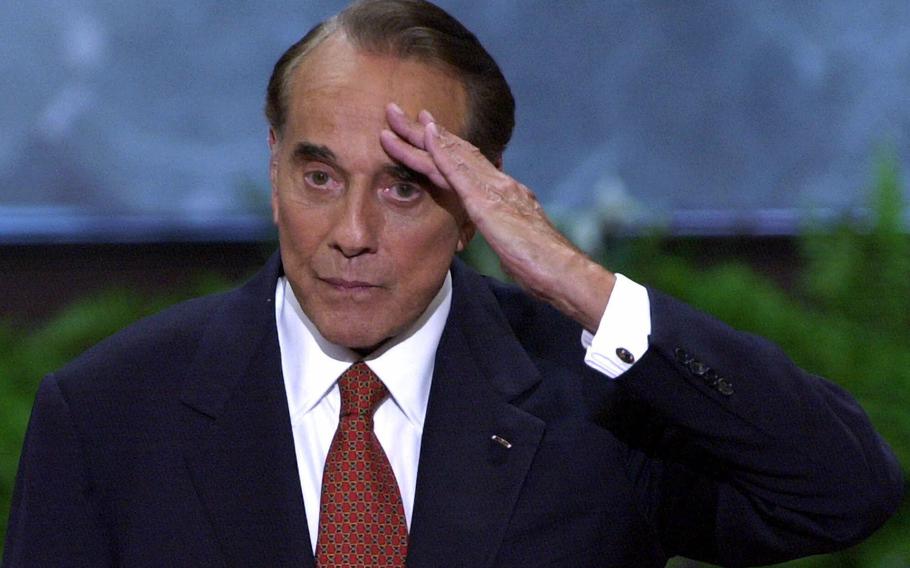 FORT DRUM, N.Y. (Tribune News Service) — A barracks on post will forever be named for the late U.S. Sen. Robert J. Dole, an original member of the 10th Mountain Division during World War II.
The barracks that houses service members assigned to the Soldier Recovery Unit was renamed for the former 10th Mountain Division soldier and former presidential candidate in a ceremony Aug. 31.
"It is fairly well known, at least among those who are familiar with 10th Mountain Division history, about the impact and significance that Senator Dole had on the 10th Mountain Division," Col. Matthew Mapes, activity commander for the Fort Drum Medical Department, said during the ceremony outside of the barracks.
"Not only as a soldier serving in World War II and leading his men in direct combat in Italy, but also as a member of Congress, ensuring the reactivated division would return as the 10th Mountain Division and the division patch would include the Mountain tab."
Dole was a member of the 85th Mountain Infantry Regiment. The 3rd Battalion, 85th Mountain Infantry Regiment was active on post until July 2020 when it was reflagged as the Fort Drum Soldier Recovery Unit.
A star athlete at the University of Kansas, Sen. Dole joined the Army in June 1943.
As a newly commissioned officer, he boarded a ship across the Atlantic with orders for Italy and was there just a month when he joined the 10th Mountain Division.
In March 1944, he found himself in the village of Castel d'Aiano, which had been occupied by Germany for much of the war and where he was injured twice, first with a grenade fragment in his leg during a night patrol on March 14, 1945.
A little over a month later, Dole received a second Purple Heart for a more serious combat injury when the 85th Regiment launched its portion of the spring offensive to the Po River Valley, near the mountains of Italy.
On April 14, 1945, Sen. Dole and his platoon were moving toward Hill 913, about a mile away from Castel d'Aiano, with orders to secure its summit and eliminate any German resistance along the way. While silently maneuvering into the valley, two of his soldiers stepped on land mines, after which the Germans let loose a barrage of artillery and machine gun fire from a farmhouse.
While shells exploded around them, Dole attempted to pull his radioman — who was either dead or severely wounded — to cover, but then was hit himself by enemy fire in his right shoulder and back, suffering a spinal injury.
Unable to feel anything below his neck, Dole went into shock as his soldiers moved him to cover.
He managed to assess the situation and crawled back out to see who was dead, wounded or alive. Before losing consciousness, he dragged two of his injured comrades out of harm's way.
After the war ended, he got back to the States for extensive recovery in an Army hospital in Topeka, Kansas, where it was unclear whether he'd ever be able to walk again.
He lost the use of his right arm, but he slowly regained feeling in his left arm and legs. After three years of recovery and nine operations, he regained his ability to walk.
After his time in the Army, Dole served in the Kansas statehouse and the U.S. House of Representatives before being elected senator and running for president three times — winning the Republican nomination in 1996.
During his time in the Senate, he was instrumental in passing the Americans with Disabilities Act, which provided benefits and services to many veterans and paved the way for future legislation.
With the reactivation of the 10th Mountain Division in 1985, the Army had planned to rename the unit as the "10th Division," but Dole advocated on behalf of World War II veterans who wanted the unit to retain its legacy, as well as the wearing of the mountain tab to honor the division's origin.
He spoke at the reactivation ceremony on Feb. 13, 1985, at Fort Drum, and he recalled the original 10th Mountain Division's "Climb to Glory."
"For one who fought in that battle as part of the 10th Mountain, who spilled some of his own blood and left a bit of himself forever behind, I like to think that no single group played a prouder role in the long campaign that started in Sicily and rolled to its victorious conclusion nearly 600 days later — the prolonged and bloody battle to set Italy free," he said.
He also served as honorary co-chair of the committee that brought the Military Mountaineer Monument to Fort Drum.
He was among the first inductees to the 10th Mountain Warrior Legends Hall of Fame in 2020. Sen. Dole died in December last year at the age of 98.
(c)2022 Watertown Daily Times (Watertown, N.Y.)
Visit Watertown Daily Times (Watertown, N.Y.) at www.watertowndailytimes.com
Distributed by Tribune Content Agency, LLC.
---
---
---
---